Colleges
National College Of Arts NCA Lahore Admissions 2015
National College Of Arts NCA Lahore Admissions 2015
National College of Arts NCA Lahore now announce Admission 2015 in Postgraduate Programmes of Postrgaduate center for Multimedia Arts, Department of Fine Arts, Department of Interior Design as the program under these department are as follow on this page so all those candidates who want to take admission in the NCA Lahore in any of the program can take their admission forma and submit it back to the admission block of the NCA till 8th August 2015 as this is the last date to submit the application form and all those candidates who will not able to submit the form and submit the form late will not eligible for the admission in this College of Arts, Well arts subjects are not so easy as it requires personal skills with the effective efficiency and Effectiveness. National College of Arts NCA Lahore is the best arts institution and also the oldest school in the Pakistan. This college provide quality education in graduate, Bachelor and postgraduate level with a number of program offered. This page will provide you complete information about the documents and the procedure that if you want to take admission in NCA then what you have to do. so stay in touch with this page as this will clear your all ambiguity related to the admission
Postgraduate center for Multimedia Arts:
Master of Multimedia Arts
Postgraduate Diploma in Multimedia Arts
Department of Fine Arts:
MA Visual Arts
Professional Diploma in Traditional Arts, Calligraphy, Fresco and Miniature Painting
Department of Interior Design:
Master of Interior Design
Professional Diploma in Interior Design
National College Of Arts NCA Lahore Admissions 2015
Admission Application Form:
Willing candidates can get the admission Application form along with the prospectus for each department in against the payment of Rs. 500/- from College Education Office. After completing the forms with the correct information it is necessary to the candidates to submit these fully completed form to the College education office or by registered Post / TCS along with the attested copies pf all the require documents. Complete list of required Documents is available at the back of the Admission application form.
Entry Test Date:
National College of Arts will conduct a written entry test from the candidates who have submitted the admission application form and according the official the written test will be taken on 6th and 10th October, 2015. it is compulsory to appear in this entry test if a candidates willing to take admission in this college of arts.
Entry Test Result & Interview:
After the written test the management of the National College of Arts will declare the Written Entry Test Result and then on the same date all those candidates who clear this entry test result will be called for interview . The entry test result will be declare on 10th October, 2015 and then the official will conduct the interviews from the successful candidates in the month of November, 2015 and after all this procedure candidates are allowed to take admission in the University.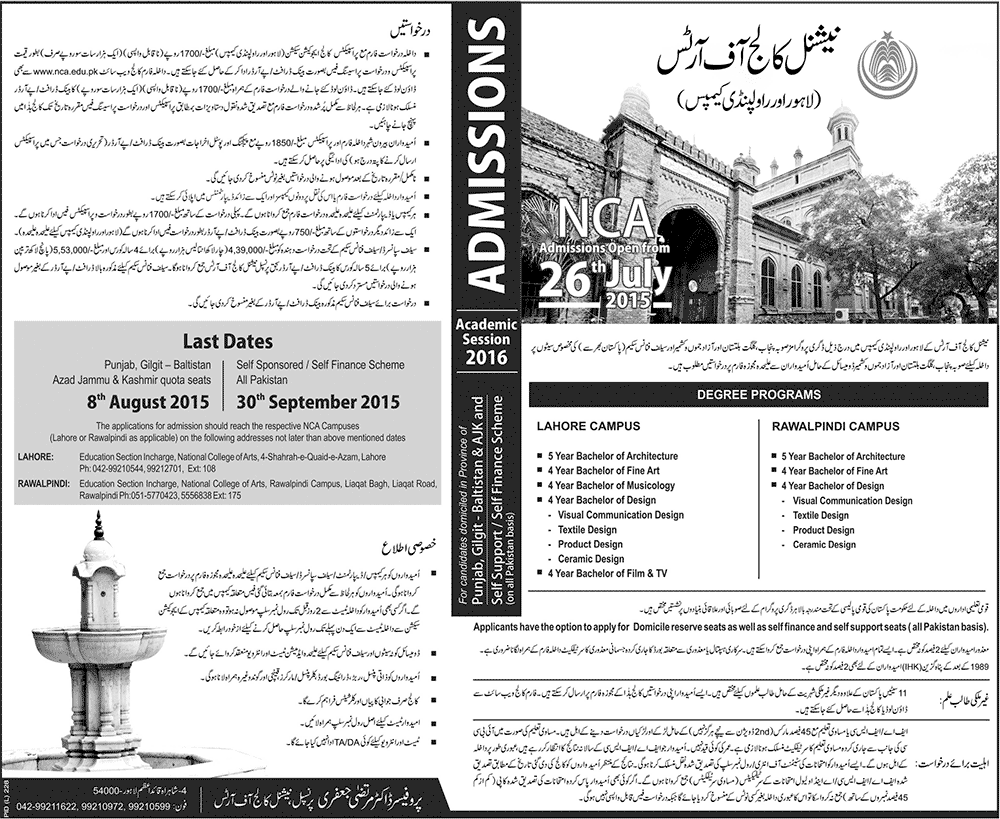 For More Information Contact Us:
4-Shahrah-e-Qauid-e-Azam, Lahore
Tel: 92-42-9210599, 9210601
Fax: 92-42-9210500
Email: info@nca.edu.pk
National College Of Arts NCA Lahore Admissions 2015

,