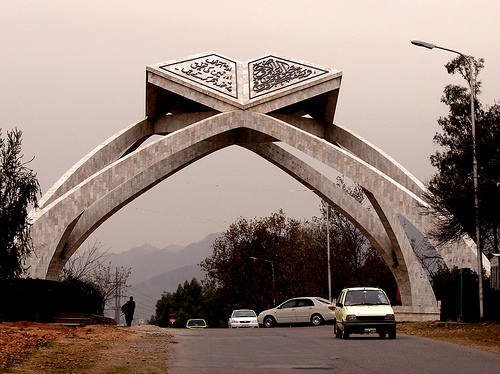 Quaid-e-Azam University was established in July 1967, and within its establishment it starts teaching and research programs for PhD and MPhil degrees as well. And with the passage of time QAU decided to offer Masters, Graduate and Undergraduate programs. Now University has international repute with a considerable strength of students from all over the Pakistan.
Quaid-i-Azam University has an international repute due to higher, advance, logical learning that illuminates the human minds and broadens the visualization bringing back home all kinds of opportunities and development.
Now University has offer Admissions for Masters and Undergraduate Programs on Regular / Self Finance Basis. Last date for application submission of Masters Program is 1st August 2012 and Undergraduate Program is 17th of August 2012. They have facility of online application submission as well. Candidates can submit their admission forms along with a bank draft of Rs.700 /- in favor of Treasurer, Quaid-i-Azam University in Habib Bank Ltd, or Askari Bank Ltd.
Download Application Forms for Undergraduate Programs
Details of Quaid-e-Azam University Islamabad Admissions Fall 2012
Click below to download Sample Papers of your required field
Sample Paper & Guideline for Physics Test
Sample Paper for Psychology Test
Sample Paper for Pakistan Studies Test
Sample Paper for International Relations Test
Sample Paper for Gender Studies Test
Sample Paper for Electronics Test
Sample Paper for Computer Sciences Test
Sample Paper for Chemistry Test
Sample Paper for Administrative Sciences Test
Sample Paper Guidelines for History Test
Note: Application Forms for Masters Program will be available online from 09-07-2012
For more information stay with us, if you have any question then you can ask frankly via comments, you will get appropriate answer of your questions because our team is always here to help you…
Contact Information:
| | | |
| --- | --- | --- |
|      Name / Designation   |        Department  |           Telephone |
| Secretary to V.C. | Administration | +92-51 9064-4050 |
| Secretary to V.C. | Administration | +92-51 9064-4068 |
| VC's Office Staff | Administration | +92-51 9064-4093 |
| Fax | Administration | +92-51 9064-4087 |
| Registrar | Administration | +92-51 9064-4202 |
| Fax (Registrar's Office) | Administration | +92-51 9064-4110 |
| P. A. to Registrar | Administration | +92-51 9064-4046 |
| Registrar's Office (Staff) | Administration | +92-51 9064-4117 |
| Deputy Registrar P & D | Administration | +92-51 9064-4074 |
| Planning & Development Section | Administration | +92-51 9064-4089 |
| Assistant Registrar Establishment | Administration | +92-51 9064-4063 |
| Director Planning | Administration | +92-51 9064-4077 |
| Establishment Section | Administration | +92-51 9064-4083 |
| Assistant Registrar Meeting | Administration | +92-51 9064-4058 |
| Assistant Registrar Legal | Administration | +92-51 9064-4075 |