Cadet College Hasan Abdal Admission 2013 Entry Test Result
By Moin akhtar on November 21, 2012 12:29 pm in Schools / 134 comments
Cadet College Hasan Abdal Admission 2013 Entry Test Result is available here on this page as Hassan Abdal college is the first cadet college in Pakistan and is famous for providing its quality education to the students of Pakistan. There are a number of Pakistani students who want to take admission in the Cadet College Hassan Abdal but due to limited number of seats only the brilliant seats only the brilliant and sharp students are selected through a selection process of written test, Medical and than Interview.
How to obtain college prospectus:
You can get the Cadet College hassan Abdal prospectus from the college in just Rs. 500/- or you can also call for prospectus by post in Rs. 600/-.
By post prospectus will be given in respond of payment draft of Habib Bank Limited Hasan Abdal which is in favor of Principal Cadet College hasan Abdal and remember Cheques will not be accepted.
Those candidate who are apply for the cadet college from outside the Pakistan will have to submit Rs. 1000 by bank draft with the post charges too.
Last date for the submission of the application forms are 26th October, 2013
Eligibility Criteria:
Candidate must be in between age of 12 to 14 years on April 2014.
Candidate must have cleared 8th class or equivalent education before April 2014.
Courses offered at Cadet College:
Matriculation: Science Group (Physics, Chemistry, Mathematics & Biology or Computer Sciences)
IGCSE O Level: Science Group (Physics, Chemistry, Maths and Biology- Cambridge university)
Entrance Test, Intview and Medical:
Written test are of subjects English, Mathematics, Urdu and islamiyat
Written test will be held on 24th November, 2013 in following centres Peshawar, Rawalpindi, islamabad, Lahore, Faisalabad, Multan, Karachi, Quetta, Sharjah (UAE), Jeddah and Riaz
Those candidates who have cleared the the written test will be forwarded to the Medical examinations and Interview.
Cadet College Hasan Abdal Admission 2013 Entry Test Result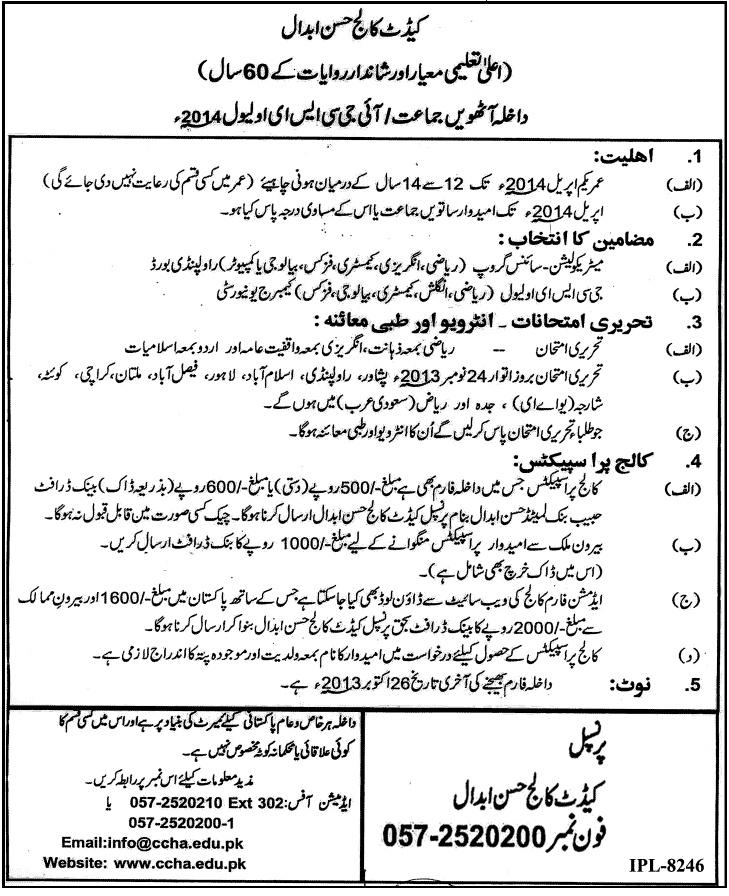 Entry Test Result:
As Cadet College Hasan Abdal open its admission for the new session of year 2013 and for that purpose the entry test is going to be taken by the college from all the willing candidates on Sunday 24th November, 2013 so after taking entry test the official will declare the final Entry Test result within 1 week after the exam and that entry Test result will decide that is candidates able to get admission in the Cadet College Hassan Abdal or not.
For More Information:
Prof. Mohammad Asif Malik,
Pride of Performance (Education),
Principal, Cadet College Hasan Abdal
Telephone: (+92 57) 2520200
Admission Office,
Cadet College Hasan Abdal
Telephone: (+92 57) 2520210 Ext. 302, 057-2520200-1
Email: info (at) ccha.edu.pk
Website: www.ccha.edu.pk
Cadet College Hasan Abdal Admission 2013 Entry Test Result

,

7.2

out of

10

based on

228

ratings
Share
Tweet
About the author
I am Professional Writer on the Career Consultancy and trying to facilitate the students for delivering the educational services along with the fastest growing educational website of the Pakistan Moin Akhtar
Related Posts