99 Guaranteed Binary Option Strategy
AIOU Allama Iqbal Open University Autumn Admission 2015
60 Second Binary Options Day Trading Coach
http://49ersfaithful.playitusa.com/?p=Trade-Binary-Options-Minimum-Deposit-50-Queen Trade Binary Options Minimum Deposit 50 Queen
Economics
Gender & women Studies
Pakistan Studies
M.Com
there Stock Market Reports Msn
HRM
Marketing
IT
Banking & Finance
http://tildehost.com/?p=How-To-Play-The-Stock-Market-Daily How To Play The Stock Market Daily
This international 90 credit programme is being offered in collaboration with common wealth of Learning, Canada
MA:
Arabic
Islamic Studies
Urdu
Post Graduate Diploma:
Gender & women Studies
HRM
Bachelor's Programme (Arts / Science):
BS (Computer Science)
Mass Communication
Arts in Library and Information Sciences
Commerce
Arts
Associate Degree in Commerce:
Tourism Management
Hospital Management
Banking & Finance
IT Management
Hotel Management
Accounting & Finance
Human Resource Management
Marketing Management
HSSC (Intermediate):
Teacher Training Programme:
PTC
B.Ed (gender)
B.Ed (Arabic)
Dar-e-Nizami:
BA (Shahadat-yl-Alia)
Secondary (Sanvia Aama)
Certificate Courses:
Al-Lisan-ul-Arabi
Lughat-ul-Quran
Selling of Home Made Products
French Online
Arbi Bol Chaal
certificate in Librarianship
How to Obtain and Submit Admission Form:
Admission form and prospectus for all programmes offered in Semester Autumn  can be obtained from the sale point at Main Campus, Regional Campuses and Coordinating offices within the country. Admission forms along with the required fee can be submitted at the nation wide branches of Habib Bank LTd, First Women Bank, Bank Alfalah, Allied Bank and at the desginated branches of National Bank of Pakistan and Muslim Commercial bank. The detail of designated branches is available in the prospectuses as well as in the regional offices. Students are advised to submit thier dee in the bank by their own.
CLICK HERE TO VIEW SALE POINT DETAIL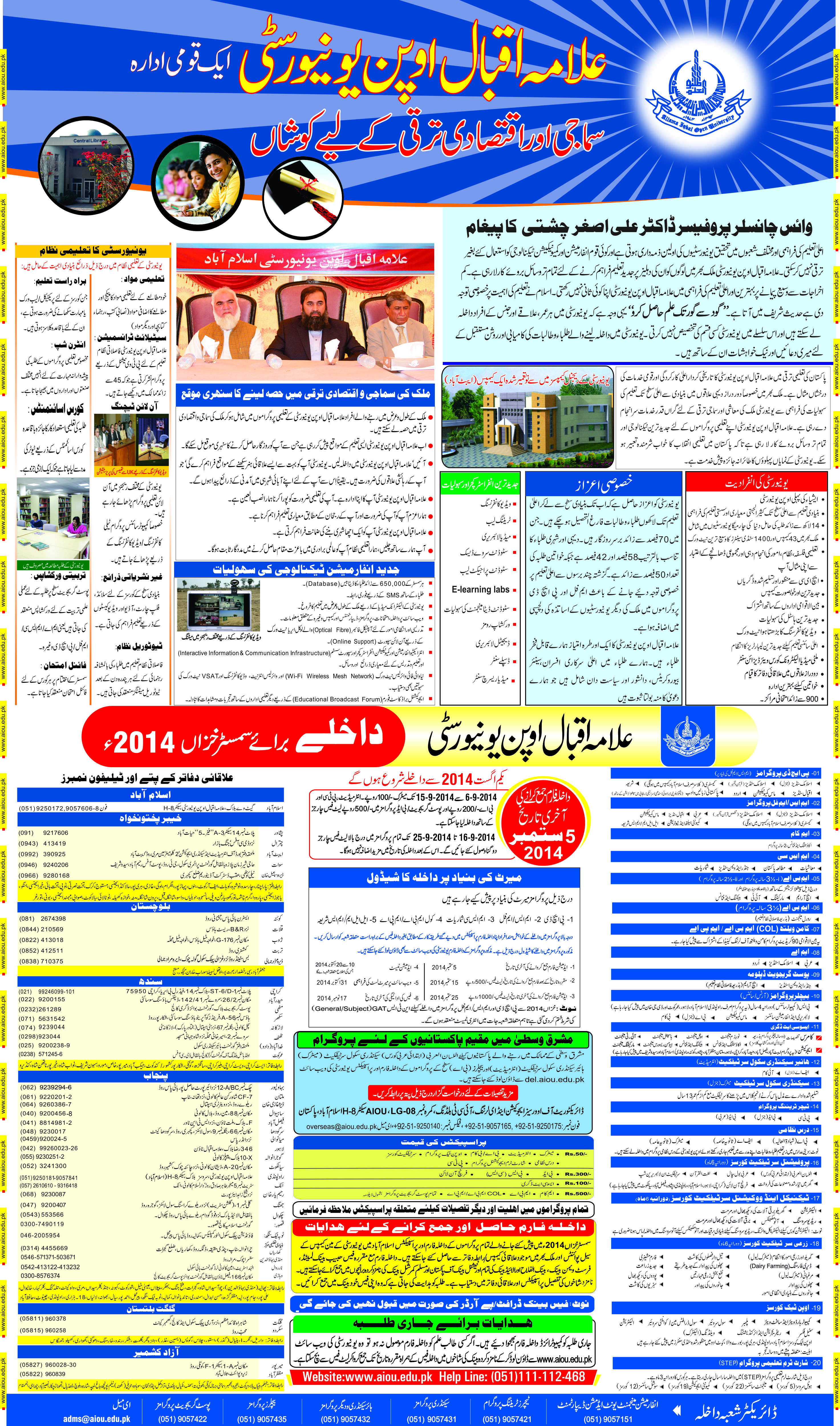 For further details Contact:
Director Admissions
Allama Iqbal Open University
Tel: 051-9057151, 9057426, 9057431
AIOU Allama Iqbal Open University Autumn Admission 2015

,