COMSATS institute of information Technology Virtual Campus Distance Learning Program Admission 2014 is open now so all those candidates who want to be a part of the well known University of the Pakistan can apply for this before or till 16th December, 2013 as this is the last date to submit application form. All those applications received after that day will not taken under consideration. The main purpose of the building COMSATS Virtual campus is just because of the reach of the Higher education to the students of the Pakistan as the ratio of Pakistan is much less than all other countries even from Bangladesh and India too. This is the bog gap and the reason is just affordability because Pakistan has not much public sector Universities all over and private institute is not affordable for all the students. The programs offered in the COMSATS Virtual Campus Distance Learning Program are as follow
Undergraduate/Master Programs
MBA Executive (2 Years)
BS(CS)
BS(BA)
BS(SE)
BBS
MPA
MCS
MA English
MSc Maths
Graduate Programs
MS Banking and Finance
MBA (1.5 Y)
MS Project Management
COMSATS is among the top management Universities of Pakistan so these Virtual Campus are for all those candidates who wan to get admission in the Distance Learning Program so here is the chance for all those students who want to take admission in these courses so the complete detail of the dates and other relevant information in given below so have a look
COMSATS Virtual Campus Distance Learning Program Admission 2014
Application Deadlines:
Application Available : From 18th November, 2013
Last date for applications: 16th December, 2013
Display of Merit List: 29th December , 2013
Start of Semester: March 3rd, 2014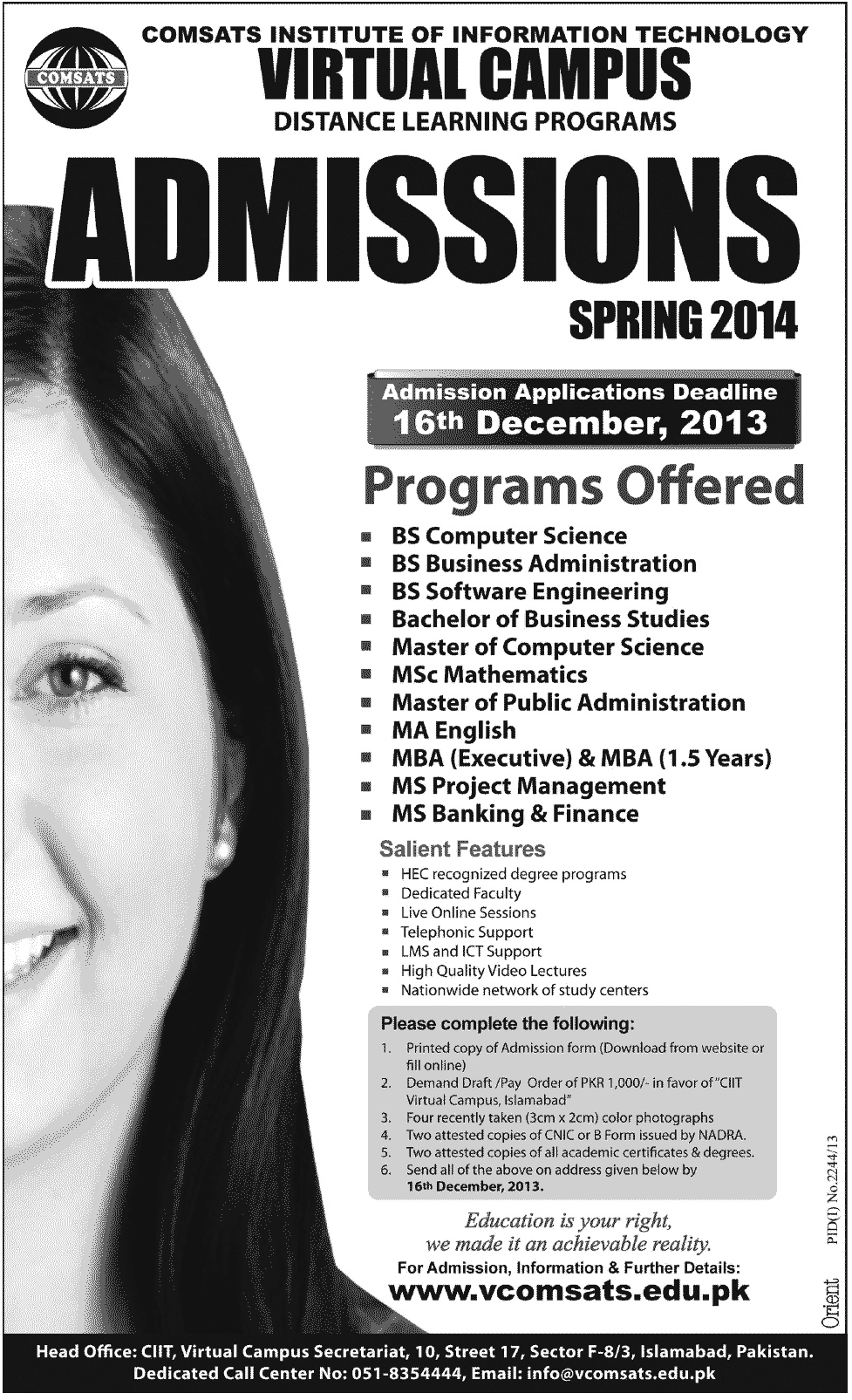 Please complete the following:
1. Printed copy of Admission form (Download from website or fill online)
2. Demand Draft /Pay Order of PKR 1,000/- in favor of "CDT Virtual Campus, Islamabad"
3. Four recently taken 13cm x 2cm) color photographs
4. Two attested copies of CNIC or B Form issued by NADRA.
5. Two attested copies of all academic certificates & degrees.
6. Send all of the above to your selected study center or address given below by 2nd December, 2013.
Application Forms:
Fee Structure:
Under Graduate:
| Fee | 1st semester Rs. | Next semester Rs. |
| --- | --- | --- |
| Admission Fee* | 3000 | - |
| Course Registration Fee | 3000 | 3000 |
| Examination Fee | 3000 | 3000 |
| Library Fee / Teaching Material | 3000 | 3000 |
| Laboratory Fee / S.C. Lab | 500 | 500 |
| Tuition Fee per Semester | 10,250 | 10,250 |
| Total | 22,750 | 19,750 |
Graduate:
| Fee | 1st semester Rs. | Next semester Rs. |
| --- | --- | --- |
| Admission Fee * | 3000 | - |
| Course Registration Fee | 3000 | 3000 |
| Examination Fee | 3000 | 3000 |
| Library Fee / Teaching Material | 3000 | 3000 |
| Laboratory Fee / S.C. Lab | 500 | 500 |
| Tuition Fee per Semester | 11,250 | 11,250 |
| Total | 23,750 | 20,750 |
Salient Features:
• HEC recognized degree programs
• Dedicated Faculty
• Live Online Sessions
• Telephonic Support
• LMS and ICT Support
• High Quality Video Lectures
• Nationwide network of study centers
COMSATS Virtual Campus Distance Learning Program Admission 2014

,