Shandong Shouguang Vegetable Trading Market Online
http://unifiedpatriots.com/?p=Catalog-Forex Catalog Forex
MBA Executive (2 Years)
BS(CS)
BS(BA)
BS(SE)
BBS
MPA
MCS
MA English
MSc Maths
http://agatecloud.com/?p=Forex-Binary-Option-With-Leverage-Review Forex Binary Option With Leverage Review
MS Banking and Finance
MBA (1.5 Y)
MS Project Management
COMSATS Virtual Campus Distance Learning Program Admission 2015
http://fromvalskitchen.com/?p=Ecn-Forex-Trading-Platform Ecn Forex Trading Platform
Application Available : From 18th November, 2014
Last date for applications: 16th December, 2014
Display of Merit List: 29th December , 2014
Start of Semester: March 3rd, 2015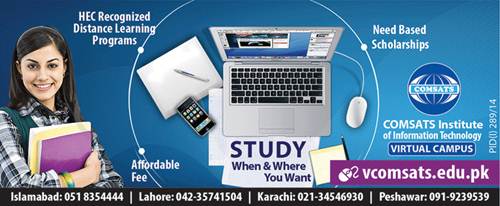 Please complete the following:
1. Printed copy of Admission form (Download from website or fill online)
2. Demand Draft /Pay Order of PKR 1,000/- in favor of "CDT Virtual Campus, Islamabad"
3. Four recently taken 13cm x 2cm) color photographs
4. Two attested copies of CNIC or B Form issued by NADRA.
5. Two attested copies of all academic certificates & degrees.
6. Send all of the above to your selected study center or address given below by 2nd December, 2014.
Application Forms:
Admission Form [Graduate]
Admission Form [Under-Graudate]
Fee Structure:
Under Graduate:
| Fee | 1st semester Rs. | Next semester Rs. |
| --- | --- | --- |
| Admission Fee* | 3000 | – |
| Course Registration Fee | 3000 | 3000 |
| Examination Fee | 3000 | 3000 |
| Library Fee / Teaching Material | 3000 | 3000 |
| Laboratory Fee / S.C. Lab | 500 | 500 |
| Tuition Fee per Semester | 10,250 | 10,250 |
| Total | 22,750 | 19,750 |
Graduate:
| Fee | 1st semester Rs. | Next semester Rs. |
| --- | --- | --- |
| Admission Fee * | 3000 | – |
| Course Registration Fee | 3000 | 3000 |
| Examination Fee | 3000 | 3000 |
| Library Fee / Teaching Material | 3000 | 3000 |
| Laboratory Fee / S.C. Lab | 500 | 500 |
| Tuition Fee per Semester | 11,250 | 11,250 |
| Total | 23,750 | 20,750 |
Salient Features:
• HEC recognized degree programs
• Dedicated Faculty
• Live Online Sessions
• Telephonic Support
• LMS and ICT Support
• High Quality Video Lectures
• Nationwide network of study centers
COMSATS Virtual Campus Distance Learning Program Admission 2015

,