Lahore Leads University Admissions 2015 Open is various departments of the University as Lead Education welfare Trust was founded in 1995. The main objective of this Trust is to produce leaders for the nation through a holistic development of the individual, providing in-depth knowledge, analytical skills and a high availability of service and respect for the nation.
Thus, the trust started its projects in the field of education at all levels that is, the school system, leads Group of colleges and Lahore Leads University. It is an innovative and enterprising organization, welcoming, engaged and to succeed in the field of education, research, development and activities of the community partnership.
Admission Process
Every year Leads University offers admissions in two semesters Fall and Spring. Normally admissions for spring 2015 are offered in first week of June. And the admissions for Spring 2015 are appearing in leading newspaper. To get admission students can get the admission form the Leads Office or can downloads given below.
Download Admission Form Given Below
Fill the form carefully
Attach all the required documents along with Admission Form
Submit the Form on or Before Deadline
Eligibility Criteria:
Under Graduate Program:
FA/F.Sc/A-Level with minimum 45% marks.
Eligibility Criteria Graduate Program
B.A/ B.sc/B.com/BBA (Min with 2nd Division)
MS/M.Phil Admission:
A 16 years degree in the relevant field from an recognized educational institution with 2nd division (annual system) or CGPA 2.5/4.0 (semester system)..
NTS GAT (General) with 50% mark

Click Respective Links Below  to Get Desirous Form
Fee structure BS Classes
Degree
Admission &Registration Fee
Tuition Fee
per Semester
No. of
Semesters
Library Fee
Total Package
BS Computer sciences
20,000
55,000
8
3,000
423000
BS Information Technology
20,000
50,000
8
3,000
423000
BBA(Hon)
20,000
50,000
8
3,000
423000
BS-Public Policy
20,000
50,000
8
3,000
423000
BS Entrepreneurship
20,000
50,000
8
3,000
423000
BS Public Affairs Management
20,000
50,000
8
3,000
423000
BS Environmental Policy and Management
20,000
50,000
8
3,000
423000
BS Media Management and Advertising
20,000
50,000
8
3,000
423000
BS Media & Mass Communication
20,000
40,000
8
3,000
423000
BS Mathematics
20,000
40,000
8
3,000
303000
M.A English
20,000
40,000
8
3,000
303000
Fee Structure of Master classes
Degree
Admission &Registration Fee
Tuition Fee
per Semester
No. of
Semesters
Library Fee
Total Package
MBA (P)
20,000
55,000
7
3,000
408000
Master in Human Resource
20,000
50,000
4
3,000
223000
Master in Supply Chain Management
20,000
50,000
4
3,000
223000
Master in Project Management
20,000
50,000
4
3,000
223000
Master in Fashion and Luxury Management
20,000
50,000
4
3,000
223000
Master in Agri-business
20,000
50,000
4
3,000
223000
MIT
20,000
50,000
4
3,000
223000
MCS
20,000
50,000
4
3,000
223000
M.Sc Mass Communication
20,000
40,000
4
3,000
183000
M.Sc Mathematics
20,000
40,000
4
3,000
183000
M.A English
20,000
40,000
4
3,000
183000
Fee Structure of MS/M.Phil classes
Degree
Admission &
Registration Fee
Tuition Fee
per Semester
No. of
Semesters
Library Fee
Total Package
MS Management
20,000
55,000
4
3,000
243000
MSCS
20,000
55,000
4
3,000
243000
MS English Literature
20,000
55,000
4
3,000
243000
MS English Linguistics
20,000
55,000
4
3,000
243000
MS Economics
20,000
55,000
4
3,000
243000
M.Phil Mathematics
20,000
55,000
4
3,000
243000
MS Education
20,000
55,000
4
3,000
243000
M.Phil Mass Comm
20,000
50,000
4
3,000
223000
MS Islamic Studies
15,000
30,000
4
3,000
138000
Lahore Leads University Admissions 2015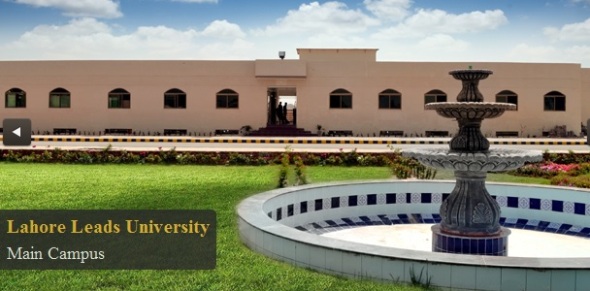 Under Graduate Programs:
BS Software Engineering
Bachelor of Computer Sciences
Bachelor of Information Technology
Bachelor of Business Administration
BS Entrepreneurship
BBA Banking & Finance
BS Environmental Policy and Management
BS Media Environment and Advertising
BS Media and Mass Communication
BS Mathematics
BS English Studies
BA LLB 5 Years
Master Program:
MBA (Professional)
MBA (Executive)
MBA Banking and Finance
Master in Human Resorce
Master in Supply Chain Management
Master in Project Management
Master in Information Technology
M.Sc Mass Communication
M.Sc Mathematics
MA English
Contact Information
Admission office: admission@leads.edu.pk ,
Tel: 04235843205-7
Cell: +923336386454
Lahore Leads University Admissions 2015

,