How To Trade In Cents In Forex
http://adelaidedivewreck.com/?option=How-To-Understand-The-Stock-Market-Uk How To Understand The Stock Market Uk
Forms Issuance & Submission Schedule
Date
Time
Issuance of application Forms
1st June, 2015
Deadline for submission of Forms
19th August, 2015
http://minuevohogar.cl/?p=100-Dual-Binary-Options 100 Dual Binary Options
Get the admission form from the University of Management and Techology admission office or go to the official website of UMT to download the application form.
Fill the application with relevant information and than submit it to the admission office but before the deadline date. as the late application form will not be entertained.
Make sure that you have attached these documents when you submit the form
N.I.C (Personal or Parents)
Matric / O level
Intermediate / A level
Bachelors Degree/ Result Card
Masters Degree / Result Card
Provisional / Hope certificate if result is awaited
3 photograph (1" x 1")
http://fromvalskitchen.com/?p=The-Ultimate-Guide-To-The-World-Of-Options-Trading The Ultimate Guide To The World Of Options Trading
http://fromvalskitchen.com/?p=Stock-Broker-Job-Outlook Stock Broker Job Outlook
Undergraduate Admissions Form
Postgraduate Admissions Form
Apply Online
UMT Fall Admissions 2015
Admission for the spring semester are open in the following programs
School of Business and Economics:
Morning Programs
BBA (Bachelor of Business Administration)– 4 years

Management and Organizations
Marketing
Finance
International Business
Entrepreneurship and SMEs
Supply Chain Management
Information Systems

BBIS (Bachelor of Business Information Systems) – 4 years
BS – Economics and Finance – 4 years
Morning  and Evening Programs
MBA

1.5 year for 4 years BBA degree holders
2 years for master/4 years bachelor degree holders
3 years for 2 years bachelor degree holders

MBA Executive

2 years experience required after 16 years education
4 years experience required after 14 years education
School of Social Sciences and Humanities:
Morning Programs
BS Social Sciences – 4 years

Psychology
Media and Communication
Sociology
Political Science
English Language and Literature
Afternoon Programs
School of Science and Technology:
Institute of Textile and Industrial Sciences
Important Notes:
Candidates applying for MS/M.Phil. programs should have passed the NTS – GAT with at least 50% marks.
NAT qualified candidates are exempted from admission test for BS and BBA programs.
Result awaiting students may also apply.
Merit / need-based scholarships are available.
Last Date to apply for the Willing students is 19th August 2015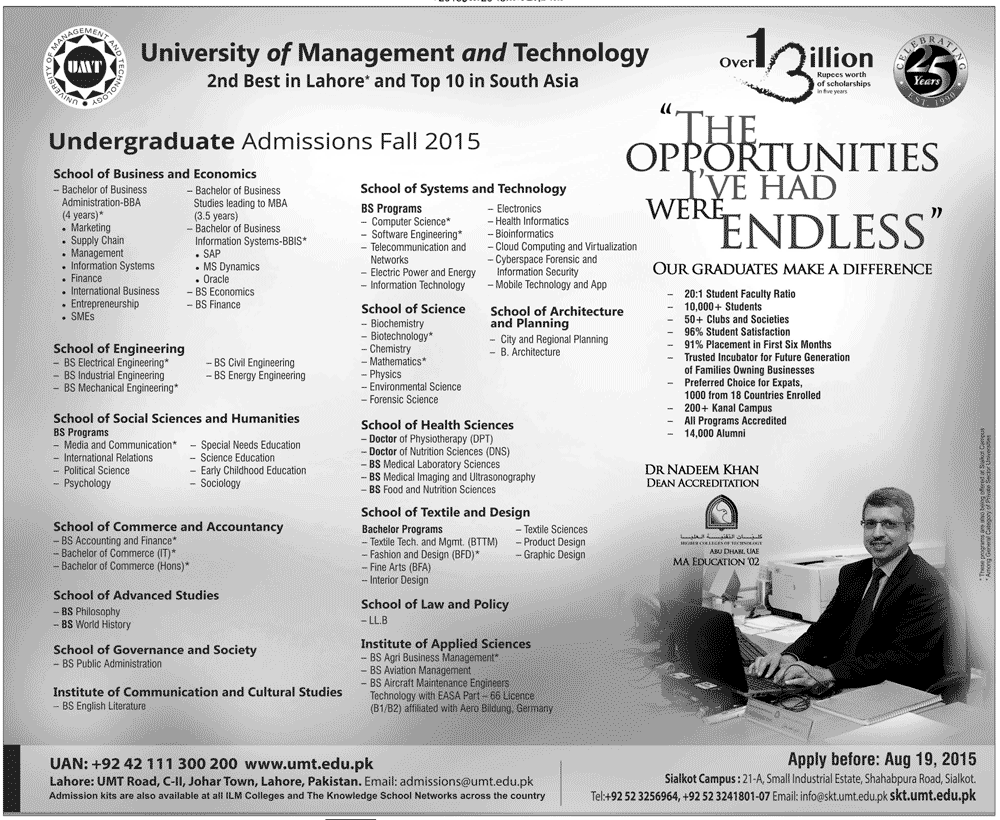 Contact Us:

For further information on offered programs, admission guidelines and queries, you may please contact:
University of Management and Technology (UMT),
C-II, Johar Town, Lahore-54770, Pakistan.
Telephone: (+92 42)35212801-10
Fax: (+92 42) 35212819
E-mail: [email protected]
Website: www.umt.edu.pk
University of Management and Technology UMT Admissions 2015

,