University of Wah (UOW) offering BSc Engineering Admission 2015 in the respective programs such as BSC Engineering Technology Electrical and Mechanical etc. The University is contributing 4 years Bachelor and 2-years Master Programs in Basic Sciences, Social Sciences, Management Sciences, and Engineering Sciences. It also has two constituent colleges, Mashal and Wah Engineering College (wecuw). And the faculties which are offered by the Wah Engineering College (wecuw) are B.Sc Engineering Program in Electronics, Mechanical and Mechatronics, but the BS (4 years) Programs in English and Education are the faculties' offered by Mashal College. University of Wah (UOW) was established in 2005 under the Pakistan Ordnance Factories (POF). Three and a half years later, in July 2009, the Provincial Assembly of the Punjab approved the University of Wah in accordance with the Act of 2009. From the first day of the inception of this university the management is focusing on providing quality education to the students and with the highly experienced and well educated faculty members they are providing for what they are claiming that is the reason that every year when the admission in the University of Wah open by the management there are a crowd of candidates who submit the admission application form in order to get admission in the Wah University.
University of Wah Admission 2015 Form, Eligibility Criteria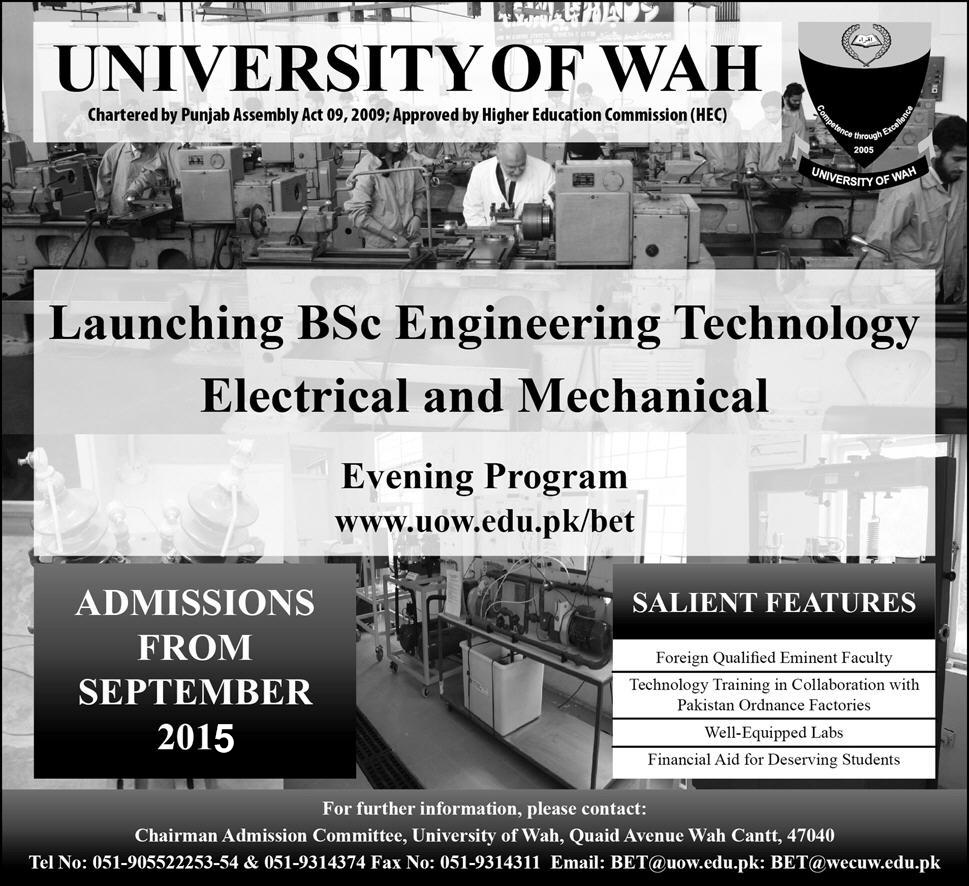 Last Date for Application Submission
Last date of application Submission is 19th September 2015 so make sure that your admission form would receive to the management before that date as after that after that date gone your admission form will not be entertain in any case by any of the management person. Criteria for the semester will be assessed for each course based on the average semester exams, job class / tests / exams and the end of the project term as well. 30% marks will be reserved for secondary examination semester class assignment / quiz / practical work will carry 20% marks and 50% marks for end semester examination.
CLICK HERE TO DOWNLOAD ADMISSION FORM
So download all application forms for the entire programs which are provided by the University so students you can download the admission forms from this page. Download the form, print it out, and then carefully fill it, and after that send it to the University on the given address.
| | |
| --- | --- |
| Description | Date |
| Sale of Prospectus: | 23rd July, 2015 |
| Last Date of Submission of Forms: | 19th September, 2015 |
| Display of First Merit List: | 12th September, 2015 |
| Last Date for Submission of Fee: | 18th September, 2015 |
| Display of Second Merit List: | 22nd September, 2015 |
| Last Date for Submission of Fee: | 26th September, 2015 |
| Display of Final Merit List: | 29th September, 2015 |
| Last Date for Submission of Fee: | 6th October, 2015 |
| Registration of courses: | 29th September- 10th October 2015 |
| Orientation of New Students: | 10th October, 2015 |
| Commencement of Classes: | 13th October, 2015 |
Students use the comments section below to get more information if you found something that you need to know but that is not explained in this page.