BISE Peshawar Board 9th and 10th Class Date Sheet 2013
By Moin akhtar+ on February 12, 2013 5:08 pm in Datesheets / 1 comment
There is a good news for all the students whoa re waiting for BISE Peshawar Board 9th and 10th Class Date Sheet 2013 that the date sheet is announced today by the Chairmen, BISE Peshawar Prof. Dr. Muhammad Shafi Afridi. Students are waiting for this date sheet from long time but now they know the exact date and time of their exams subjects. According to the Date sheet of Peshawar Board 9th and 10th class exams will be commenced from 13th March and 14th March respectively.9th class first exam subject will be health & Physical Education where as on the other hand 10th class first subject will be Pashto/Persian/Arabic/Urdu and English literature.
Board of Intermediate And Secondary Education Peshawar is the first board among all who announced its 9th and 10th class date sheet. if we look back into the history of Peshawar Board then we come to know this year this board has also keep its rituals of announcing the final date sheet one month before the final exams as the final exams will be from the 13th march, 2013 and the date sheet is declared on the 12th February, 2013. Students are very keen regarding this date sheet as this is their step towards the higher education as the want to secure their future then they have to get the higher education which is impossible if you don't have the matriculation level passing certificates.
BISE Peshawar Board 9th and 10th Class Date Sheet 2013
Thanks to the government and the NGO due to whom the awareness of the education increases in Peshawar that is the reason that every year there are more students who enrolled under the supervision of Board of Intermediate ans Secondary education Peshawar. The only motive of the Peshawar Board is to provide education to each and every student with justice and having the eligible staff this board is fulfilling what they are committing. Well coming back to the point you are here for the final date sheet of the 9th and 10th class of Peshawar Board So here it is have a look.
Right click on the image and then view image to see the full size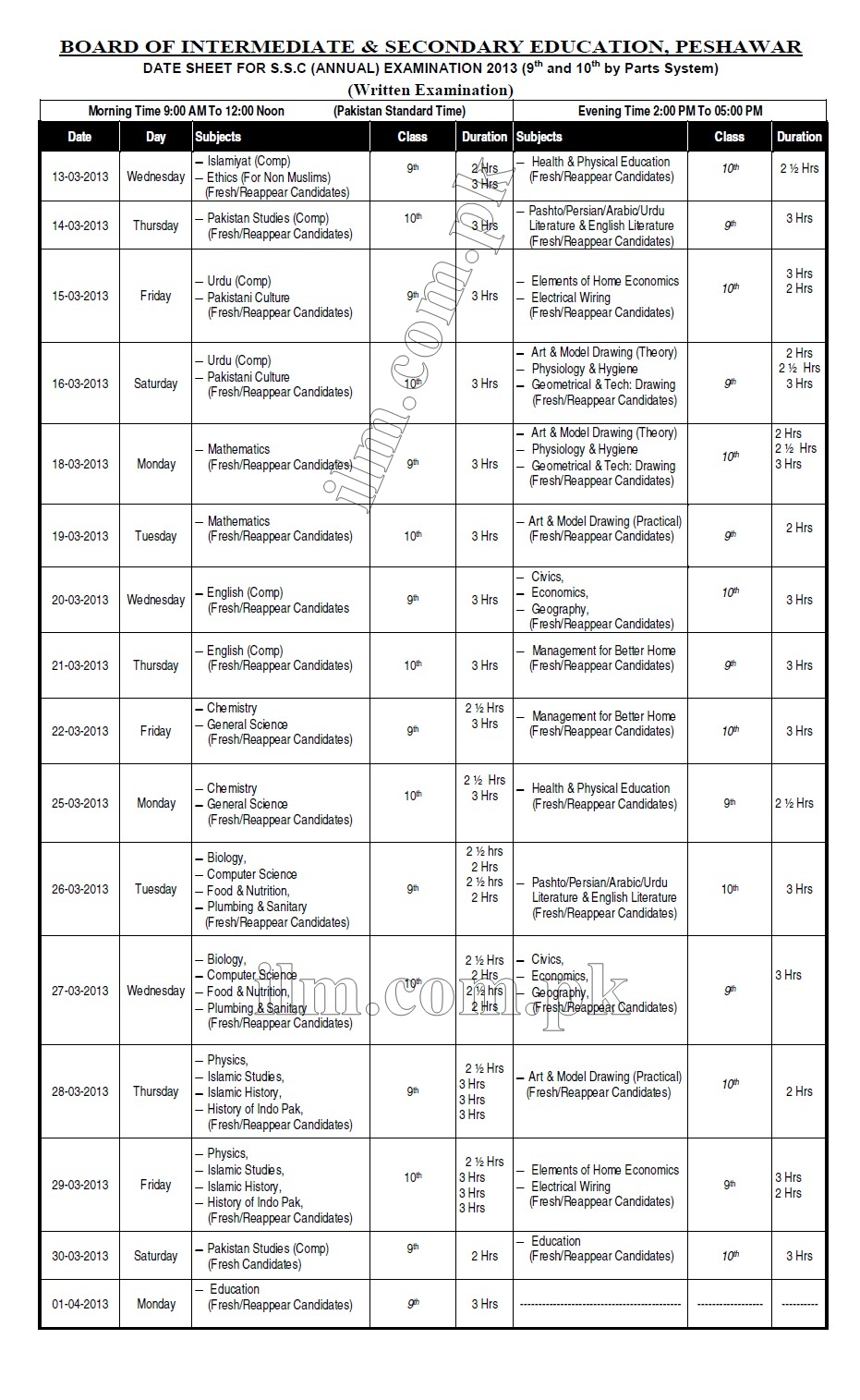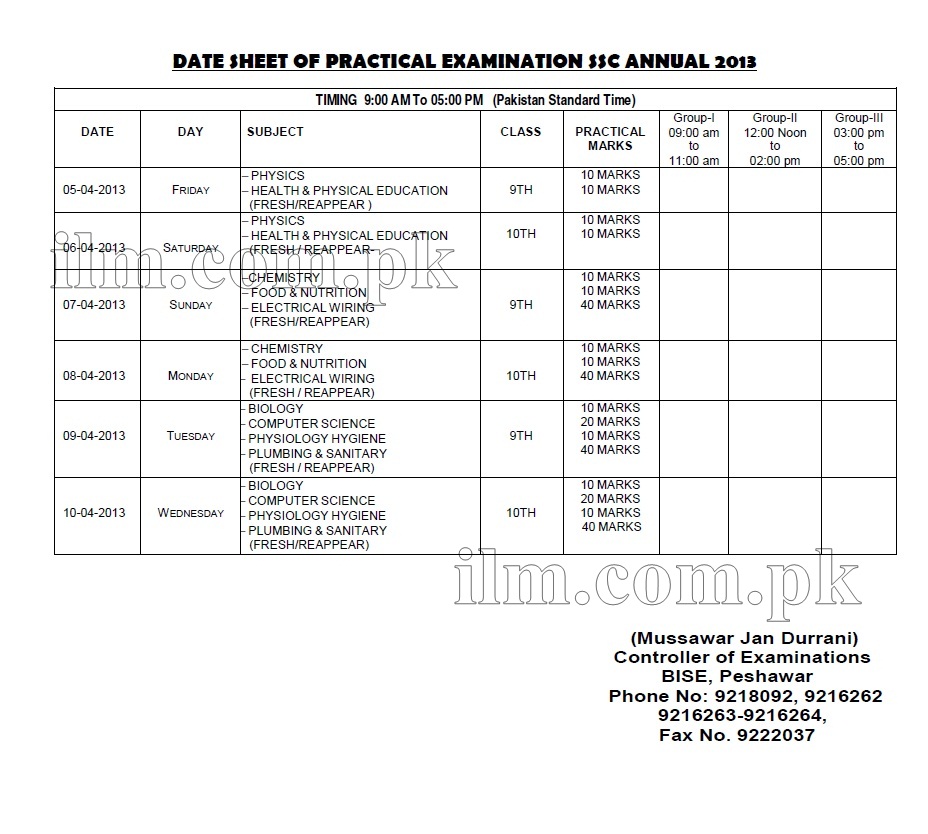 Board of Intermediate and Secondary Education Peshawar become an independent body and responsible for the conducting and managing the intermediate and matric class exams from 1961. This is the only responsible authority of the territory including Peshawar, F.R Peshawar Charsadda, Shabqadar, Mohmand Agency, Khyber Agency and Chitral.Well the good news for the student is that the Bise Peshawar Board has announced the date sheet of the 9th and 10th class for this year 2013.
Share
Tweet
About the author
I am Professional Writer on the Career Consultancy and trying to facilitate the students for delivering the educational services along with the fastest growing educational website of the Pakistan. This post is written by Moin Akhtar
Related Posts