University of Engineering and Technology UET Lahore Entry Test 2015 Dates and Schedule are announced by the officials so all those students who wants to take admission in the BSC Engineering from any of the Engineering college of the Punjab or those who wants to take admission in the UET affiliated colleges in BSC Technology the entry test will be on Sunday 16th August, 2015 UET Entry Test Date is not announce yet and the test will be start from 10:00 am in the morning. So if you want to take admission in the BSC Engineering and BSC technology then you have to clear this test as without passing this admission you cannot able to get admission in the top engineering universities or Colleges of the Punjab. Well here is the complete detail of the UET Entry test dates, Schedule and other procedure so have a complete look
UET Entry Test Date & Time: University of Engineering & technology entry test will be taken on Sunday 16th August, 2015 and the entry test start time will be 10:00 am in the morning
UET Entry Test Centers:
University of Engineering & technology, Main campus Lahore
University of Engineering & technology, kala Shah Kaku campus
Lahore Garrison University Main Campus, Sector C, Phase 6, Avenue 4, DHA Lahore
Lahore Garrison University, Jinnah campus, 52 Tufail Road, Lahore Cantt
University of Engineering & technology, Taxila
Engineering College Bahauddin zakriya University, Multan
Engineering College, Islamia University, Bahawalpur
NFC institute of Engineering and Fertilizers Research, Faisalabad
University of Gujrat, Gujrat
International Islamic University, Islamabad
Government College of technology, Rasool
Doctor A, Q Khan Institute of Technology, Mianwali
UET Lahore Entry Test 2015 Dates and Schedule
Eligibility Criteria:
All those candidates who have passed their FSC, Intermediate, BSC, Diploma of Associate Engineering, B.Tech or equivalent to this are eligible to apply for the entry test taken by the UET. This entry test is not only the reason that you will got admission in the UET Lahore or its other campuses other than that there are many rules which have to be follow.
Application for Entry Test:
Application form can be get from this site by the 16th July, 2015 as from onward 14th July you can see a link by licking on this an application will come in front of your screen and after filling the applications students have to submit the fee challan in the Bank.
Fee of the Entry Test is Rs. 400/- only and this fee can be submitted to any Habib Bank online branch.
To collect admit card you have to submit this application to the relevant department as without the admit card you are not allowed to sit in the examination.
Application form can also be taken from the above given centres from 16th July till the 8th August, 2015.
Documents to be required for Application of UET Entry Test:
Computerized National Identity Card or Form B
2 recently taken passport Size photographs
Challan Form Receipt number 1
Instructions for the UET Entry Test 2015 Preparation:
Admission test marks will be divided into that order
Physics: 30%
Mathematics: 30%
English: 10%
Elective Subjects: 30%
Entry test will be totally on the basis of FSC and Intermediate level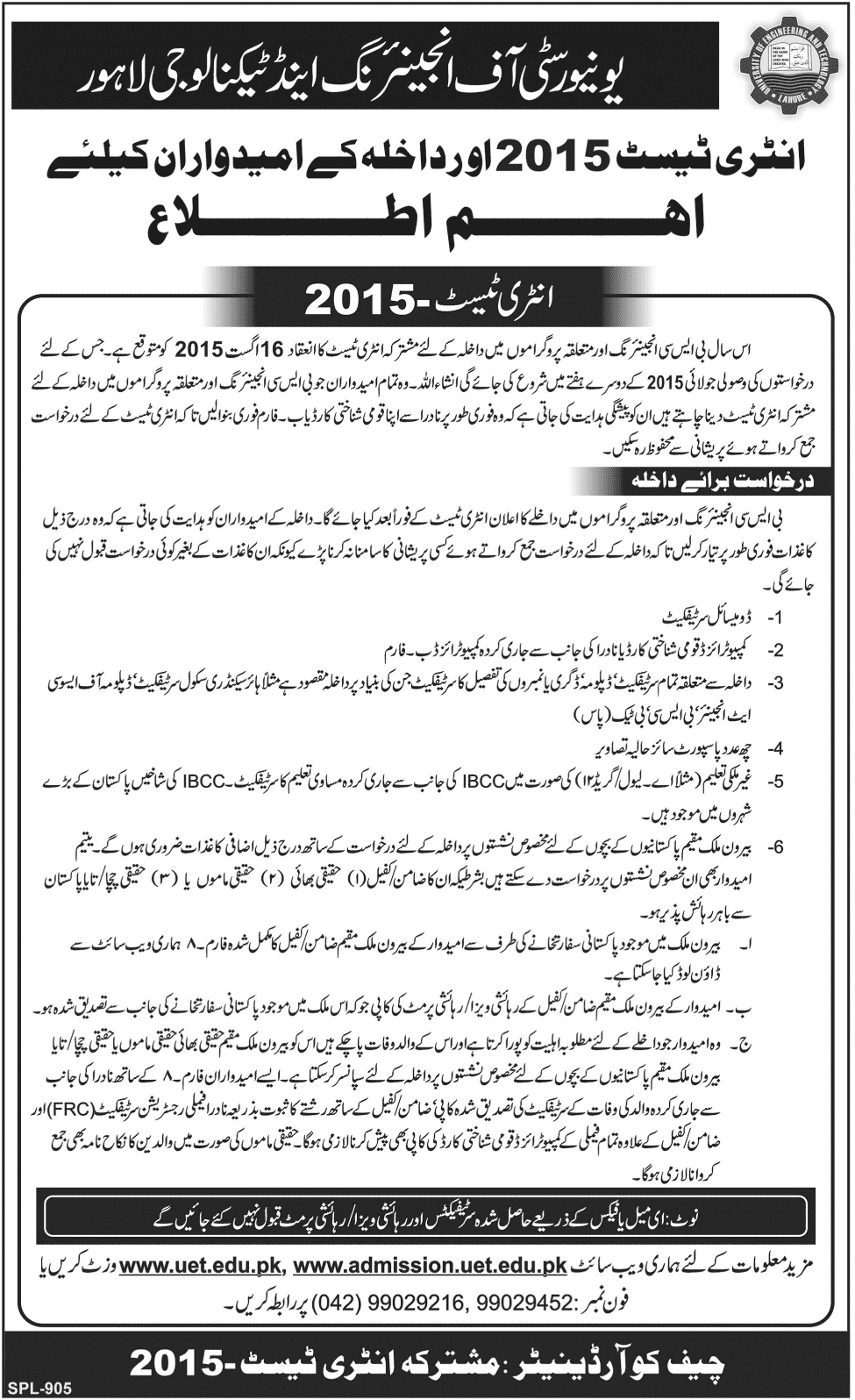 University of Engineering and Technology UET entry test 2015 date is confirmed by the official and that is on Sunday 16th August, 2015 and the answers of the question in the test will be available on the site on the mid night of the 16th and 17th August, 2015
UET Lahore Entry Test 2015 Dates and Schedule

,