BISE Peshawar Board Inter Result 2012 Intermediate Part 1 & 2
By Fareeha+ on July 23, 2012 7:38 am in Results / 1 comment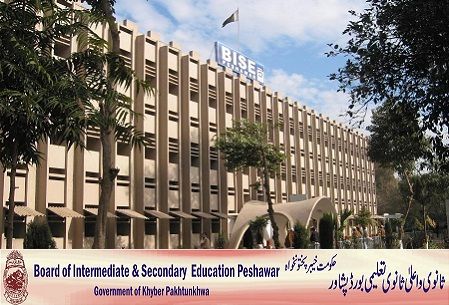 Peshawar Board Intermediate Result 2012 will be declared on Monday 23rd July. Peshawar Board usually arranges the annual examination in the month of March and April and announces the result either in the last week of July of in the beginning of August. This year Peshawar board is declaring its annual results earlier as compare to previous year. It is also declaring its results before the declaration made by the other educational boards. Normally Peshawar board prefers to declare the result in first week of August but this year they making it earlier.
According to the Official website of Peshawar Board, Intermediate Annual 2012 Result will be announced in the last week of July 2012
Peshawar Board has already declared the result of Matriculation classes and now it is up to announced the annual result of Intermediate Part I & II on 3rd Ramadan. Peshawar Board came into being in 1961 to control, manage, supervise and conduct the examination for Matriculation and Intermediate classes for the students of Peshawar and the regions which are affiliated with it. Peshawar jurisdiction is comprised on whole Khyber Pakhtunkhwa and its tribal zones. The number of educational institutes is increasing as well as number of students is growing rapidly. The Peshawar Board organized sun offices at the district level at Mardan, Kohat, Bannu, DI Khan and Swat in the beginning. But afterwards, the number of educational institutes along with number students amplified so the creation of more boards occurred on the request of general public. Peshawar Board is doing its duty very strongly and it shows fair, transparent result. The annual result is generally error free and judicious.
BISE Peshawar Board Inter Result 2012, Intermediate Part 1 & 2 will be Updates Here as soon as It is Announced by the Peshawar Board…

Students will be able to get to know their result after the official announcement of the result. They would get their results on all bookshops in the form of gazettes and on internet as well as also can get their result on mobile. They will be facilitated with further guidance from their respective colleges. They can also visit the head office of the board in case of any confusion in results.
Thousands of students enrolled themselves under Peshawar board and appeared in the Intermediate examination 2012. They have been waiting for three month for results to be declared and time is very near that their achievements will be in their hands. There is also the possibility of any kind of error in the result due to large number of students. But the Chairman of Peshawar Board Prof. Dr. Muhammad Shafi Afridi has given strict orders to certify the correct result. All members were busy in preparing fair, judicious and transparent result and now BISE Peshawar Board Inter Result 2012 going to announce on 23rd July 2012.
The students were waiting very anxiously for their results and now all there tensions and fears will be disappear when they will get to know there results. After the declaration of result, the students achieving good marks will be able to opt for the University of their Own Choices. Need of the hour is to have patience and pray to God for their good results and hope for the best.
BISE Peshawar Board Inter Result 2012 Intermediate Part 1 & 2

,

9.7

out of

10

based on

3

ratings
Share
Tweet
About the author
Related Posts