Schedule of National Aptitude Test (NAT) 2012
By Fareeha+ on June 11, 2012 5:13 pm in NTS / 4 comments
National Aptitude Test (NAT) is necessary for admission in NTS associated universities. NAT includes 12 tests per year which are held with the gape of one month. Candidates will appear in only one test and will be eligible for admission in all the universities in respective subjects.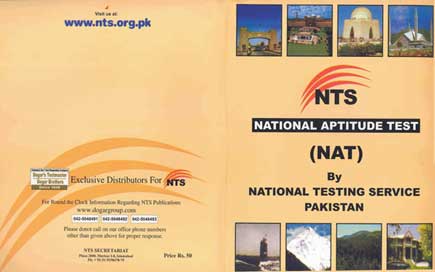 To get admission candidates will be required to apply for admission to universities as they announced with a copy of NTS result card.
Keep in mind that NAT test result will be valid for only one year. Below you can find test schedule and all the information related to NAT.
Click Here to get Information About National Aptitude Test (NAT) 2012 Admissions
Schedule of National Aptitude Test (NAT) 2012

Sr #

Test Date

Advertisement Dates

Last Date of Submission of Registration Form

Provisional Candidates' list will be uploaded on website

Queries will be entertained till

Roll No. Slip Dispatch Date

Result Announcement Date on NTS Website

1

Sunday
15th January
2012

Sunday
18th December
2011

Saturday
31st December
2011

Monday
2nd January
2012

Wednesday
4th January
2012

Thursday
5th January
2012

Saturday
21st January
2012

2

Sunday
26th February
2012

Sunday
29th January
2012

Saturday
11th February
2012

Monday
13th February
2012

Wednesday
15th February
2012

Thursday
16th February
2012

Saturday
3rd March
2012

3

Sunday
25th March
2012

Sunday
26th February
2012

Saturday
10th March
2012

Monday
12th March
2012

Wednesday
14th March
2012

Thursday
15th March
2012

Saturday
31st March
2012

4

Sunday
22nd April
2012

Sunday
25th March
2012

Saturday
7th April
2012

Monday
9th April
2012

Wednesday
11th April
2012

Thursday
12th April
2012

Saturday
28th April
2012

5

Sunday
27th May
2012

Sunday
29th April
2012

Saturday
12th May
2012

Monday
14th May
2012

Wednesday
16th May
2012

Thursday
17th May
2012

Saturday
2nd June
2012

6

Sunday
24th June
2012

Sunday
27th May
2012

Saturday
9th June
2012

Monday
11th June
2012

Wednesday
13th June
2012

Thursday
14th June
2012

Saturday
30th June
2012

7

Sunday
22nd July
2012

Sunday
24th June
2012

Saturday
7th July
2012

Monday
9th July
2012

Wednesday
11th July
2012

Thursday
12th July
2012

Saturday
28th July
2012

8

Sunday
26th August
2012

Sunday
29th July
2012

Saturday
11th August
2012

Monday
13th August
2012

Wednesday
15th August
2012

Thursday
16th August
2012

Saturday
1st September
2012

9

Sunday
23rd September
2012

Sunday
26th August
2012

Saturday
8th September
2012

Monday
10th September
2012

Wednesday
12th September
2012

Thursday
13th September
2012

Saturday
29th September
2012

10

Sunday
21st October
2012

Sunday
23rd September
2012

Saturday
6th October
2012

Monday
8th October
2012

Wednesday
10th October
2012

Thursday
11th October
2012

Saturday
27th October
2012

11

Sunday
25th November
2012

Sunday
28th October
2012

Saturday
10th November
2012

Monday
12th November
2012

Wednesday
14th November
2012

Thursday
15th November
2012

Saturday
1st December
2012

12

Sunday
23rd December
2012

Sunday
25th November
2012

Saturday
8th December
2012

Monday
10th December
2012

Wednesday
12th December
2012

Thursday
13th December
2012

Saturday
29th December
20
Schedule of National Aptitude Test (NAT) 2012

,

7.5

out of

10

based on

13

ratings
Share
Tweet
About the author
Related Posts