Trading In Currency Market In India
Instaforeks Opening Of The Exchange
Detail mark sheet of all the educational certificates but this all must be attested.
All those candidates who are above 18 years old must have to submit the Computerized ID Card otherwise a copy of candidates B Form but with the father or any other guardian CNIC Card.
One set of above given documents must be attested and one set is without attestation.
3 recently taken passport size photograph which are attested from front and back.
All those candidates who are appearing again in ISSB should have to submit the "NOT RECOMMENDED" Letter original as well as as three photocopies.
PMA Long Course 133 Eligibility, Registration & Application Form
Education
Age
Age Relaxation
1
Intermediate or Equivalent
17 – 22 Years
Relaxable for three months both in upper and lower age limits
2
Graduate (2 Years) and Serving PN / PAF Personnel
13 – 23 Years
3
Graduate ( 4 Years) BS / BA (Hons) / BBA / BPA
17 – 24 Years
4
Serving Army Soldiers
17 – 25 Years
http://adelaidedivewreck.com/?option=Bsz-Is-Binary-Options-Allowed-In-India Bsz Is Binary Options Allowed In India
watch In Home Personal Training Business Names
http://danstasiewski.org/?option=Latest-Stock-Market-News-In-Singapore Latest Stock Market News In Singapore
Unmarried but the married person that are from servinf personnel of the armed forces more than of age 20 years can also apply.
Nationality of Candidates:
All the Citizen of Pakistan along with the Azad Jammu Kashmir are eligible to apply as a commission Officer though PMA long course 133.
Physical Standard:
Minimum Height: 5′ – 4″ (162.5 cm)
Weight: as per body mass index
Education:
All those candidates who are applying on FA/ FSC Basis or equivalent must have secure 60% marks in the annual examination
Candidates applying on basis are graduate courses must have to secure 50% Marks in Intermediate and then 60 % marks in A / BSc, BA / BSc (Hons) and BBA / BPA
Candidates applying from Less developed areas will get a preference in marks of 5% means that would eligible if they got 55% marks in the annual examination
50% marks for Serving army Soldier is laid on the eligibility criteria.
Registration and Admission form:
Registration forma and Admission form is not been declared by the Army selection office but tomorrow from the 8th October till the 10th November, 2013 registration will be open so candidates can collect their Admission form from this page.
Registration Schedule:
Registration open from: 8th October, 2013
Last Date for registration: 10th November, 2013
Preliminary Tests: 12 November, 2013 to 3 January, 2014
For Registration Click Here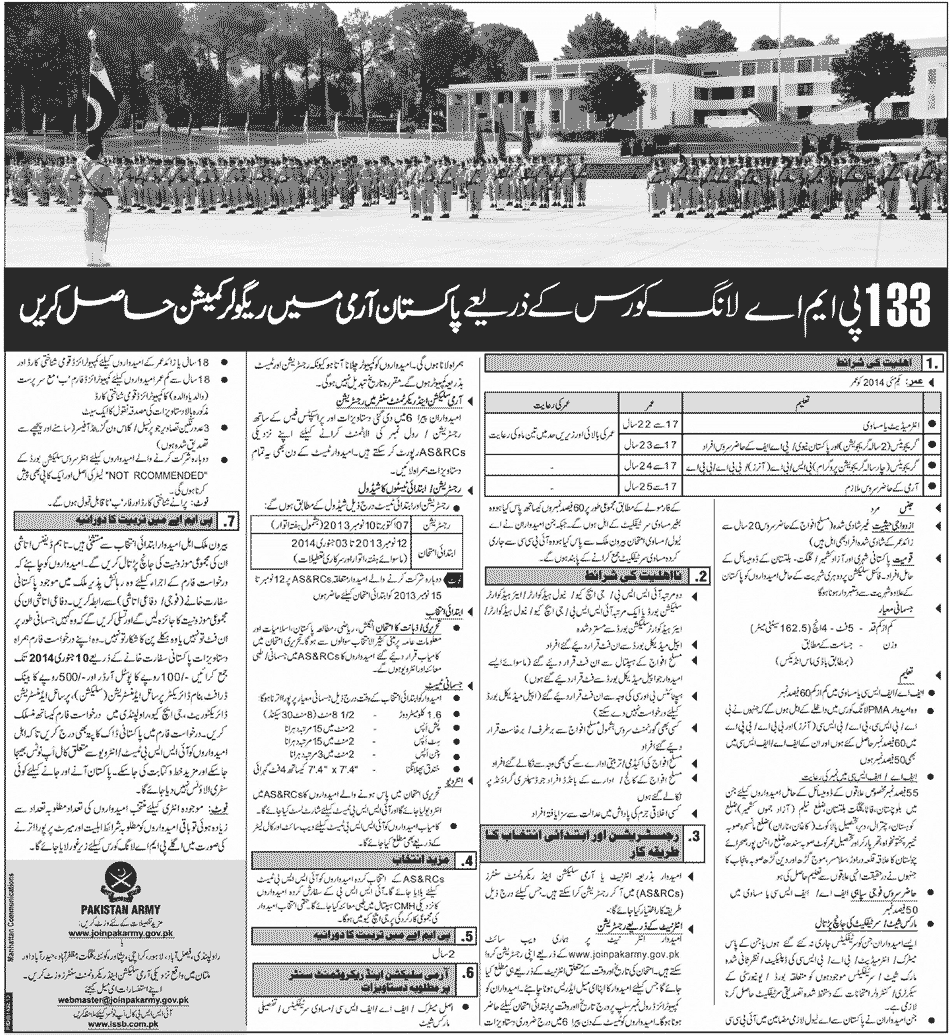 Registration Procedure:
Check Registration Status
There are two ways in front of you to register yourself for the PMA Long Course 133 that are
Registration Though Internet
Registration through AS&RCs
Join Pakistan Army After Matric, Inter, FA, FSc Graduation
Training and guidance for joining ISSB Test
For more information visit your nearest Army Selection and Recruitment Center
Join Pakistan Army through PMA Long Course 133

,