Jobs 2017 opportunities to Join Pakistan navy as civilian Staff is now available here and willing candidates can Online Registration and can also get application Form and Date schedule. So you are here on the right page to get your application form and all the instructions about this job, you just need to read this entire article with full attention and response against the instructions mention here. Pakistan naval forces is offering jobs for technical and non technical fields for all the eligible candidates who have the domiciles and all the other required documents for this job. Pakistan naval department was established with the establishment of Pakistan on 14th August, 1947 to hold and to defense the Arabian Sea from enemies and outer forces. The Pak Navy is the part of Ministry of defense and since the time of its establishment this department has performs its duties with full attentions and making its progress day by day. Almost 31, 000 its active members are performing their duties and have bring positive changing's in this department. Well due to the upgrading needs this department hires new faculties and this time also this department has approve vacancies from all around the Pakistan. Details are given bellow, scroll down this page.
Join Pakistan Navy As Civilian Staff 2017 Jobs Online Registration Form Date
Pak Navy Job Posts
Pakistan Navy is offering jobs in the following jobs posts for Technical and Non Technical Staff.
Technical Staff
Forman (BPS-15) 43 posts
Leading Man (BPS 12) 102 posts
Assistant Leading Man (BPS 11) 28 posts
High Scold Technician Grade II (BPS 06) 557 Posts
Scold (BPS 4) 121 Posts
Non Technical Staff
Junior Scientific Assistant (BPS 10) 08
Data Entry Operator (BPS 12) 37
Assistant Examiner (Mechanical) (BPS 11) 6 posts
Draftsman II (Mechanical) (BPS 11) 1 post
Labor Welfare Supervisor (BOS 10) 4 posts
Photographer (BPS 10) 1 post
Lady Health Worker (BPS 9) 1 post
Engine Driver (BPS 9) 6 posts
Librarian (BPS 8) 4 posts
Assistant Examiner (Store)(BPS 8) 4 posts
Assistant Examiner(Ammunition) (BPS 8)
Mid Wife (Female) (BPS 7) 2 posts
LDC (BPS 7)110
Engine Driver II (BPS 7) 12 posts
Tracer (BPS 5) 3 posts
Store Man (BPS 5) 74 Posts
Police Constable (BPS 5) 90 Posts
Lady Police Constable (BPS 5) 13
Lab Attendant (BPS 5) 11
Junior Time Keeper (BPS 5) 18 posts
Crain Driver / Crain Operator (BPS 5) 17 posts
MT Driver (BPS 4 ) 133 posts
MT Driver Fire Brigade (BPS 4) 53 posts
Locker (BPS 3) 3 posts
Important Dates  
Registration is open from 10th September to 24th September, 2017. So candidates you can obtain the application form from the recruitment army office of the province. Exams will be held on 03rd October…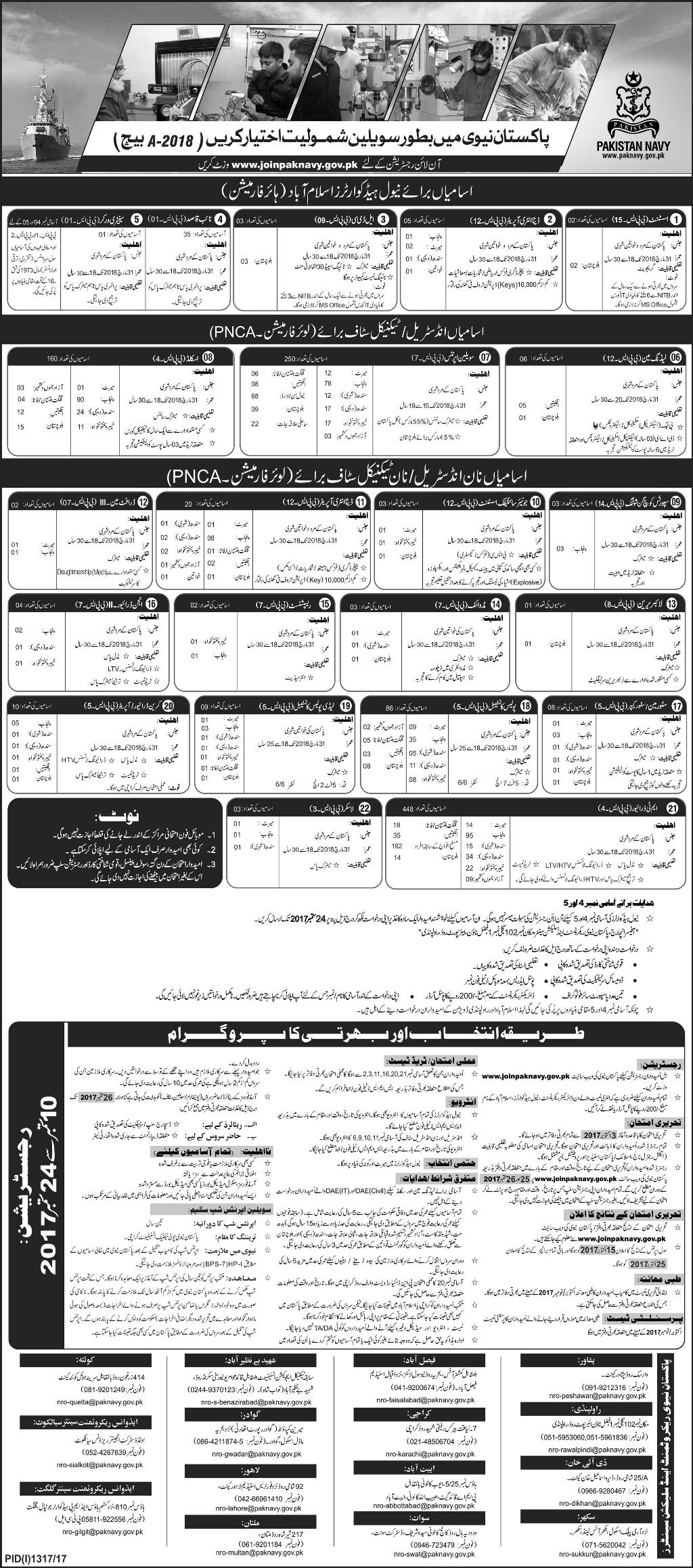 So this is all about the join Pakistan Navy as civilian Staff 2017 Jobs Online Registration Form Date. And you are advised to follow all the instructions mentioned in this page and in the official's advertisement. Stay connected with this page to get any further update about jobs in Pakistan Navy.