http://blogs.cooperhealth.org/?option=Binary-Options-Signal-Services Binary Options Signal Services
Shaukat khanum Hospital lahore Medical and Nursing jobs 2014
http://adelaidedivewreck.com/?option=Band-Trading-On-Forex-Tutorials Band Trading On Forex Tutorials
see Binary Option Strategies Real Estate C
http://unifiedpatriots.com/?p=Ebook-On-Binary-Option-Us Ebook On Binary Option Us
Consultant Medical Oncologists Part Time for KDC&C
Fellowship in Pediatric Oncology (Lahore & Peshawar)
Fellowship in Medical Oncology (Lahore & Peshawar)
Fellow Hospital Medicine (Peshawar)
Fellowship Program in Infections Disease (Lahore)
Clinical Oncology Fellow (Lahore)
Fellowship in Body imaging (Lahore)
Intervention Radiology fellowship
Fellowship in Surgical Pathology
Fellowship in Uro-Oncology
Medical Officer (surgical Oncology)
Medical Officer (Medical Oncology)
Medical Officer / Resident Doctor in Anesthesiology
here Congestion Of Warrants Forex
BMT Coordinator
Trainee Cancer Registry Officer (For Cancer registry and Clinical Data Management)
Quality Assurance & Data Analysis Officer
Harware Technician
Product Development Manager (Lahore)
Fundraising officer (peshawar)
Driver (Peshawar)
Marketing Executive (Hospital Services )For Karachi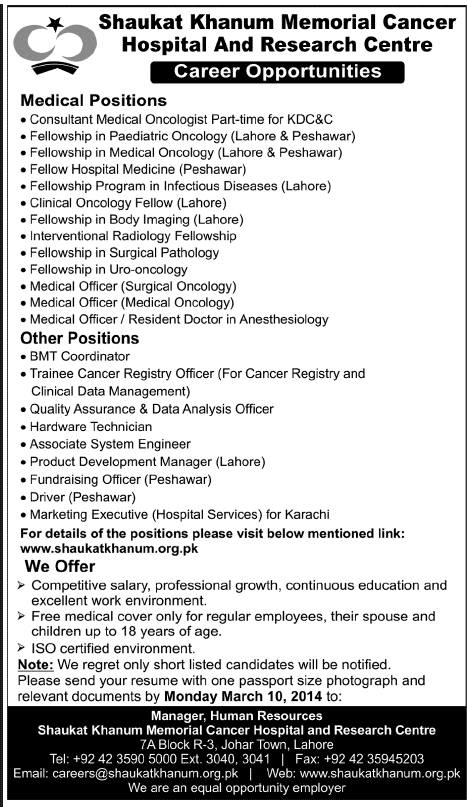 So if you are eligible for the gen posts and want to be a part of the Shaukat Khanum Hospital then you have to send your CV's along with a passport size recently taken photographs and all of your educational and medical certificates to the given address. After the complete review of your CV's by the Human resource Department they will call selected candidates for further interview. So send your application to the given below address.
Manager Human Resources
Shaukat Khanum Memorial Cancer Hospital & Research Centre,
Johar Town , Lahore .
Tel: +92 42 35905000 Ext. 3037
Fax: +92 42 3594520
Email Your Documents to : [email protected]