Future of E-Commerce in Pakistan
By azy+ on April 23, 2012 8:37 am in Learning articles / 2 comments
The most used word E-Commerce in Online buying and Future of E-Commerce in Pakistan is as described below along with detailed Buying and Selling Online through E-Commerce in Pakistan.Online Shopping is quite beneficial and easy to do put into practice that not only saves your money but time too. E-commerce stands for Electronic Commerce. With the revolution of internet, the usage of internet has increased a lot. It has changed the overall working and living style of the people. It has a great impact in many fields of life. It has converted the world into a global village.
E-commerce is basically means doing the business online. It includes selling, buying, advertising and contacting buyers and users through internet. In the more detail we can describe E-commerce is using the techniques and tools of internet in ones business for several purposes like offering a retail shop online, like choosing a product from visiting the online store and then making payments online. Order can be placed for some products and they are delivered to the door steps of the user and payment can be done by cash.
Globally, all organizations are find ways and tactics to increase user's online shopping experience and encouraging them to shop their rather than going to a physical store. Like, LG introduced a refrigerator which has its own built in computer assistant for aiding the buyers for online shopping grocery stores. E-commerce is contributing over all $4 million every year.
Ecommerce is a business with a very low initial capital investment so an estimate is done that in near future, 25% of business will be converted in to online business centers. Following points can be taken into consideration for realizing the future of E-commerce in Pakistan.
 Future of E-Commerce in Pakistan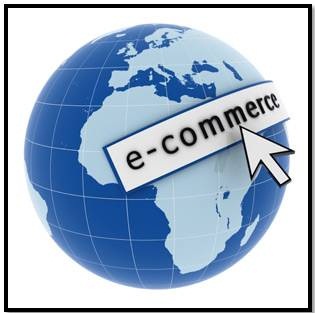 The trend of e-commerce can be observed as the fastest growing business of the world. To start speeding up E-commerce business in Pakistan, we should recognize e-commerce activity takes place in the USA that is almost 78 per cent. As the January 2000, over 110 million people have internet access there compared to 279 million the world over.
The numbers of internet users are speeding more and more time in all around the world and same is the trend can be observed in Pakistan. In 1995, almost .01% of Pakistan population use internet but in 2010 this rate goes high and now it's almost 15.1% of the total population. People are getting more aware about the internet usage and Pakistan businessmen can make good opportunity out of it.
As far as E-commerce in Pakistan is concerned, a research was conducted to find some hard realities. According to the result of research a significant number of Pakistan population do not have internet which is a basic ingredient of e-commerce. Another result was concluded that people are insecure about misuse of credit cards for online transactions. Despite of all this, the research findings suggests that online stores are the best options for your shopping as they are time, money and other resource saving.
Research Findings
1) Do you use internet: 65 % people use internet: at least once a week
2) Are you satisfied with downloading speed of internet: 98% were not satisfied?
3) Have you bought Online (if yes then what is frequency): 2% people have bought online out of which 99% people bought only once.
4) Do you feel Secure Doing Online Transaction: 99% people feel insecure doing Transaction Online?
5) Are you satisfied with shipment: 100% were satisfied with shipment?
6) Is it convenient to buy Online: 100 % were saying that purchasing online buying is convenient?
Foreign interest in Pakistan's technology sector has been increasing. Local entrepreneurs have set up around 100 call centers in recent years in Pakistan.
As government realizes the importance of e-Commerce, the universities are forced to introduce E-Commerce in their syllabus.
No rules have been established on how to tax e-commerce or determine "electronic residence" in Pakistan.
It can be resulted that there is a lot of scope of e-commerce in Pakistan, and most companies are willing to enter into digital world, but at present E-commerce is not expected to increase in near future due to low PC literacy and internet penetration in Pakistani Culture.
One can easily understand and project the Future of E-Commerce in Pakistan from the above discussion.Write with us through commenting on this page given below.
Future of E-Commerce in Pakistan

,

6.4

out of

10

based on

5

ratings
Share
Tweet
About the author
Related Posts