Prime Minister Qarz e Hasna Scheme 2013 Micro Interest Free Loan
Prime Minister Qarz e Hasna (Micro Interest Free Loan) Scheme 2013 is launched by Federal Government so the eligibility criteria along with the Introduction, Loan Size, Loan Amount, registration Procedure and application form will be discussed in detail on this page. As recently the Federal Government president while addressing to the nation tells about the six Scheme that will be soon started by the government just to facilitate the youth of the country. so if you also want Micro interest fee loan for your business establishment or flourish then this Qarz E Hasna Scheme 2013 is best option in front of you but for this you have to stay in touch with this page so that all the latest updates from the federal Government sportsperson directly reaches to you on by the updating of this page.
Introduction of Qarz e Hasna Scheme 2013:
The main idea of launching this Qarz-e-Hasna is that so that the poor and young people of Pakistan could established their own business as according to an average a loan of Rs. 25000/- will be given to the eligible person. There are few poor in Pakistan who feels that if they put a little more amount to their business then their business can be flourished so this scheme is the best opportunity to all those candidates. As all the six Scheme launched by the Prime Minister Pakistan are for the benefits of the youth of Pakistan because if the youth of the nation is strong that means the economy of this state is strong so to stronger the youth the best way is to decrease the unemployment rate in the country. That can be done through two ways that whether government provide employment to each youth or provide such opportunities to the youth that they could establish their own business and become their own boss so that is why this Qarz-e-Hasna Scheme is introduced. This is totally an interest free micro loan scheme on which you do not have to pay any kind of interest.
Prime Minister Qarz e Hasna Scheme 2013
Eligibility Criteria:
All the candidates from the Vulnerable Rural and Urban poor with poverty rate of up to 40 are eligible for getting Qarz e Hasna Micro Interest Free loans from the Federal Government. Distribution of the Loan will be on equality basis as gender means 50% of the loans will be borrowed by the Women and other 50% will be for men. There is no geographical limit is defined for this loan scheme so candidates from all over the Pakistan will apply for the Loans.
Other Information: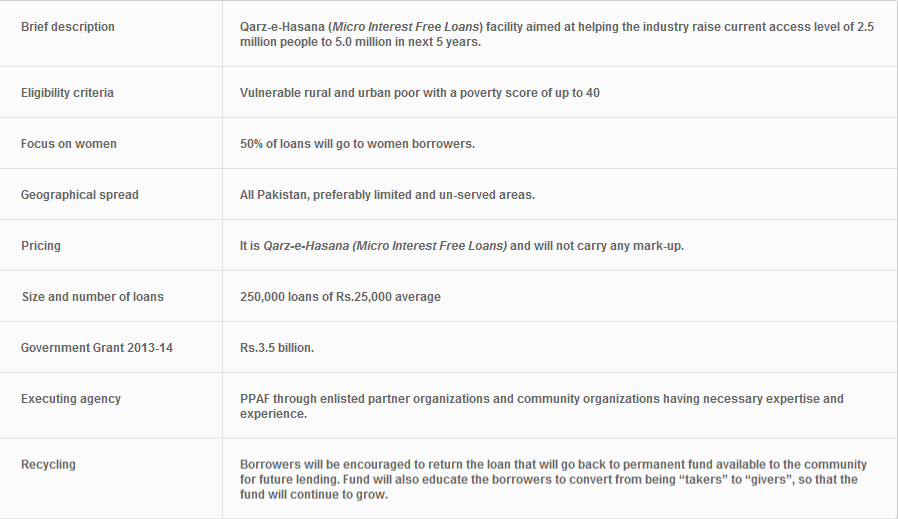 Registration Process and Application Form:
Registration Process and the appreciation form is not available yet as this is just an announcement from the Prime Minister of Pakistan Mian Muhammad Nawaz Sharif so now federal Government is now making arrangement for all these schemes and among them Qarz-e-Hasna is one of them. Well as soon as all the arrangements has been made by the Government this page will be updated to provide you complete registration process and Application form is also available on this page. so atay connected to get all the latest updates of the Prime Minister Qarz e Hasna Scheme 2013 Micro Interest Free Loan.
Prime Minister Qarz e Hasna Scheme 2013 Micro Interest Free Loan

,