CAMPUS LIFE AT UCP
"Hurrah!!! WHAT A BUILDING!!!"Campus life at UCP is full of fun and enthusiasm, new campus of university is situated at middle of JOHAR TOWN with a covered area of approximately 400,000 square feet, having the capacity to lap more than 5000 students. UCP lays equal emphasis on academic and co-curricular activities. Therefore, besides a team of highly-qualified faculty, a host of clubs and societies are functioning under proper supervision to groom us in a balanced manner. There are many important clubs/societies and good facilities are available at UCP.
 "A TACTITURN LIBRARY"   Tripple-storey air conditioned digital library is a part of the campus. The library provides to students a comfortable and peaceful environment for reading. More than 17,000 books are available on wide range of topics related to field of business, commerce, business law and engineering. Library has the subscription of several national and international newspapers and magazines.
"SShhhh BE QUITE!!!" More than 60 Class rooms are equipped with multimedia projects for use by the teachers and students. All the classes are based on a spacious sitting arrangement having the capacity of more than 50 students.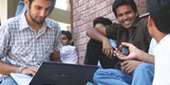 "A FUTURE INVENTOR" The faculties are furnished with the latest high-tech labs that include Electronics Engineering, Instrumentations & measurements, Telecom Engineering, Data communication & networking labs. Each lab is air conditioned and having the multimedia facility.
"WORLD ON FINGERTIPS" Computer lab consists of latest speed systems of core2due and Pentium processors made by SUN Microsystems having built in CPU's, and  Round the clock internet  facility are given to the students.
"PLAY WITH AIR"A free WI-FI connectivity is given to the students with in the range of 500 meters at all.
"ATHLETES OF FUTURE"A sport complex of UCP is consists of three gymnasiums and two swimming pool for all students. Where as indoor games are also arranged for students including snooker, carom, and video games as well.
"THE PLACE TO BE" The air conditioned multi speakers auditorium of the campus having the capacity of more than 500 students. The university conferences, seminars, Workshops, Social events, Drama and music sittings are arranged in the auditorium.
 "BE A BOOK" UCP has its own book shop on campus for our convenience.  That provides a wide range of stationery items at competitive rates.
"CALM DOWN!!!" The University of Central Punjab has a full-service cafeteria which offers something for everyone.  Whether you are looking for a quick snack such as a sandwich or samosa, or something more substantial, you'll find it here. The cafeteria is open daily from 9 a.m. until 9 p.m. for your convenience.
"PARK THE VEHICLES" Two large area basements are served for parking the vehicles having a vast capacity of more than 750 cars & 2000 motorcycles.
 "JUST FUN!!!" Number of clubs and societies are functioning under proper supervision to groom the students into versatile citizens.

"COME TO ARRANGE" This club coordinates all the on-campus events and generates healthy activities for the university students. The membership of this club is offered on the basis of academic performance and interview by panel. The president of the club is selected by the faculty and officers of the university through a strong selection process.
"BUSINESS MEN!!!" Society of encouragement of entrepreneurship (SEE) is another platform for the students of UCP that helps to discover their potential as future entrepreneurs and successful business owners helps UCP students to access all established forums such as EBP, Punjab development Fund LCCI and others of the like. The presidency of SEE is given to a student with sound academic score and entrepreneurial vision.
"CHILL TIME!!!" Three most interesting societies working under the supervision of qualified staff is Movie Dramatic & debating club. A weekend scheduled movies of English and Urdu languages are arranged at the auditorium for the students free of cost. Drama club organizes the Drama's on the special events at the campus. Debating society is working for the future debaters and speakers. This society also selects the team of UCP debaters for participation in national and universities level competition held by government and prospective departments all over Pakistan.
"AN ENGINEER" This society is strongly working for the engineers of the university; Give them the facility to make their electronic projects free of cost. The president of this society is a faculty member chooses by the Dean of the department.
"SAFE YOUR FUTURE" UCP provides advisory services to all students of the university. The academic advisor reviews the relevant academic records of students and advises them on selection of courses. The advisors help the student in determining the course work to be completed before applying for further studies abroad.
"CAREER PLANNING" University of Central Punjab has on campus career planning and consultancy bureau .UCP annual job fair also provide the opportunities for students to qualify for established organizations such as Mobil ink,  Warid , Ufone, Telenor  , Citibank, UBL,ABL,RBS  and  others like that.
"AT A GLANCE" Overall the campus life of the UCP is serving all the present day requirements for making the students the future leaders and proudly skipper of Pakistan in all over the world.