Admission in Media Production in Nation College of Arts NCA Lahore Postgraduate centre for Multimedia Arts is open so all those candidate who wants to take admission in the Six months certificate courses of evening program in Media Production can apply for the admission before 22nd July, 2013 as 22nd July is the last date for the application submission no applications would be entertain which will receive after the last date of the form submission.
As we all know that Development in the field of Information technology is upgrading every day so seeing this National College of Arts start Post graduate centre in Multimedia Arts in year 2001. Now in media production the courses open admission are as follow
Video Production
Computer Graphics & Digital Photography
3D Animation & Motion Graphics
Multimedia Productions consists of quality short courses that leads to both professional and personal development. NCA has developed these interesting and innovative short courses that offers opportunities for lifelong learning and introduction to new areas of interest. Short courses are an ideal way of acquiring new skills in a short time, they are practical, active and enjoyable
Application Form:
CLICK HERE TO DOWNLOAD
Admission in Media Production in Nation College of Arts NCA Lahore
Eligibility Criteria: Intermediate or equivalent

Admission criteria: Admissions will be on open merit bais. An Aptitute test will be followed by an Interview.

Application Form: Admission form can be download from this page and also it is available at the department of Multimedia Arts Information desk

Submission of Form:
Forms must be submitted at the department of Multimedia Arts or by TCS, along with a pay order of Rs. 350/- in the name of Principal, National College of Arts.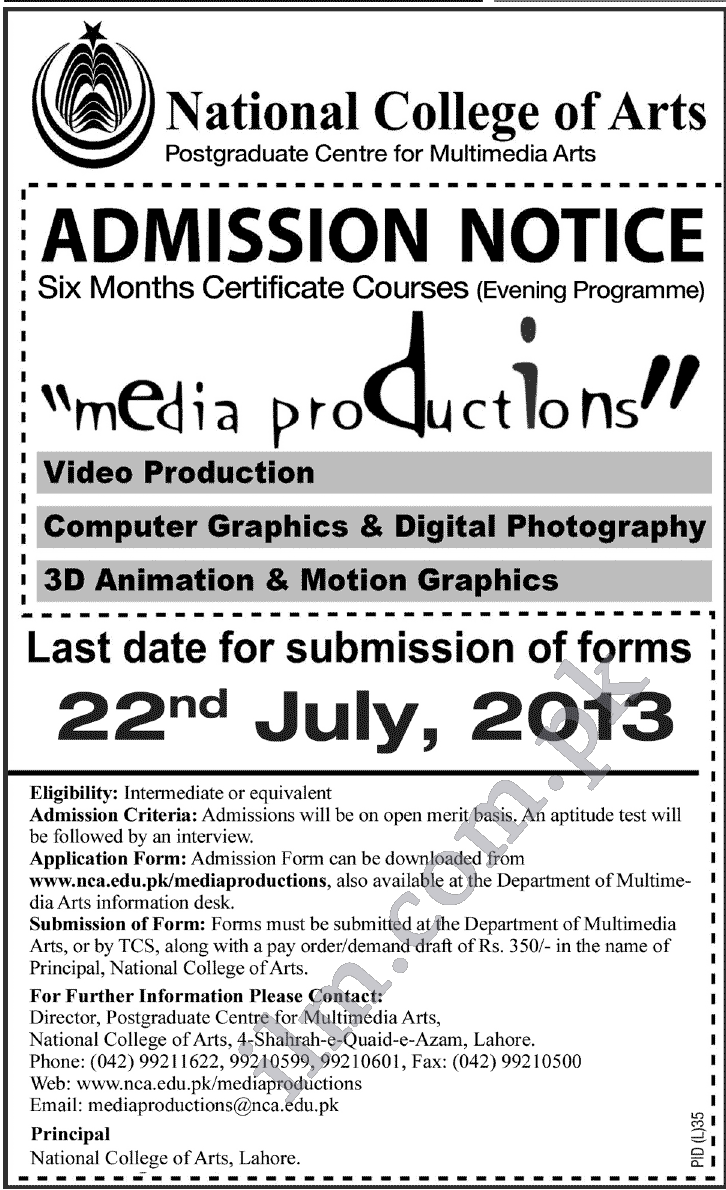 For Further Information Please Contact:
Director, Postgraduate centre for multimedia arts,
National College of Arts, 4- Shahrah-e-Quid-e-Azam, Lahore
Phone: 042-99211622, 99210599, 99210601