Forman Christian College FCC Lahore Postgraduate Fall Admission 2018 is announced by the admission department of the college. The FCC is looking forward toward all those candidates who have clear the examination in undergraduate and now wants to get admission in postgraduate program to continue their further studies. For this purpose they have to complete the procedure of getting admission in FCC. So first of all they have to obtain the prospectus along with the admission form or application form by paying the dues in cash to the account department, read it all carefully and fill it duly, attach all the required documents and resubmit it to the same office before the due date which is not finally declared by the officials. But as usual according to the past records of FC Postgraduate Admission 2018 last date of submission of admission forms so this will be expected till the next month this year. Now this is the time when you can get admission in the following post graduate programs.
Forman Christian College FCC Lahore Postgraduate Fall Admission 2018
Programs
Admissions are open in regular and executive classes for postgraduate programs as follows.
Executive programs
Executive MA Public Policy
Executive MBA
Regular programs
Masters in Business Administrations (MBA)
M. Phil (Applied Economics, Bio Technology, Chemistry, Physics, Political Science, English, Food Safety and Quality Management, Molecular Pathology and genomics, Public Policy and Economies)
PhD (Biotechnology, Chemistry, Physics)
Evening programs.

Forman Christian College FCC Lahore Postgraduate Fall Admission 2018 last Date:

Availability for admission form is open from the college main office these days but the final date for submission of this form is not yet clearly declared by the officials but it is expected that the submission of admission form will remain open till the next month, this is expected date so you are advised that must visit physically to the FCC main office so you would be able to apply for admission timely, Because any application submitted after the final deadline of registration will not be accepted and will not entertain any more in any case.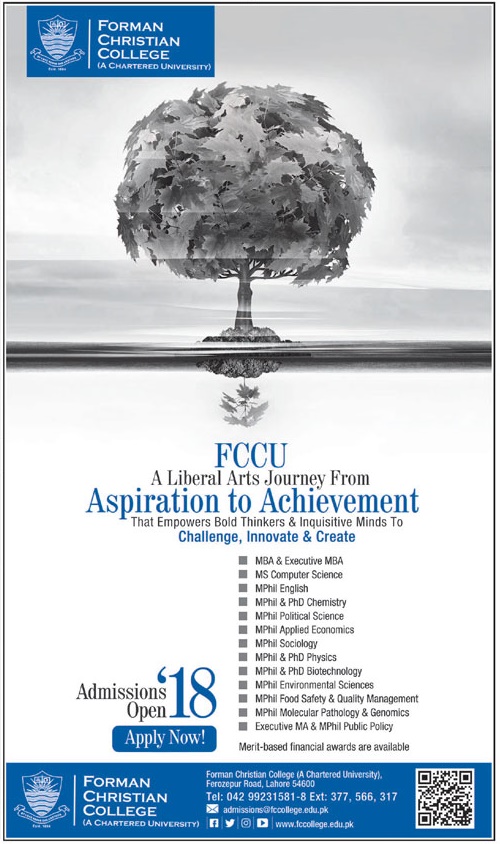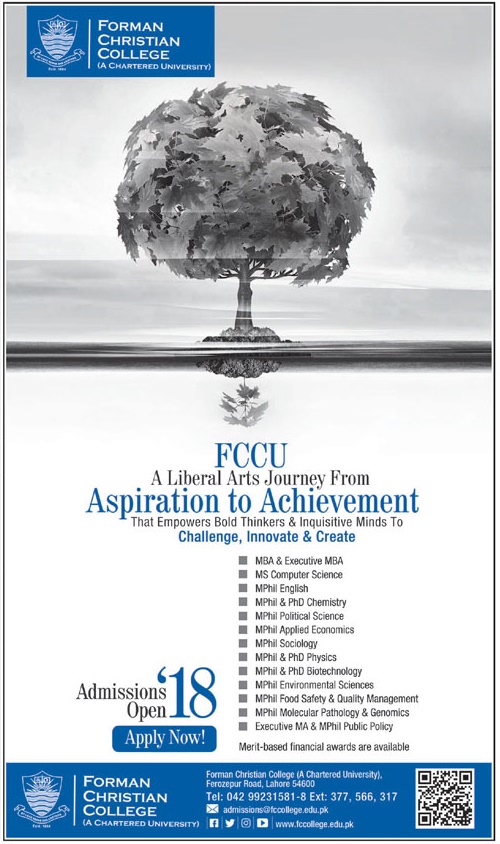 Forman Christian College FCC Lahore Postgraduate Fall Admission 2018 has open in for all those candidates who have pass the bachelor class examination or equivalent from HEC recognized institute. The Forman Christian College FCC was found in 1864 by American Christian activist and academician Dr. Charles William Forman. The University is now ranking on one of the top University in General ranking category by Higher Educational Council HEC. Since its establishment, the University is noted for producing notable scholars and intellectual. They Candidates who influences by FCC are playing vital role in the affairs of Pakistan. Hence admissions are open in this reputed organization and this page is providing you the latest updates in this matter. Stay in touch with this page for other updates according to the officials.