NUML University BS Languages & Social Sciences Admissions Fall 2017 Procedure & Criteria for bachelor level including BS Languages and Social Science. NUML University also offered admissions in the following academics Masters in Languages, Masters in Social Sciences, Management Sciences, Engineering & IT and Functional Courses etc. The complete eligibility Criteria and other information which you wanted to know about the NUML University Admission is Available here.
Admission Procedure:
Applications are invited for admission to the full-time students (morning / evening programs) for session beginning in June 2017 in NUML, Islamabad Campus and regional campuses located in Multan, Peshawar, Karachi and Hyderabad.
NUML University BS Languages & Social Sciences Admissions Fall 2017 Procedure & Criteria
Languages Include:
BS in Modern Languages (Bachelor's degree course comprising modern languages and compulsory core subjects).

Major – (6 semesters-i.e. 3rd to 8th semester) in Arabic, Chinese, English, French, German, Persian, and Urdu (for foreign nationals only)
Optional – (2 semesters-i.e. 1st & 2nd semester) in Arabic, Chinese, English, French, German, Italian, Persian, Spanish, Turkish and Urdu (for foreign nationals only)
Shift : Morning Program only
Duration: 4 year (8 Semester)
Eligibility: Intermediate with 45% marks OR A-Level with 50% marks OR Equivalent.
Offered at Campuses: Main Islamabad Campus

BS English.

Shift .Morning Program only.
Duration: 4 year (8 Semester)
Eligibility: Intermediate with 45 % OR A – Level with 50% marks OR Equivalent..
Offered at Campuses

Islamabad Campus (Morning Only)
Hyderabad, Multan, Peshawar (Morning & Evening)

BS Urdu

Shift .Morning Program only.
Duration: 4 year (8 Semester)
Eligibility: Intermediate with 2nd div OR Equivalent.
Offered at Campuses. Main Campus Islamabad

BS Balochi, BS German, BS Pashto, BS Punjabi

Shift .Morning Program only.
Duration: 4 year (8 Semester)
Eligibility: Intermediate with 2nd div with Diploma in target language from NUML OR Equivalent..
Offered at Campuses. Main Campus Islamabad

BS Persian

Shift .Evening Program only.
Duration: 4 year (8 Semester)
Eligibility: Intermediate with 2nd div with Diploma in target language from NUML OR Equivalent…
Offered at Campuses. Main Campus Islamabad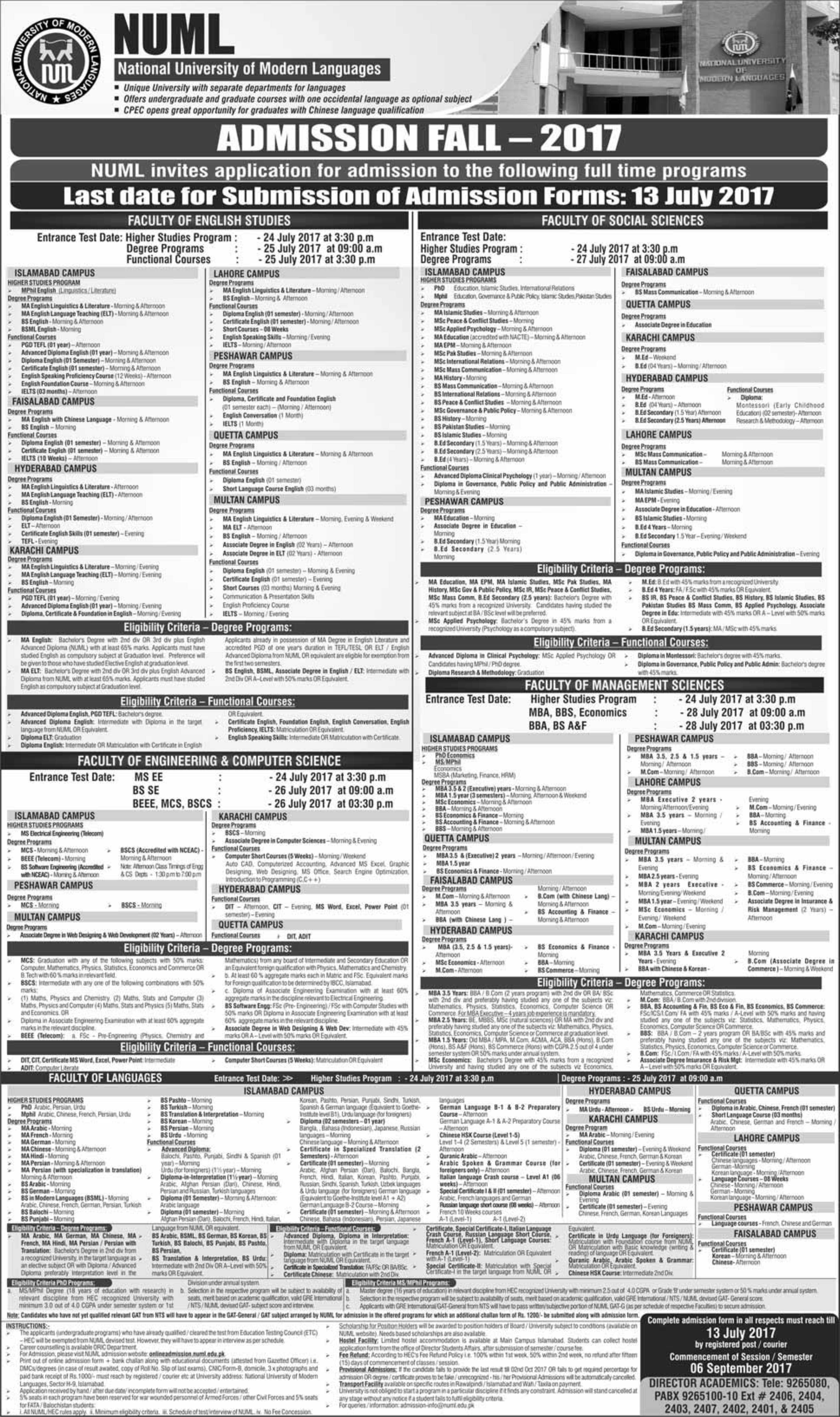 Social Studies
For Details refer to NUML Prospectus or visit NUML website (

www.numl.edu.pk

)

. Cost of prospectus Rs.800/- in cash and Rs.1000/- by post. Online processing fee is Rs.1000/- payable in NUML account in Askari Bank Ltd, I-9 Branch, Islamabad Acct # 551650500720

 Last date for receipt of application forms is 13th July 2017. Last date for online submission of application is 13th July, 2017. Those applying online must download filled form and attached 2 x photographs and copies of NIC and all their educational certificates and send it by express mail to the campus where they are seeking admission
Entrance Test:-
Date: – 24th & 27th July 2017.
Venue: – NUML, Main campus Islamabad and all regional campuses. 
Candidates to specify choice of test centre and choice of campus while applying