It is the page for admission intake BBA, BS, MBA, MS, BS, PhD at Bahria University Karachi Admissions Spring 2019 Form.These Programs having quality Staff for getting improvement in these programs specifically. Bahria University is among best universities in Private Institutes In Karachi. Now Admission Intake is started and last date to apply is 14th December for Undergraduate and 14th December for post graduate programs so other admission form that will receive after that day will not be taken under consideration and will not entertained in any case. At the time of form submission after checking the complete form the person on the admission desk will give you an admit card which is compulsory to bring along with you when you come for entry test. The pre-entry test for Spring Admission 2019 will be conducted at the Bahria University Karachi on December. All those students who forgot to bring the admit card along with them will not allowed to sit in the examination hall in any case so keep in mind that thing while leaving home for the pre-entry test. After the announcement of the entry test result, successful candidates will be called for interview on December, 2018 and after that there comes the final list that will be display by the official. That Final Merit list will decide the eligible candidates who are able to get the admission in the Bahria University Karachi.
Bahria University Karachi Admissions 2019
The below given courses are defined as per the advertisement plan. The bachelor degrees of management science, computer science and many other degrees are relevant to the general paradigm with respect to the current opening.
BBA/BSS requires SAT-1 for Admission
MBA Requires GMAT for Admission
BS(CS) Requires SAT-11(Maths) for Admission
MS Requires GRE(General) for Admission
2% seats Reserves for Disable students who want to study
Prospectus Will be available from 9am to 6pm from Karachi Campus
1500 Rupees For Local Students & $55 For Foreign Students
Admission Form sent by Post cannot be entertained

Two set of  following documents are to be submitted along with Application Form:
IMPORTANT DATES
Bahria University Karachi Campus Spring Admission 2019
EVENT DATE DAY
Admission Open 21 Oct 2018 Sunday
Admission Deadline 05 Dec 2018
CBT Commencement Date 08 Dec 2018
CBT Date PhD Candidates 09 Dec 2018
(Only One Day)
Bahria University Islamabad Campus Admission of Spring 2019
Admission Open 21 Oct 2018
Admission Deadline 20 Dec 2018
CBT Commencement Date 22 Dec 2018
CBT Date PhD Candidates 23 Dec 2018
(Only One Day)
Spring Admission 2019 of Bahria University Lahore Campus
Admission Open: 21 Oct 2018
Admission Deadline: 13 Dec 2018
CBT Commencement : 15 Dec 2018
Admissions Open Spring 2019
Bachelor Programs Admissions 2019 Bahria University
    Attested Copy of Mark Sheet of SSC or its equivalent.
    Attested Copy of Mark Sheet of HSC or its equivalent.
    Equivalence certificate from Inter Board Chairman Committee (A-Levels and equivalent qualification from other systems) as applicable.
    Four recent colored Photographs, 2 of size 1″x1″ and 2 Passport Size.
    Attested copy of NI Card/B. Form.
Note: Students with A-Level result awaited must submit O-Level Equivalence, IBCC, certificate.
For Master Programmes Admissions 2019 Bahria University:
    Attested copy of SSC mark sheet or equivalent.
    Attested copy of HSC mark sheet or equivalent.
    Attested copy of your Bachelor degree mark sheet.
    Four recent coloured photographs of yourself: two size-1″x 1″ and two passport-sized.
    Attested copy of your National Identity Card (NIC).
    Evidence of your work experience – only if you are applying for the Executive MBA programme.
Lahore Islamabad Admissions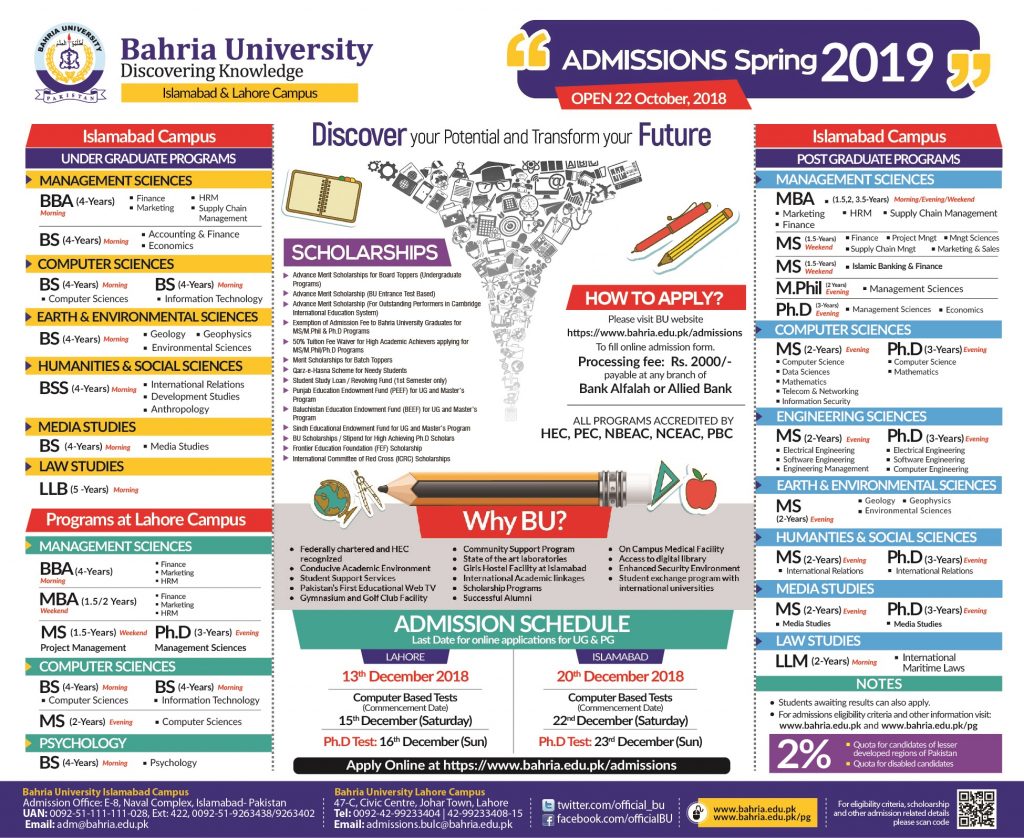 Bahria University Karachi Admission Procedure 2019:
In order to apply, the applicants are required to Submit the prescribed form (duly completed) along with supporting documents, on or before the notified closing date.
Karachi Admissions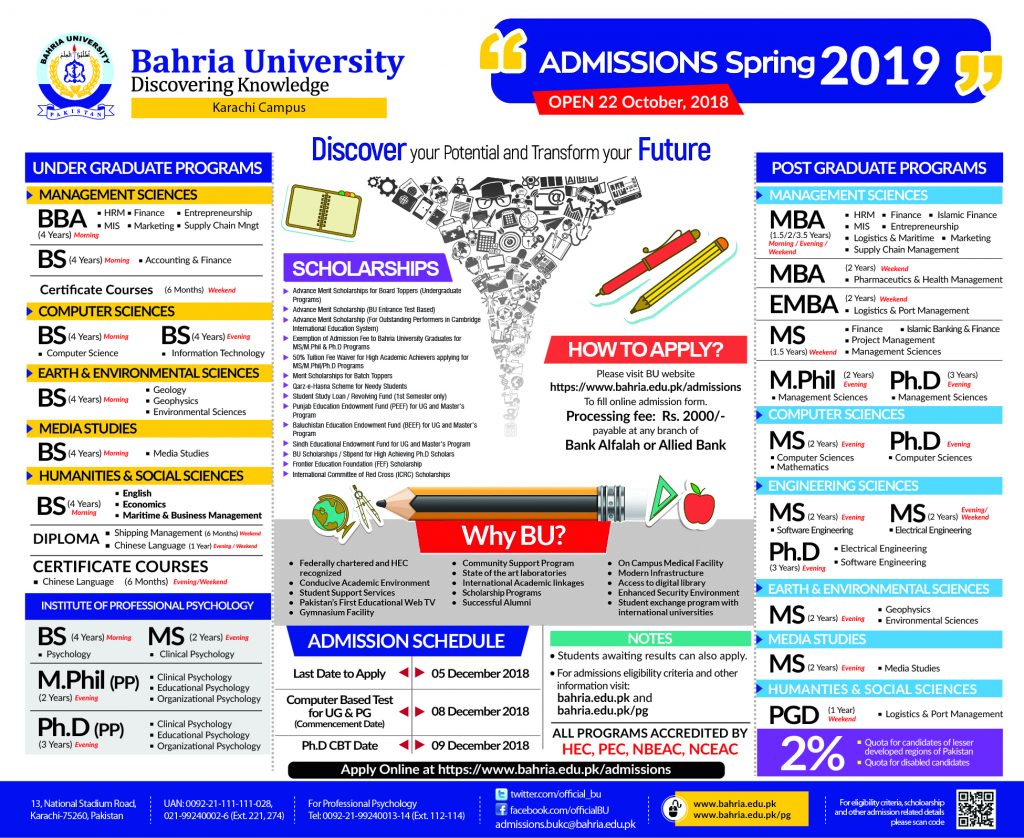 Admission will be based on Academic Eligibility Score, (60% weight-age and Admission Test Score 40% weight-age) verbal skills, EQ test score and Essay writing score (for applicants selected for interview only).
Students unable to provide "Academic Eligibility", examination marks/CGPA awaiting results, must enter last qualification marks i.e. 1st year / O-level marks (IBCC marks) (in case intermediate, result is awaited) and Intermediate exam marks (in case Bachelor's exam result is awaited).
For non-Pakistani qualifications (A/O-Level etc) student must enter IBCC equivalent marks/ HEC Equivalence Certificate marks, or calculated marks as given in application from.
Students are also advised to obtain O-Level IBCC certificate and marks (for those not having Matric qualification), in case A-Level result is awaited.
Forms of students awaiting A-level/Intermediate result will not be accepted, without, either 1st year Marks or O-level equivalence certificate marks from IBCC. Students awaiting 'A' level result with matric qualification (instead of 'O' level) cannot of apply.
While entering CGPA maximum scale is to be mentioned i.e. CGPA 3 on a scale of 4 to be written as ¾.
Contact Us:
Bahria University Karachi Campus
13-National Stadium Road,
Karachi – Pakistan
Tel:  +92-21-99240002-6
Fax: +92-21-99240351
To get general information about Bahria University Karachi Campus please e-mail at [email protected]