Balochistan University BUITEMS Spring Admissions 2013 is now open in various BS and MBA programs and detail are as follow. Balochistan University of Information Technology, Engineering And Management Sciences believe on equity, equality, sincerity and the academic excellence. From the year March 2007 Engr. Ahmed Farooq Bazai took the charge in the University as a vice chancellor at the start he has to face many hurdles but after that the University goes upward in all the sense and now providing quality education to all the knowledge seeking students. There are total three campuses of University till now named as the city campus, The Takatu Campus, and the Chiltan campus. Each campus is fully equipped with the latest technology and well qualified staff.
University is offering admission for spring 2013 in these programs
BS Programs
BS (Biotechnology & Informatics)
BS (Microbiology)
BS (english)
BS Programs (Self Support)
BS (Civil Engineering)
BS (Petroleum & Gas Engineering)
BS (Electronic Engineering)
BS (Electrical Engineering)
MBA (Evening-Self Support) Programs
MBA (Evening-Self Support) 3 1/2 years
MBA (Evening-Self Support) 2 years
MBA Programs
MBA (After four Years BSBA)
MBA (3 1/2 years)
MBA (BAnking & Finance) 3 1/2 years
MS & PhD Programs
Phd Biotechnology
MS Biotechnology
MS Information Technology
MS Computer Science
MS Computer Engineering
MS Telecommunication Engineering
MS Electronic Engineering
MS Management Scineces
Ms Economics
Ms Physics
Balochistan University BUITEMS Spring Admissions 2013
Application form And Procedure:
Application forms area available at admission office Taktu Campus on payment of Rs. 2000/- processing fee
Fee is to be deposited in Habib Bank Limited Account no 16490026269503 Takatu main campus branch Quetta.
Admission form can be downloaded from the official website of BUITEMS
To apply online CLICK HERE
Docment you required:
Attach all the attested copies of these documents with your application form otherwise it can be rejected.
Secondary school certificate
Higher secondary school certificate
Applicant CNIC / B-form
Local/Domicile
Bank draft/pay order/receipt of cash payment
Recent photographs (passport size)
Father's CNIC
Character Certificate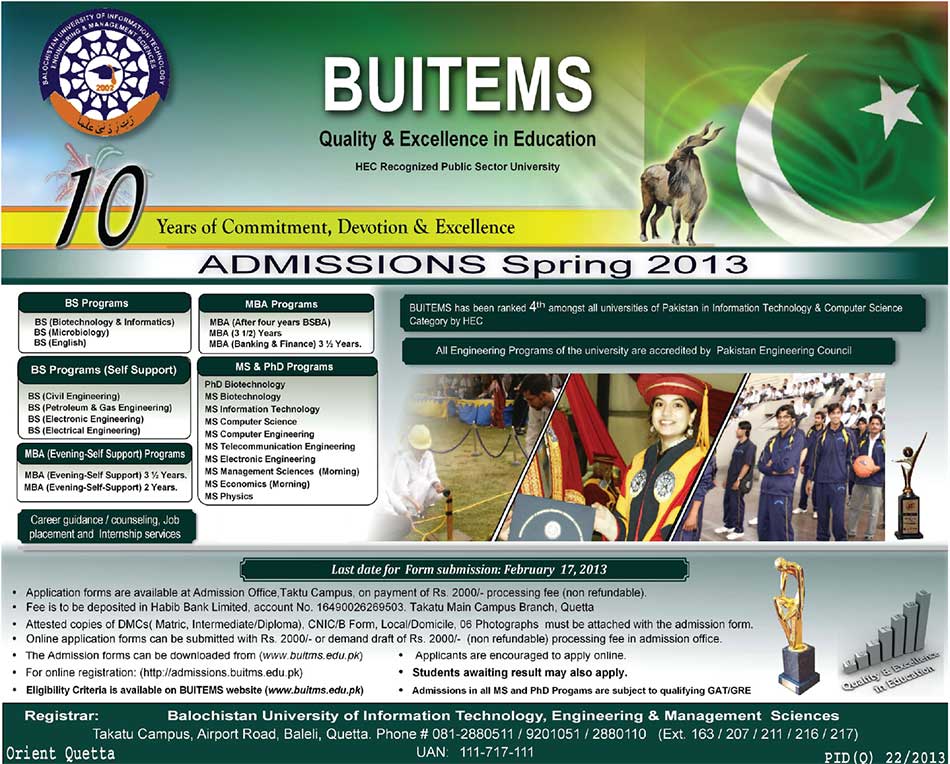 Send Your Application form to :
After completing the form and attaching the bank draft and all the attested copies of required documents send your Application form to this address and remember incomplete or late application form will not be entertain.
Balochistan University of Information Technology,Engineering and Management Sciences,
Quetta Takatu Campus Airport Road, Baleli. Quetta (Main Campus)
(Admission office) Ph #: 2880110-ext 217, 2880511-ext 216, 2880512-ext 211,163)