Bahauddin Zakariya University BZU Multan is now offering Admission 2015 for the Distance Education Program for all those candidates who cannot afford their educational expenses or they cannot pay their time during their working time. So if you are among those candidates then you are on the right way to Apply Online for BZU distance learning programs and submit your application form before the Last Date so that you can be entertained by the admission procedure. The Higher Educational Council of Pakistan has introduced this type of education. Bahauddin Zakariya University starts the distance learning educational program in 2009 under the No.10Adv (QA & LI) / HEC / DDE/ 2009/1513 dated on 2nd July 2014. Well the BZU was established in 1975 as a public type university by the Government of Punjab to provide the graduate and undergraduate degree programs to all the students in almost all the faculties like in Commerce, Business and medical faculties. Since the time of its establishment the BZU is functioning to provide the best quality educations to all of its enrolled candidates through its highly qualified faculty that is why it is producing the well mannered and well trained graduates. BZU has a capability of 40, 000 enrolled students who are taking educations from this University in different programs graduate and post graduate. The BZU is affiliated with the Higher education council HEC and now offering the facility of distance learning. If you also want to be a part of BZU for distance learning then scrolls down this page.
 BZU Multan Distance Education Program Admission 2015 Apply Online, Last Date
BZU distance learning admission 2015 programs
Bahauddin Zakariya University starts distance learning programs in 2009. This time the BZU is offering following admission programs for the BZU distance learning 2015
Admissions for Bachelor Degree programs
Admissions for Masters degree programs
Admissions for M. Phil and M.S. Programs
Diploma Programs
Diploma / Short Courses
All details about these programs is mentioned and written in the following advertisement published by the officials of BZU for Distance Learning programs 2015 admissions.  Bellow this advertisement the link for applies online is also given so that you can also apply online.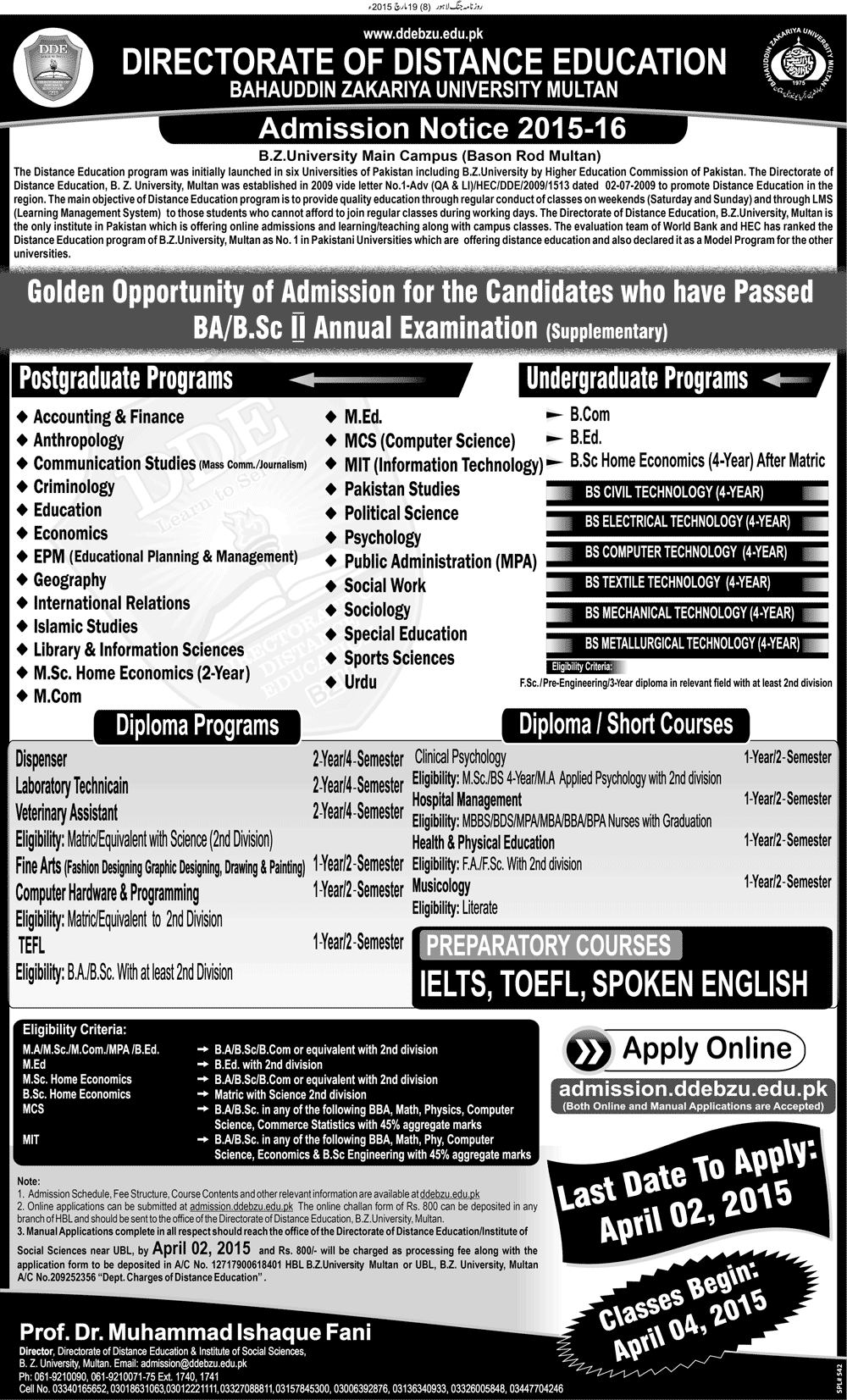 Click to Apply Online
DDEBZU Admission Eligibility Criteria
M. Phil Programs (Masters or BS 4 years degree in relevant subject with 2nd division)
LLM (LLB with at least 50% marks )
Masters degree programs (Bachelor degree with at least 2nd division)
M. Ed (B. Ed with 2nd division)