COMSATS Fall Admissions 2019 are open now in Lahore, Islamabad, Abbottabad, Sahiwal, WAH, Attock and Virtual campus and you will find a link for apply online along with complete guidance. You also get courses name, eligibility, date schedule, how to apply admission procedure and all relevant useful information and details. COMSATS inviting application forms for undergraduate, post graduate, MS, MPhil and PhD programms. COMSATS will purify candidates on merit and admission only grant to that candidate who is meeting the eligibility criteria. So if your previous classes are clear and now you want to be a part of COMSATS in your own city then this is the time to apply online for comsats fall admissions 2019. You just need to read this entire post and make sure that if you are eligible for this admission or not. If you are eligible then it is recommended you that you must apply online before the last date so that you can be entertained by the officials as an eligible candidate. On the other side if any eligible candidate submits his or her application form after passing last date will be considered as an ineligible candidate and will not be proceeded to further admission process. So keep these basics in mind scroll down this page for details of COMSATS Islamabad Fall Admissions 2019.
COMSATS Fall Admissions 2019 Lahore, Islamabad, Abbottabad Apply Online
COMSATS Islamabad Fall Admissions 2019 Eligibility Criteria
Eligibility is mandatory for each and every student to meet otherwise admission will not be allowed to any student.
You can click on your relevant program or course to get its eligibility criteria
Undergraduate Bachelors Programms Click Here
MS Masters programs Click Here
PhD programs Click Here
COMSATS Lahore Fall Admissions Schedule
As it is mentioned above that if any activity performed after passing the last date will not be entertained and treated as an ineligible applicant
For Islamabad, Abbottabad and Lahore Campuses
Description
Schedule
Last date for submission of applications
July 03, 2019
NTS (NAT) Test
July 14, 2019 (Regular Test)
June 16, 2019 (Special Test)
NTS (GAT) Test (GENERAL)
July 14, 2019 (Special Test)

June16, 2019

NTS (GAT) Test (SUBJECT)
July 14, 2019 (Special Test)

June16, 2019

Display of Merit List
July 29, 2019
Commencement of Classes
September 03, 2019
Admission Procedure/ How To Apply
Well candidates if you are eligible according to the COMSATS Fall Admissions 2019 criteria then you just have to login as a new applicant by clicking on the below given link. After this you have to choose your district or city and fill the form and submit it. After receiving application form officials will analyze each form and call or e mail to each candidate for interview and on the time of interview official will verify the original documents and NTS test result card.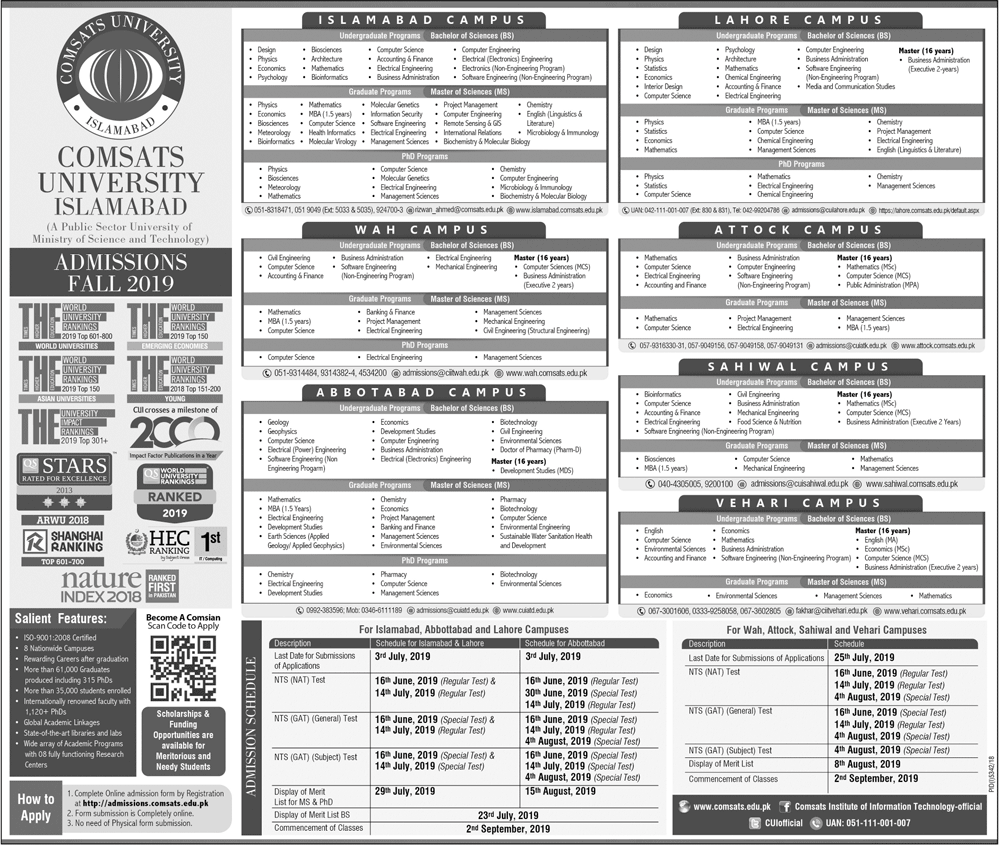 So all about "COMSATS Fall Admissions 2019 Lahore, Islamabad, Abbottabad Apply Online" Along with eligibility, date schedules, how to apply and all rules and regulations. I hope that you all are now well aware about fall admission 2019 in COMSATS. But in case you have any confusion you can leave your comment in the following comment box.