Federal Urdu University of Arts, Science and Technology FUUAST has now announced admission form the session 2018 so all those candidates who want to take admission in the FUUAST Karachi or Islamabad must have to get the admission form which is available to this page as well as the admission office of the University. If you have any ambiguity regarding the admission in this university then this page will really help you in decreasing these as on this page you can get fully fledged information so try to read this article till end. before going to more details of the Federal Urdu University admission 2018 lets have a little introduction about the University as the university were established in November, 2002 as before it is declared a a degree awarding university this is known as Federal Urdu Science College Karachi and that college were came into being on 1949 by the efforts of the Baba-e-Urdu Dr. Abdul haq. That person wants to promote the Urdu Language in the Pakistan after the independence that is the reason that this college is established after 2 years of independence when there is a big need to promote this Urdu language. After the approval of the government as the degree awarding University this university established its two more campus so now this univeristy is operating from its three campuses that are
Abdul Haq Campus
Gulshan Campus
Islamabad Campus
Federal Urdu University Of Arts, Science And Technology Admission 2018
Admission Form Along with the Prospectus:
Admission Form: CLICK HERE
Other than that page candidates can also collect the Admission form from the admission office of any of the University campus so the decision is up to the candidates that which way or resource they use or fell easily enough.
Admission offered by the Federal Urdu University Of Arts,Science And Technology are listed below
BUSINESS ADMINISTRATION:
MS Business Administration (Evening)
BBA (Morning Only)
MBA (Morning/Evening)
MBA (Morning / Evening)
MBA Executive (Evening)
MBE (Evening)
M.Com (Evening)
Bachelor of Science (commerce/B.com)
COMPUTER SCIENCE:
BS Computer Science (Morning/Evening)
M. Sc Computer Science (Morning/Evening)
MS Computer Science (Morning/Evening)
APPLIED PHYSICS:
BS (Morning/Evening)
M. Sc (Morning/Evening)
M.Phil APPLIED PHYSICS (Morning/Evening)
ECONOMICS:
M.Sc (Morning)
M.Phil (Morning)
Ph.D Economics (Morning)
ELECTRICAL ENGINEERING:
B.Sc Electrical Engineering (Electronics)
MS Electrical Engineering (Evening)
URDU:
M.A Urdu
M.Phil (Urdu)
Ph.D  (Urdu)
Islamic Studies:
M.A (Morning)
M.Phil (Afternoon)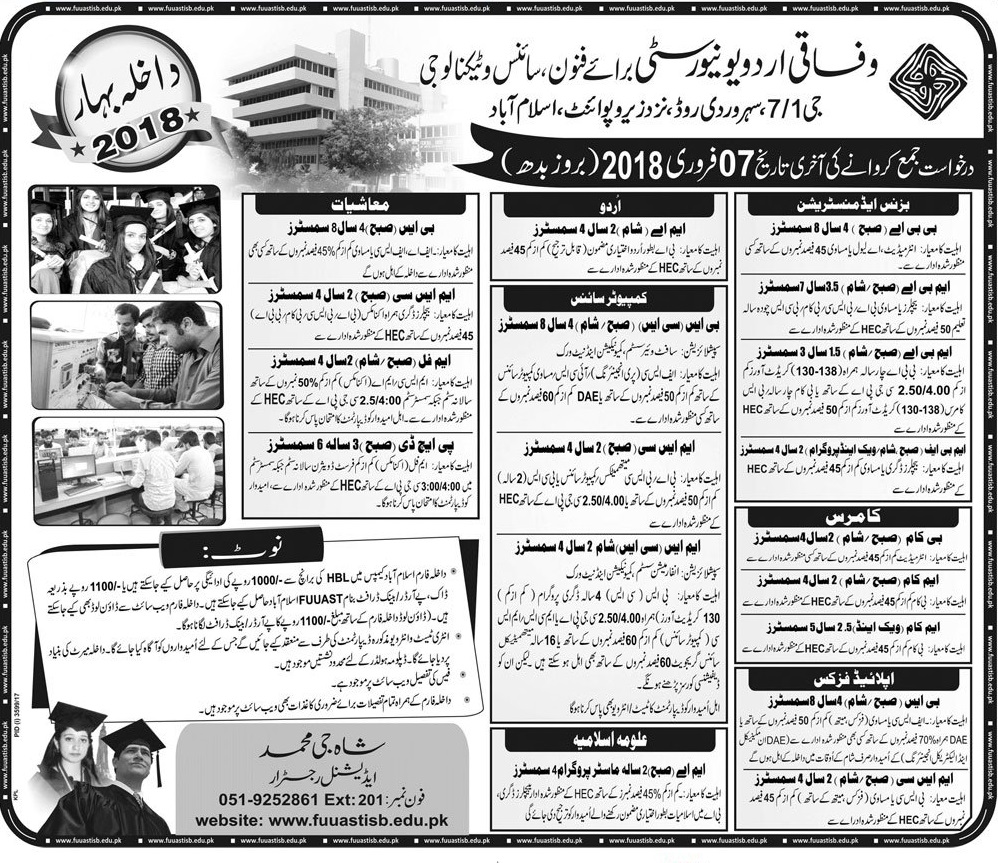 FUUAST University from the first day of its inception is providing quality education to the students of the Pakistan and it is really a honor for the University that among the top best university of Pakistan there is also FUUAST. Every year when FUUAST open admission for the new session there are many application that are received to the management as they all wants to take admission but due to limiter number of seats university cannot allow admission to every candidates so an pre admission entry test is taken from the candidates and all those who clear the Pre admission entry test result will get their name in the merit list and then their seat is confirmed so stay in touch with this page for all the latest updates.