Federal Urdu university has now opened the admission in BBA, MBA, BS, M.Com, MEF,MS, M.A and Ph.D Economics and the admission forms are available here on this page. Last date of submission is 18th November, 2016.  Now we give you mini introduction about this university. Federal Urdu university is a related from arts, science and technology they have successful from many years about our learning experienced. In Pakistan FUUAST is a most famous and most popular university about surfing knowledge to student. This university starting from 13th NOvember2002 and its license number is CXIX2002 and also awarding by the President of Pakistan. For this award, university takes a seat in Islamabad as a principal. In the starting of FUUAST they starts a carrier from two different colleges named a federal Urdu science College and Federal Urdu Arts College in Karachi. the owner of this university named as Baba-e-Urdu Dr. Abdul Haq who mission is just to prompted a Urdu in Pakistan students because this our national language. Now this university started a business, economics management and engineering classes.
Federal Urdu University of Arts, Science & Technology Karachi Admissions 2017 Form
Selection Criteria:
The criteria of these courses are:-
BS required minimum 50% marks in intermediate science or equivalent.
Msc  required minimum 45% marks or a second division in Graduation ( related subjects)
Pharm.D required minimum 60% marks in F.SC(pre medical) and eligible candidates just who passed the examination in 2015 or later.
BS.Economics required minimum marks 45% in intermediate or Equivalent.
M.com required 45% marks or 2nd Division in B.com
BS.cs required a minimum 50% marks in intermediate (pre eng.)
PGD.cs required must graduation.
Kulya Phanoon required minimum 45% marks in BS/MS.
Admission Information
Admission forms are available on this page and banks with 500/- rupees. Admission forms submit to those banks where you purchase. Pharm.D classes have important to attach NAT, candidates must submit 700/- rupees in bank with forms
Verification Fee
From admission time all education degree verification fees 500/- rupees charges.
Application Form:

All those candidates who want to be a part of the excellent providing education institute must have to submit this application form after complete filling with original date and then submit it to the University administrations.
CLICK HERE To Download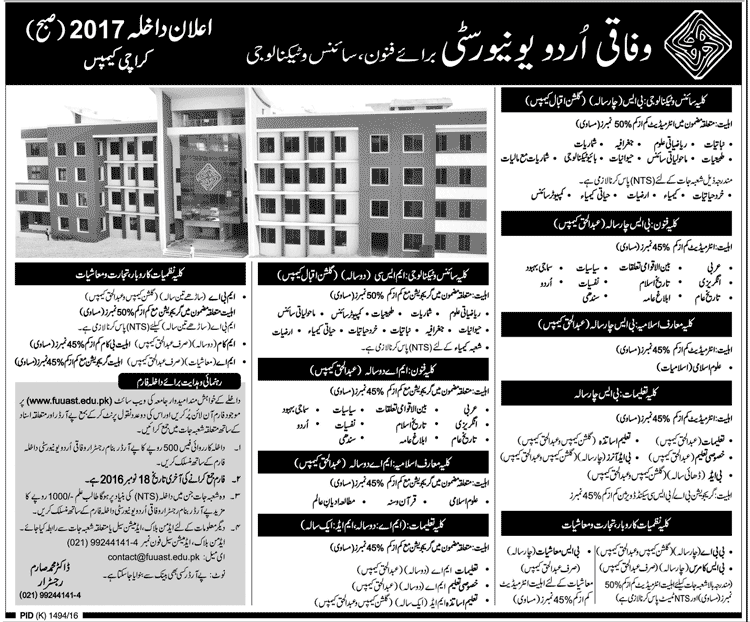 This is a great university in Pakistan. Here teaches a study very friendly and nicely. the faculty of this university is excellent. On this university 1000 of student teach us .Even many students of this university teach other student as a professor in this university.