FA, FSC and ICom Government College GC University Lahore FSC Admissions 2019. GCU the best institute if you are free after Matriculation and want to get admissions In Intermediate. Government College University Lahore Pakistan announces to intake Admissions Applications for FA/FS.C (Pre Medical/Pre Engineering) /I.C.S/General Sciences Group/I.COM/Arts Admissions 2018. Lahore, The Government College University (GCU) has opened its intermediate admissions from 23rd July, 2018 which will remain open till 01st August, 2018. All the Public sector colleges have announced schedule for admissions to intermediate classes, with the announcement of matriculation result. No admission form will be acceptable after the due date while the first merit list would be displayed on 6th August, 2018 Registrar of (GCU) on Tuesday said. GCU's last year minimum merit for admission to FSc Pre-Engineering was 972 marks, Pre-Medical 961 marks, Intermediate Computer Sciences (ICS) 901 marks, FSc General Science 820 marks, Intermediate in Commerce (I Com) 857 marks He said. While admissions for Intermediate in Arts were closed at 806 marks in 2017.
Government College GC University Lahore FSC Admissions 2019
Registrar further said that this year, the GCU would be offering admissions on the basis of Hafiz-e-Quran, Disability, Sports, Kinship, Minorities and Co-curricular activities, Fine Arts, Overseas Pakistanis including Debates (English, Urdu and Punjabi), Drama, Music, Rovers Club, Qiraat and Naat. The registrar said trials for admissions in co-curricular and sports would be held on from 6th August to 8th August 2018. He also said sports seats will be offered in 18 games, including athletics, squash, badminton, bodybuilding, wrestling, football, swimming, hockey, table tennis, tennis, basketball, cricket, gymnastic, boxing, weightlifting, volleyball and handball.
Last Date To Apply For Government College GC University Lahore Admissions 2018

Admission Form Download Here
Special Category form Download Here
Sports form Download Here
Co-curricular activities form Download Here
Endowment Fund Trust Download Here
This Admissions Page covers following below contents please read till end of this Admission Page:
GCU Prospectus
GCU Admission Form
GCU Admissions Criteria
GCU Admissions FAQS
GCU Admissions Inquiry Number
Government College GC University Lahore FSC Admissions 2019 Advertisement: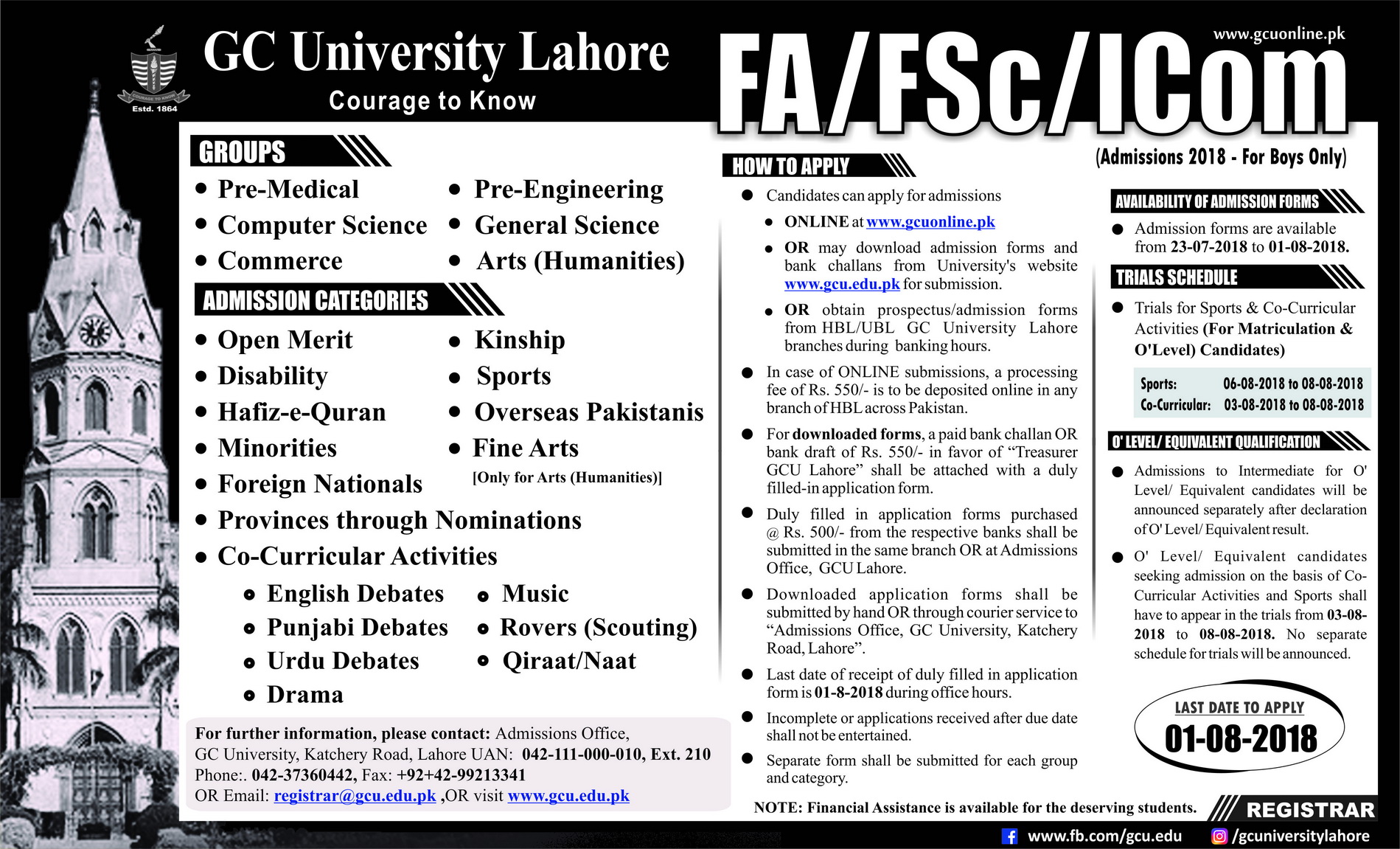 ADMISSION
General Admission Regulations
I. Admission is granted strictly on merit.
II. Admissions are made in accordance with the Rules and Regulations as well as the general Policy and Procedures of the University.
III. University Authorities can reject candidate's application for admission on the ground of unbecoming character or conduct.
IV. University Authorities have the right to cancel the admission or refuse migration to a candidate, at any stage, after the admission or migration, when it comes to their knowledge that the documents presented by him are fake or there is a misstatement or an error in the documents which may
Entrance Requirements
I. Only those candidates who have passed their Examination in the 2nd Annual 2018 with at least 60% marks will be eligible to apply for admission.
II. Applicants who have passed Secondary School Certificate SSC (Tech) shall not be eligible for Government College GC University Lahore FSC Admissions 2019.
III. The candidates must not be above 18 years of age on the last date of the receipt of applications.
IV. Only eligible candidates will be called for interview on dates
Financial Aid
Liberal financial assistance is provided to the bright and deserving students. In case, financial aid is needed, the applicant may obtain the financial aid form from University website or from the Scholarship Assistant in the Treasurer's Office and after filling it up in all respects, the same should be deposited to the Diary Branch in the Treasurer's Office.
Financial Aid will be granted only to the deserving students on the approval of the University Financial Aid Committee headed by Dr. Sultan Shah, Chairperson, Department of Arabic & Islamic Studies as per parameters adopted for the grant of financial aid and subject to availability of the funds and on the basis of good character, regular attendance and satisfactory performance in the academic field. Fee concession can be withdrawn in case of false/wrong, incomplete information, immoral behavior, irregularity or be assigned some duty in the University and in hostel. The fee concession can be cancelled if the students fails in the internal University /Board Examinations
Contacts US:
Registrar
GC University, Katchery Road, Lahore 54000
Phone: +92-42-99213340
Fax: +92-42-99213341
E-Mail: registrar@gcu.edu.pk
Deputy Registrar (Admissions)
UAN: +92-42-111-000-010/Ext:210
Phone:+92-42-99213367/ Ext: 418
+92-42-7360442
Fax: +92-42-99213341