Admission Form Last Date to Submit for taking admission in Hamdard University Islamabad is 30th December, 2016 and the entry Test result and Date is available here down on this and after that an entry test will be taken by the University in the Main Islamabad Campus and those candidates who get passed in this entry test will able to get admission in the University. Right now Hamdard University has open admissions for Faculty of Health & Medical Science, Faculty of Eastern Medicine, Faculty of Pharmacy so students who want to take admission in the Hamdard University can get their admission form today so that it can be resubmitted to the admission office of the University with complete information and dully filled before the last date for the submission of application form. Now lets have a little overview of the Hamdard University, this University was established in 1991 by Shaheed Hakim Mohammed. The main idea behind the University formation is to provide the Herbal medicine education to the students of the Pakistan. In response of his great scholarly achievement and meritorious services for the Pakistan he was awarded by Nishan-e-Imtiaz by the government of Pakistan in year 2002. Well now for the new session of the Hamdard University the University has opened its admissions so that the candidates can apply for the available seats but only those students who are eligible for the admission will able to get admission in this University.
Hamdard University Islamabad Admissions 2017 Advertisement
Hamdard University Admission for the session of 2017 are open in the following programs
Undergraduate Programs
BBA (Hons)
BS (Applied Accounting & Finance)
BS (Commerce/ B.Com (Hons)
Postgraduate Programs:
MBA (1.5 Years)
MBA (2 Years)
MBA (3.5 Years)
MBA Energy Management (2.5 Years)
MBA Healthcare Management (2.5 Years)
MBA Pharmaceutical Management (2.5 Years)
Evening & Weekend Programs
MBA For Executive
DBA
MS
Diploma in Islamic Banking & Finance
Admission Form:
Admission form can be easily downloaded from this page or the second way is that you visit the admission office of the Hamdar University Islamabad and Get your admission form along with the prospectus
APPLY ONLINE FOR ADMISSION
Hamdard University Admission Form Last Date:
Last date for the submission of admission form: 10th December, 2016

Entry Test / Interview: 13th December, 2016
Announced Yet

For More information and queries about the Hamdard University Islamabad Admission 2017 you can contact in the above given all campuses as your all queries will be taken and in response you have given satisfactory answers.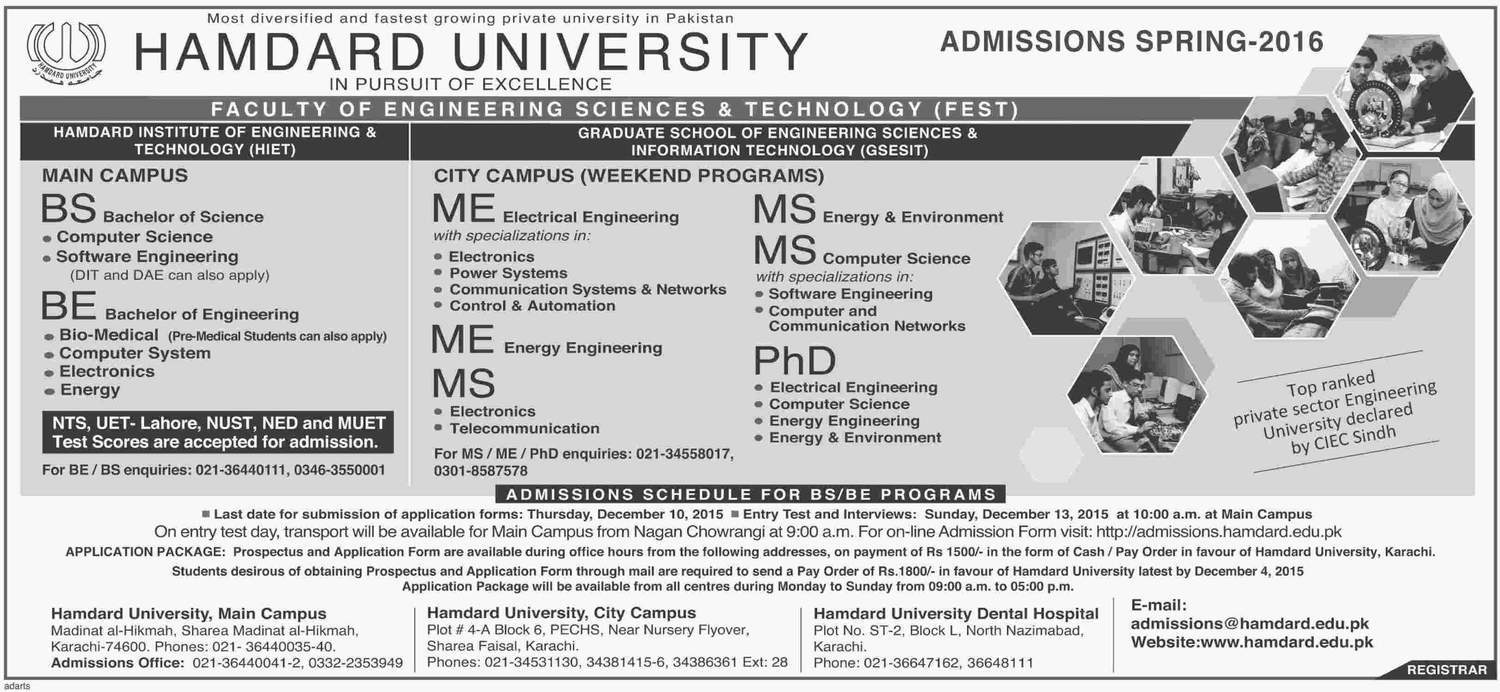 For More Information Contact Please:
Hamdard University, Islamabad campus
23 East, A.K, Fazal-ul-Haq Road, Blue Area, Islamabad
Phone: 051-2604387- 89