Institute of Cost Management Accountant ICMA Pakistan Spring Admissions 2019 Online Registration form, date, eligibility and advertisement is al here. ICMA is inviting admission forms to join CMA program through coaching classes/ distance learning program to become Management Accountant. Students after A-level/ Graduate/ Master's Degree or those who are awaiting for results can send their admission form to the ICMA admission office. During these classes students will get master's degree esuriency by HEC on completion of CMA programs. So if you want to be in demand in professional fields then come and become the imperative part of ICMA for the course of Management Accountant. More over ICMA is also going to arrange a seminar where the experts will provide career counseling to new comers to choose the best field for their future to secure a healthy career. So interested students are advised to contact at their relevant branch of ICMA in South Region, Central Region and North Region. So keep on reading this post to get ICMA Pakistan Spring admissions 2019 form, date and advertisement of ICMA CMA Spring admissions 2019.
ICMA Pakistan Spring Admissions 2019 Online Registration
The Institute of Cost and Management Accountants of Pakistan (ICMA) was established in 23rd May, 1951. It is an institute that offer admissions to train future's management accountants and providing ongoing support for the members. ICMA is the only institute in Pakistan which is providing the Cost Management Accountancy educations. It is the member of International Federation of Accountants (IFAC) International Accounting Standards Board (IASB), Confederation of Asian and Pacific Accountants (CAPA) and South Asian Federation of Accountants (SAFA). Initially the ICMA was inaugurated from Karachi, while now it has maintained its various campuses in different cities like Lahore, Islamabad, Hyderabad, Rawalpindi, Faisalabad Quetta and Peshawar.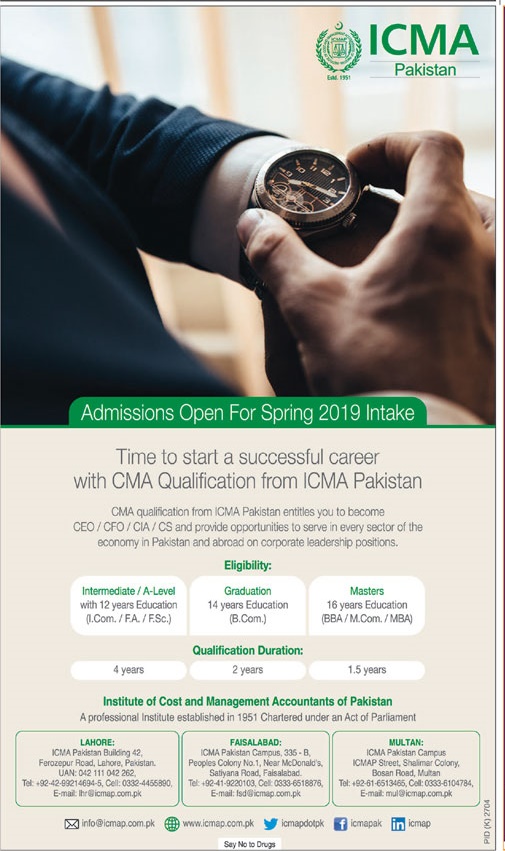 Well this year the ICMA is inviting admission forms for spring admissions 2019 and here we have arranged complete data and information for you relating to ICMA Pakistan spring admissions 2019 form, date, eligibility, how to apply and advertisement. Hope you are inspired with the ICMA admissions 2019, and want to send your application form online. So for that click on the link given above to download the ICMA admission form.