Lahore College for Women University LCWU is offering admission for the session of 2018 in all the graduates and undergraduate degree programs for all the candidates who qualified their previous examinations from any recognized organization. The LCWU is looking for those candidates who are confident and self creative in their studies. So if you are among those candidates who are going to get admission in a well reputed University then this is time to avail the opportunity of taking admission in LCWU. The Lahore College Women University was established in 1922 as a private college in Lahore and affiliated with the Higher Educational council (HEC).  From the time of its establishment it is performing its best to provide the quality educations for females not only from the city of Lahore but also the outsider's candidates. The University has the capacity of 15000 seats in all its faculties as on Intermediate, Bachelor, Masters and PhD Level. The University is also providing the facility of Transport and hostel for outsider's female candidates under the convenient security. Now a day admissions are open in this well reputed University so you are advised that you have to complete the admission procedure in relevant fields before the last dates. As all the information are given under this page. Have a look down. So check Lahore College for Women University Admission 2018.
LCWU BS, PhD Programs Admission 2018 Entry Test Result, Merit List
LCWU Admission Programs
Lahore College Women University is offering admission in the following Bachelor and masters programs. Which is available from 22 January, 2018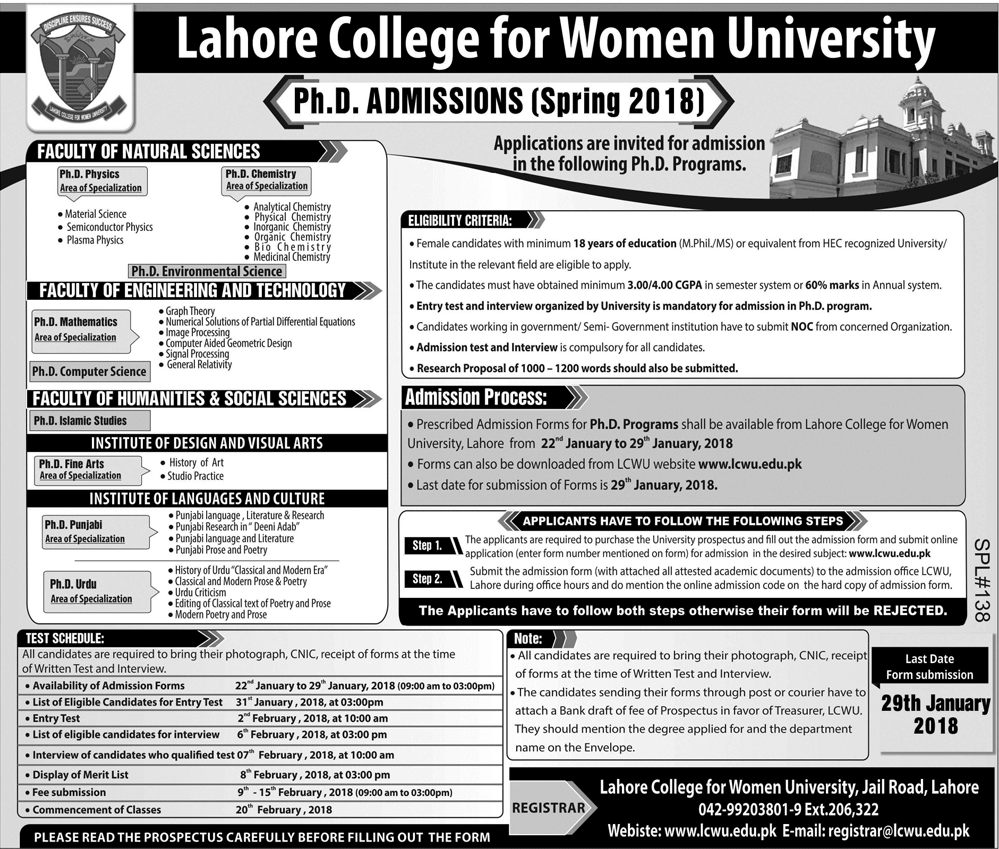 Bachelor Programs
Bachelor in Science (BS)
Bachelor in Business Administration (BBA)
Bachelor in Commerce (B. Com)
Bachelor in Education (B. Ed)
Bachelor in Fine Arts (BFA)
Last date for submission of admission form for BS is  29th January, 2018

Masters Programs
Masters in Sciences (MS)
Masters in Fine Arts (MFA)
Ph. D
LCWU Bachelor Degree Programs (Four years)
BS Natural Science ( Biotechnology, Botany, Chemistry, Environment Science, Geography, Physics, Zoology)
BS Human & Social Sciences ( Applied Psychology, Home Economics, Islamic Studies and Mass Communication)
BS Engineering ( Architectural (5 year degree programs, Computer Science, Mathematics)
Bs in Gender and Development Studies
Bs in Education and Physical Education.
Bs  Language (Arabic, English, Persian, Urdu and French)
Last date for submission of admission form for MS/ MFA is  29th January, 2018

Eligibility for BS Programs
Only Female candidates are eligible to take admission in any BS degree Programs.
Those candidates are eligible to take admission in any BS programs who has qualified her previous educations in relevant field as in Mathematics, Engineering, Physics or Biology etc.
Candidates who are willing to take admission in any Engineering program must have appeared in ECAT by UET.
Candidates who lie on Merit are only eligible to take admission in any relevant subject.
LCWU MS, MFA (2 Years degree programs)
MS natural Science ( Biotechnology, Chemistry, Physics and Zoology)
MS Human & Social Science ( Health Physiology, Political science, Islamic studies, Mass Communication, Statistics)
MS (Education, Gender and Development Studies)
MS (English Literature, Urdu, Punjabi and Persian)
MFA Design and Visual Arts ( History of Arts, Studio Practice)
MFA Graphics Design
Eligibility for MS and MFA Programs
Female candidate's minimum of 14 years of education from any HEC recognized Institute.
Female candidates who secure minimum 50% marks in annual exams.
Candidates who secure minimum 2.50/4.00 CGPA in semester system.
Reserved seats candidates must have to appear in Entry Test organized by University in MS Programs.
Foreign Candidates who have qualified degree equivalent to MS are also eligible for taking admission.
LCWU PhD Programs
PhD Natural Sciences
PhD Human and Social Sciences
PhD Education
PhD Design and Visual Art
PhD Language and Culture
Last date for submission of admission form for PhD is 29th January, 2018

LCWU Eligibility Criteria for PhD Programs
Only Female candidates who have qualified their 18 years educations from any HEC recognized institute.
Students Securing minimum 3.00 and 4.00 CGPA or minimum 60% marks are eligible.
Candidates must have appeared in Entry test.