Admissions 2017 are now open in National Textile University Faisalabad and here on this page you can also get admission Form and  Scholarships detail which is being offered to the brilliant students by the University. NTU University if funded by some Industries in Faisalabad as back in the history some of the Industrialist look a gap in the textile education so that is why they decided to build a educational institute that will provide such kind of education to the students in this aim Government of Punjab join hand with the industrialist and a 62 acres land were hired to build this National Textile University Faisalabad. Kohinoor Industries, Colony Textile Mills, Dawood Foundation and Lyallpur Cotton Mills were the industries who support and give financial help to the University and hence in 1959 President of Pakistan General Ayub Khan laid down the first foundation of the University. This university is formally known as National College of Textile Engineering and is affiliated from the University of Engineering and Technology Lahore. Well the working of the University started and many batches of the students have been passed out of this University then the University got chartered by the Government in year 2002 and this is the fruit of all the management tireless affords to make this college a University and hence they achieve what they want.
National Textile University Faisalabad Admissions 2017
Courses of the undergraduate programs for which the admissions are open are as follow
BS Textile Engineering
BS Polymer Engineering
Bachelor of Business Administration BBA
BS Textile Management and Marketing
Bachelor in Textile Design and Technology
Bachelor in Fashion Design and Technology
BS Software Engineering
BS Computer Science
Eligibility Criteria For Admission:
Eligibility Criteria of each course is different ans this is clearly mentioned in the advertisement issued by the National Textile University for the admission session 2017 so you can have a complete look on the eligibility criteria as the advertisement is given below on this page
Prospectus And Admission Form:
All the wishing candidates can easily download prospectus as well as the admission form from this page so have a look.
After completing the application form with all the required information mentioned in the admission form send this admission form with a original online bank deposit slip of the Rs. 1600/- to the address given at the end of the post.
Postal requests will also be entertained on payment of Rs. 1600/- through bank draft drawn on NBP Sheikhupura Road, Malik Pur, Manawala, Faisalabad (0889) or ABL Sheikhupura Road, Manawala, Faisalabad (0260) or Money order/postal order in favor of National textile University Faisalabad.
The University prospectus along with the admission form is also available from the admission office in person on payment of Rs. 1500/-.
CLICK HERE TO DOWNLOAD ADMISSION FORM..
Download: Undergraduate Prospectus 
NTU Scholarship:
National Textile University also offer Scholarship of 100%, 50% and 25% of in tuition fee to the needy students.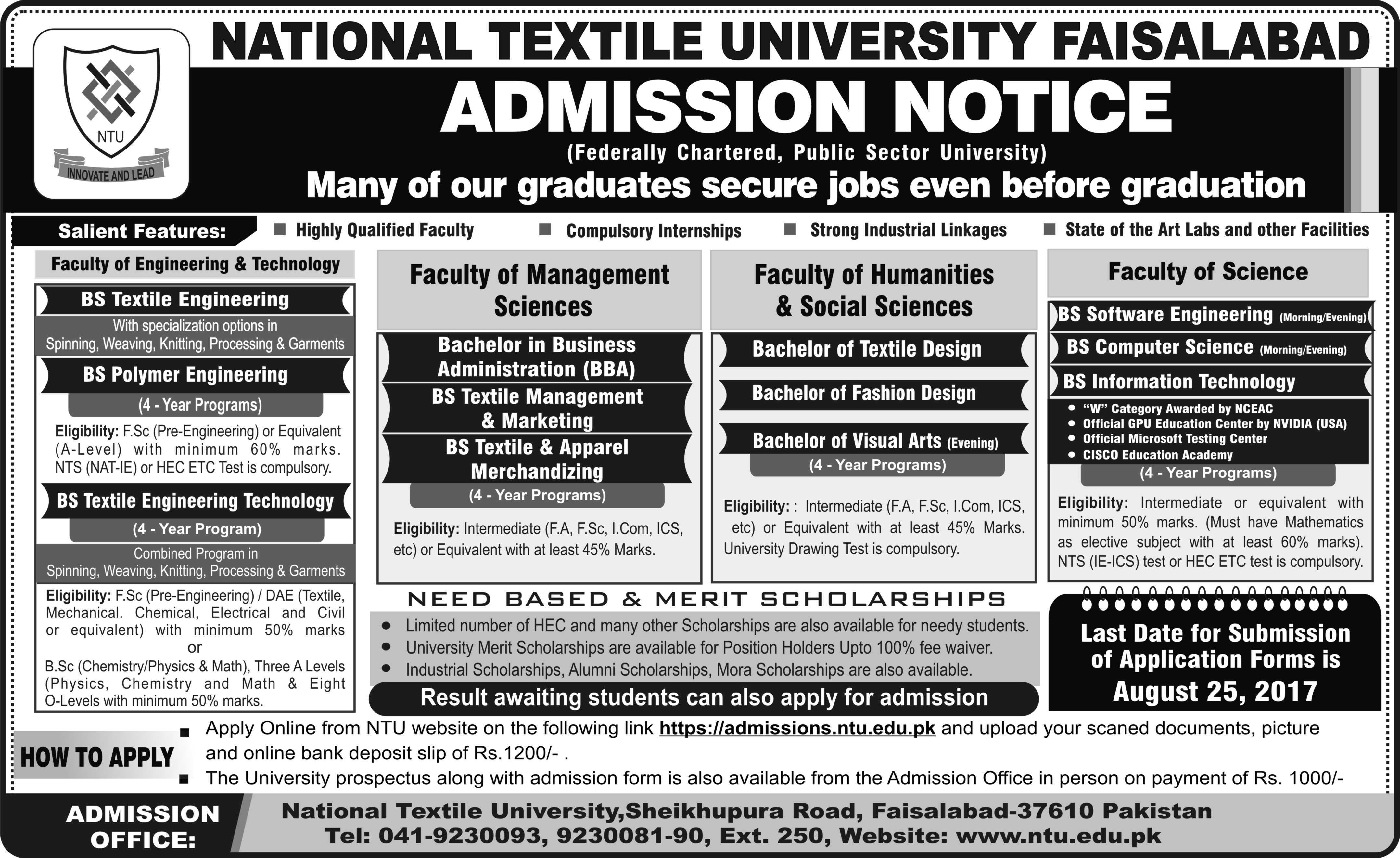 Merit List of NTU:
The final Merit list of B.Sc Textile Engineering will be display on September, 2017 and all the candidates who got their name in the Merit list will have to submit the dues of the semester till September, 2017 so all those candidates who are willing to take admission in the National Textile University and submit their admission form within due date should have to keep in touch with this page as this page will be updated to provide you the merit list for the BSC textile Engineering
Admission Office:
National Textile University, Sheikhupura Road, Mananwala, Faisalabad-37610 Pakistan
Tel: 041-9230093, 041-9230081-85