NFC IET Multan has announced admission 2018 for BSc Engineering programs. If you want to take admissions in the BSc in chemical engineering, BSc in electrical engineering, BSc in civil engineering, BSc in mechanical engineering and BSc in petroleum and gas chemical engineering, BSc chemical engineering technology, BSc electrical engineering technology, BSc mechanical engineering technology, BSc civil engineering technology, BSc bio-medical engineering technology, BSc environmental engineering technology then you can get the admission in these programs. Admission Will provide on the basis of UET Entry test Result 2018. Here at this post, we will be telling you in detail about the NFC IET Multan admission 2018 for BSc Engineering programs.
NFC IET Multan Admission 2018 BSc Engineering Admission Form, Dates
NFC IET Multan admission Schedule:
The Last date to apply for admission is 1st October 2018
Entry test will commence on 3rd October 2018
First Merit List will display on 5th October 2018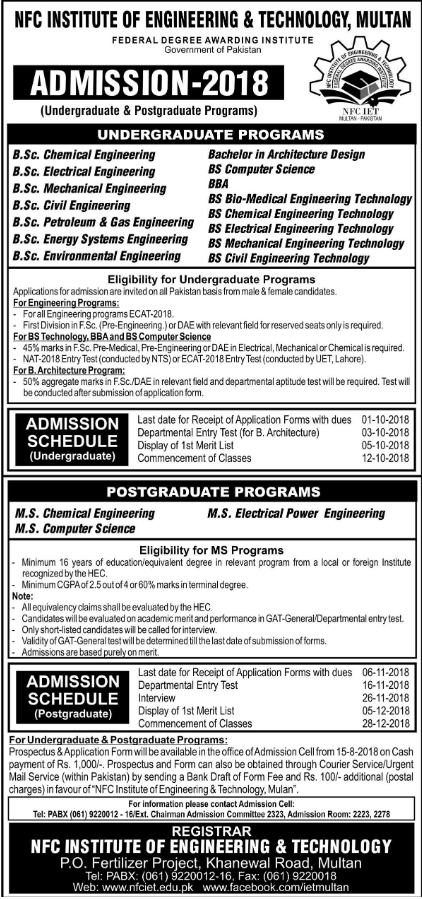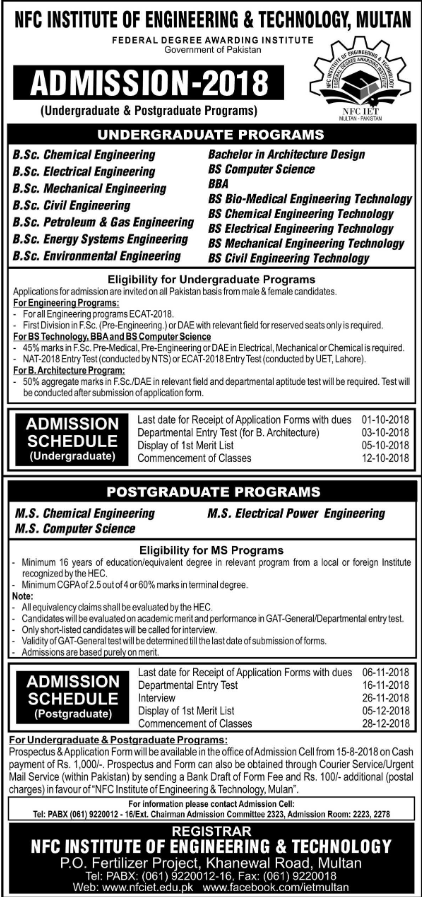 We will not be taking any kind of test but it will be a requirement from your side that you have to submit the result of ECAT. If you will be getting the passing marks in this ECAT test then you will be allowed and you will be marked as an eligible candidate for the engineering study programs of NFC IET Multan. Admission forms will be available from the office of NFC IET Multan from 10th Aug 2018. Make sure that you do get in hand the application forms right on time and try your level best to submit the application forms latest by 06th October, 2018. Right after this date if you will be failed to submit your application forms then you will not be entertained by NFC IET Multan staff. You will be submitting the cash payment of Rs 1000 to get in hand this application form,
So, these are the details about the NFC IET Multan Admission 2018 BSc Engineering Admission Form, Dates. Just try to apply right on time and be the part of this institute. We will be telling you more and more updates information about these admissions 2018 so stay tuned and connected with us. All the best for these admissions in 2018.