National University of Sciences and Technology NUST University Undergraduate Admission 2019 is now open in various programs including Business Studies, Engineering,Information Technology, Medicine and Computer Sciences. This is the first University which has won the Global acclaim in a very short period of time. In NUST there are many schools and colleges but all are working under the umbrella of NUST and just focusing on providing quality education in each field of study. The education provide in the NUST is also recognized all over the world as NUST is working with different well reputed foreign Universities all over the world. The first campus of NUST was build in the capital of Pakistan Islamabad and now you can get education from other NUST campuses too in Rawalpindi, Risalpur and Karachi. So to get admission in NUST University you have to attempt NUST entry test 2019 that is called as NET test. For appearing in this test you have to make your registration with this university that is available behind the link below. NUST entry test result and merit lists for selected students will also be uploaded soon.
NUST University Undergraduate Admission 2019
Apply Procedure:
You can take admission in the NUST University Undergraduate programs by simply clearing the NUST Entry Test (NET-3). There are two ways to attend the NET-3 as one is computer based which will held in the main campus Islamabad and second is paper based test which will held in Karachi and Quetta once in a year in the month of July.
NET-2019
Online Registration
Test Schedule
Islamabad
Karachi & Quetta
Series – 1
18 Nov – 18 Dec 2018
28 Dec 2018 onwards
–
Series – 2
10 Feb – 11 Mar 2019
19 Mar 2019 onwards
30 – 31 Mar 2019
Series – 3
05 May – 13 Jun 2019
29 Jun 2019 onwards
12 – 14 Jul 2019
NUST Entry Test 2019 Dates Registration
After clicking on the link if you are new to registration then you have to login with it to make your account. while if you are already registered with NUST than you just have to enter your user name and password and you will be entered in the NUST online registration portal.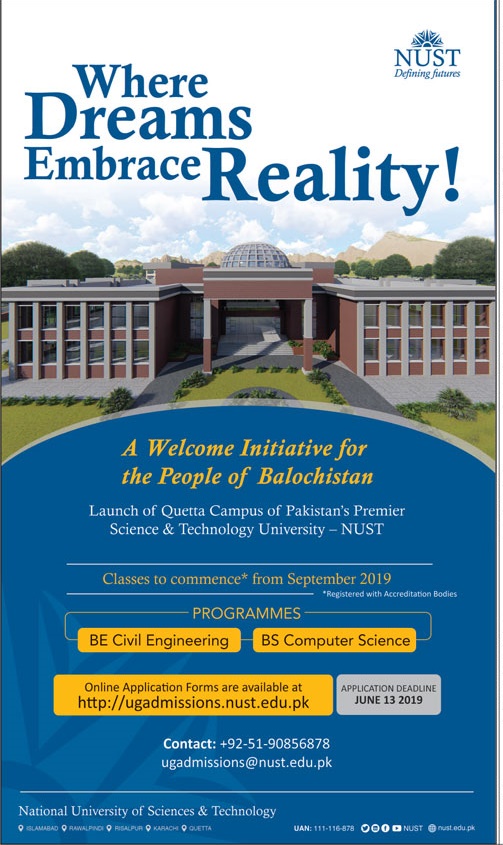 Subjects Included in NET with Weightings:
| | |
| --- | --- |
| Mathematics or Biology | 40% |
| Physics | 30% |
| Computer Science or  Chemistry | 15% |
| English | 10% |
| Intelligence | 5% |
Total Marks: 100%
NUST University Programs:
Islamabad
Mechanical Engineering
Electrical Engineering
Computer Science
Software Engineering
Civil Engineering
Environmental Engineering
Geoinformatics Engineering
Chemical Engineering
Metallurgy And Materials Engineering
Architecture
Industrial Design
Applied Biosciences
Physics
Mathematics
Chemistry
Business Administration
Accounting & Finance
Economics
Mass Communication
Public Administration
Psychology
Risalpur
Civil Engineering
Aerospace Engineering
Avionics Engineering
Karachi
Mechanical Engineering
Electrical Engineering
Rawalpindi
Electrical Telecom Engineering
Software Engineering
Mechanical Engineering
Electrical Engineering
Mechatronics Engineering
Computer Engineering
Eligibility Criteria:
Candidate Must have at least minimum 60% aggregated marks in the Matric and Intermediate examinations. while on the other hand candidate must have to get passed in the merit criteria of the NUST entry test that are as follow.
| | |
| --- | --- |
| NUST Entrance Test | 75% |
| Intermediate Marks | 15% |
| Matriculation Marks | 10% |
Ineligibility:
Candidates with any of the following deficiencies are NOT eligible to apply for NUST University Undergraduate Admission 2019
Having secured less than 60% marks in Matric and FA / FSc.
Having failed / not appeared in any subject in FA / FSc Part-I / II.
Having secured less than 60% marks in O/A level as per the equivalence certificate issued by IBCC.
In case of O & A level / equivalent foreign qualification, those not in possession of valid O level or equivalent qualification certificate issued by IBCC at the time of applying to NUST.
Female candidates are not eligible to apply for Aerospace, Avionics and Civil Engineering at Risalpur campuses.
Diploma holders are not eligible to apply for any undergraduate programme.
All those candidates who are willing to apply for NUST University Undergraduate Admission 2019 will keep in touch with this page as this page will updated daily to provide you the timely and accurate news regarding your admission in Undergraduate programs.