PIEAS MPhil (Computer Science) Fellowship 2013 is open so here on this page you can also download the application form along  with the advertisement and Result so when you got all of the relevant information which you required to apply in the Pakistan Institute of Engineering and Applied Sciences then why you should for for any more search as this action will just a wastage of time. Well before going to the more admission detail let me explain that what is PIEAS and when it is came into Being. Pakistan Institute of Engineering and Applied Sciences is situated in the capital city of Pakistan that is Islamabad and is know as the top engineering Universities of the Pakistan. This University has made its name in the heart of every Pakistani student in such a short spam of time as this were established in 1967 and the fame and popularity is just because of the quality education provided by the University faculty to the students of the Pakistan. In the start of the establishment of this University there were only few courses that were studied but with the passage of time more courses added into this University and know there are almost every courses that is teach by the PIEAS.
PIEAS MPhil Fellowship 2013 Form, Result and Advertisement
Important Dates:
| | |
| --- | --- |
| Form Submission Deadline | Friday 17th May, 2013 |
| PIEAS Admission Test | Saturday 15th June, 2013 |
Course Specialization:
Information System Security
Computational Intelligence & Machine Vision
Scientific Computing
IT Endowment Fellowships:
Few fellowship from IT Endowment fund are available with following features:
A stipend of Rs. 25000/- per month
Full Fee waiver
Free hostel and Transport facility
Students have to pledge a bond to serve within Pakistan for 5 years after completion of their degree.
Eligibility:
All Pakistani nationals within 16 years of education in BS/BE Engineering or MSC , BS in computer software, IT or equivalent
Preferably first class academic career. However one second division is allowed except in the final degree. In case of semester system a CGPA 2.5 out of 4 in the final degree is required.
Further details can be found at PIEAS website
Form Submission:
Apply online at PIEAS website. Processing fee for online submission is Rs 1300/- and for submission by post is Rs. 1800/-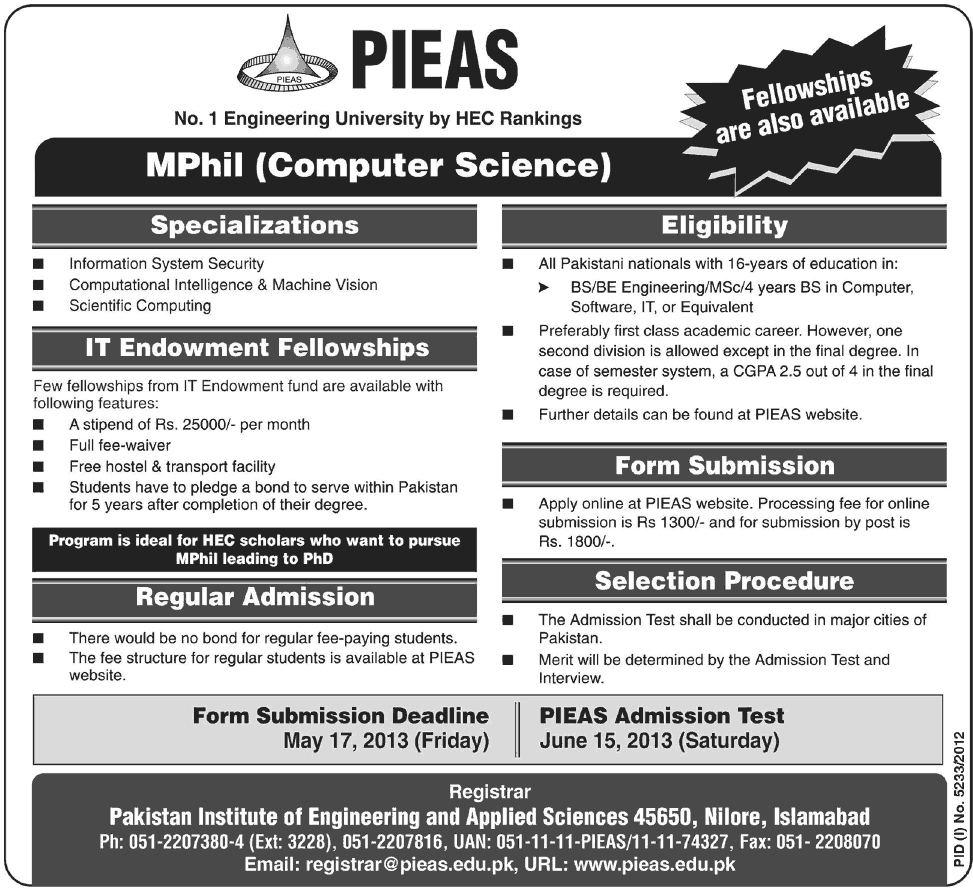 Application Form & Apply Online:
Information Leaflet: CLICK HERE
Online Application Form: CLICK HERE
Application Form: CLICK HERE
Bank Challan Form: CLICK HERE
Post Graduate Programs at PIEAS:
PhD / MS Systems Engineering
PhD / MS Mechanical Engineering
PhD / MS Nuclear Engineering
PhD / MS Materials Engineering
PhD / MSc Nuclear Medicine
PhD / MS Medical Physics
PhD / MS Process Engineering
MS Nuclear Power Engineering (at KINPOE)
PhD / MPhil Physics
PhD / MPhil Computer Science
PhD / MSc Radiation and Medical Oncology11
MPhil / PhD Bio-Technology (at NIBGE)
Pakistan Institute of Engineering and Applied Sciences is a highly recognized university in all the engineering and Applied Sciences fields and there is also a good news that the higher education commission HEC has ranked the PIEAS as the number 1 engineering university of Pakistan so if you want to secure your future and want that your degree could be acceptable worldwide than the PIEAS is the best option to choose.