UCL School of Management Science is one of the world's most high-status universities. There are three stages to this process: red (most important), later are amber and green. These are categorized on the basis of students study standard.
If you are an candidate and have accepted a place to study at UCL then https://www.ucl.edu.pk will help and guide you through the period up to enrollment, giving details of sustain offered by new UCL students adapting to university life and for further information you have to see the notice board which is also available on the official website.
UCL School of Management Science was founded in 1992, and has had experience of offering the University of London International Degree programs in Social Sciences for over 18 years. UCL has built on this experience and also offers the graduate programs of GC University Lahore, which is almost 150 years old and is one of the most well-known educational institutions in Pakistan.
The GC University Lahore has approved affiliation to UCL School of Management Sciences as a result of which UCL now offers degree programs of GC University Lahore, some of programs which are offering by the UCL School of Management in this season are given below.
Degrees Offered:
B.Sc (Hons) Business Accounting & Finance
B.Sc (Hons) Economics
Eligibility:
Intermediate (with at least 50% Marks) or Equivalent Qualifications e.g. A-Level / Grade 12 etc.
Admissions Open
Application forms is given below one can also downloaded from the official website or can be collected from the Campus (from 9:00am to 3:00pm). Otherwise, desirous candidates can email their postal address and telephone number, and campus will courier the application package to you (application package is free of cost).
Application Procedure:
Candidate will need to submit a filled application form along with complete academic record and two reference letters.
Registration fee of Rs. 2000/- must be paid at the time of submission of application.
Then Candidate will be called for an entry test or an interview depending on your application status.
Application deadline dates:
The approaching applicants must visit UCL Admission Office along with original documents not later than 10th September 2012.
Please note that the classes are planned to start from Monday, 3rd September 2012.
Note: Applications are painstaking on First-Come-First-Served basis. UCL have a limited number of seats; therefore kindly apply as early as possible in order to improve your chances of admission. For further information visit ilm.com.pk periodically…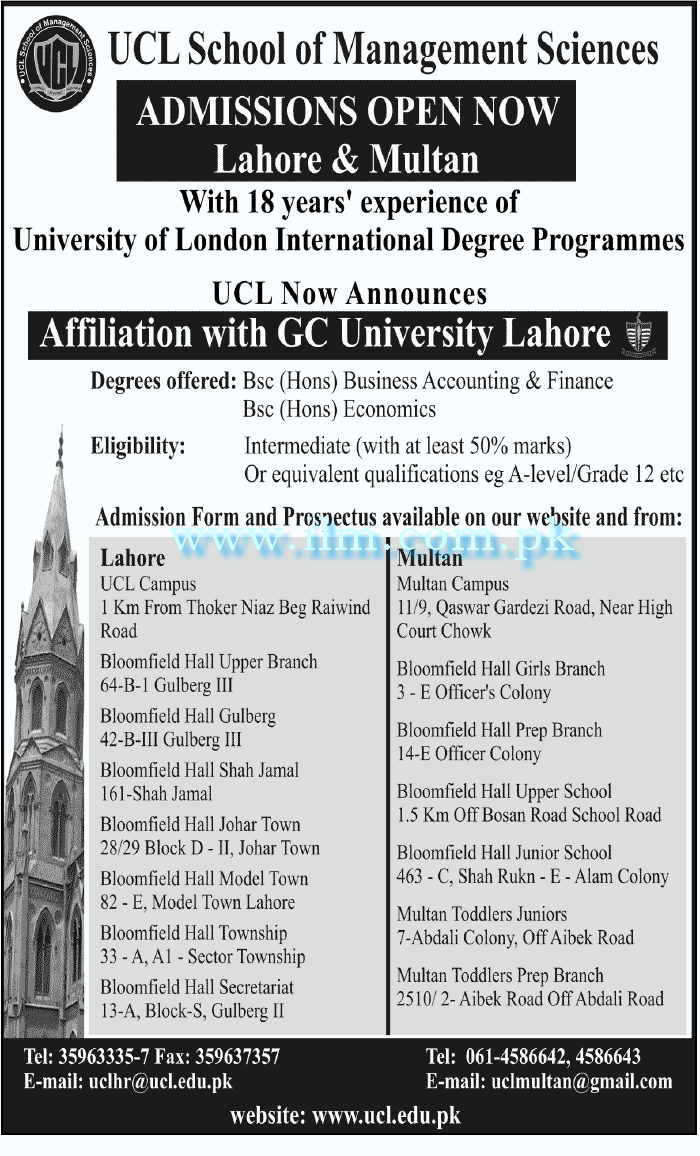 For further inquiries contact:

Tel: +92 42 35963335-7
Fax: +92 42 35963137
Cell: +92 331 4382299, +92 304 4725127
Email: admissions@ucl.edu.pk