The University of Engineering and Technology UET Lahore Combined Entry Test 2018 For Undergraduate Admissions is issued by the official of the University of the Engineering and Technology. but before going to the Admission or entry test detail let me have a little introduction of the University. This University starts its operations in 1921 but at that time it was a College, not a University then after few years in the year 1932 this college was known as University and now this University is offering the many Undergraduate and Postgraduate courses to the student's interest in Engineering subjects. According to the Higher Education Commission (HEC), UET is the top engineering University of Pakistan. This year combine Entry test for the B.Sc Engineering and S.Sc Technology will be held in the month of August so this is to inform all those students who want to be a part of the top engineering university of Pakistan that to clear this entry test is more important so the admission form will be going to accept for the entry test in the month of July. UET Lahore Entry Test 2018 Date Sheet and Schedule is given here. Candidate should have their own NADRA National Identity Card or the B.Form and if you do not have it so apply for the CNIC immediately as without this you are not able to get admission in the UET.
UET Lahore Combined Entry Test 2018 For Undergraduate Admissions 2018
Applications For Admissions:
The admission of the B.Sc  Engineering and B.Sc technology would be open immediately after the entry test taken by the University of Engineering and Technology in the month of August so it is to advice to all the candidates that they should have these documents along with them if you want to take admission in the UET so that on that day you will not have to face any kind of worries because without these documents you are not allowed for the admission in any of the courses whether it is Engineering or the Technology and the documents are
Domicile Certificate
National Identity Card issued from the NADRA or the B.Form
All certificates relevant to your admission, Diplomas, and Degrees
6 passport size photographs recently taken
For International, Education candidate must have an equivalence certificate issued by the IBCC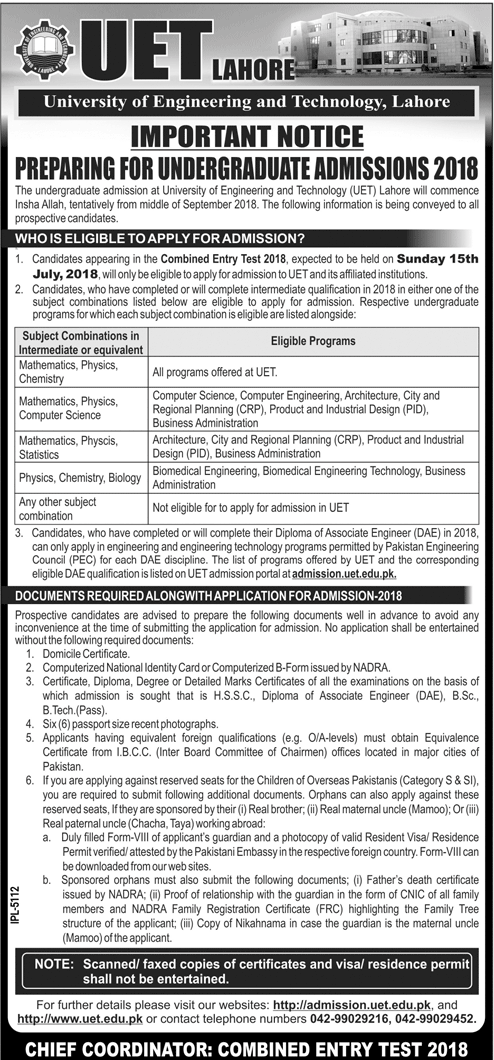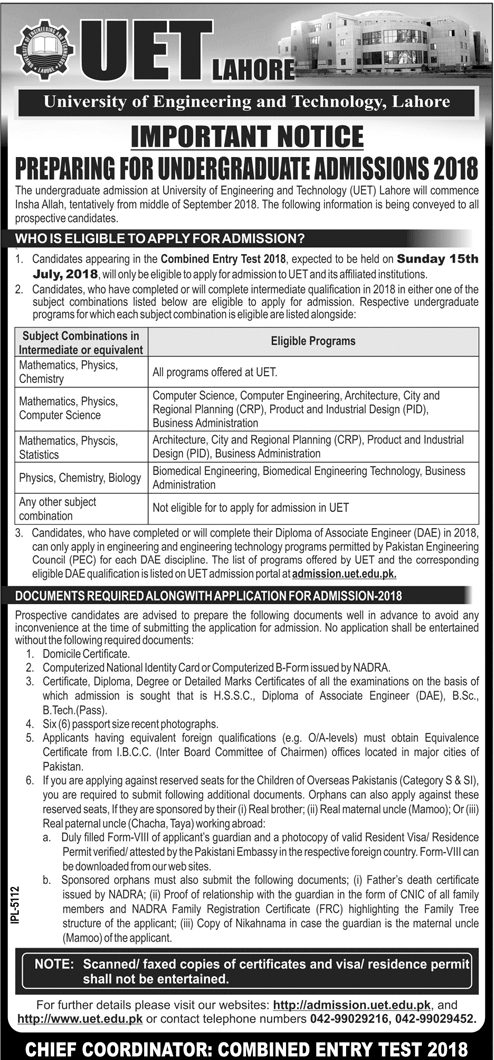 For International Students:
Students father or mother work certificate and that should be issued from the Pakistani Embassy on Form-VIII. The form-VIII will also available on the admission office.
Students father or mother residency visa copy and that should be attested from the Pakistani Embassy.
Those candidates that fill all the admission requirements but his or her father died those students can be sponger on their any kinship. Those candidates along with the Form-VIII bring the death certificate and the evidence of the relationship with the person who is going to be sponsors you.