Networking & Professional Courses CSS Admissions 2014 is now open in UET, University of Engineering and Technology Lahore so here on this page you will find complete detail of the admission as well the eligibility criteria and if you do not know that what are the courses that are offered in the CSS then the list of all the courses will also be on this page as ilm.com.pk is the fastest growing educational website of Pakistan so it is our duty to provide you for what you are looking for in educational matters of Pakistan. Before the Admission in CSS UET Lahore is going to arrange a seminar that will held in February, 2014 in the University of Engineering and Technology Lahore campus. So candidate it is clearly mentioned in the advertisement issued by the officials of the UET that if you want to be a part of the UET CSS admissions then you have to submit your application before the last date and the last date is 22nd February, 2014 and application forms that are received after the last date will not be entertained. The class will be coached by the experienced and highly educated CSP officers on all the subjects whether they are compulsory or optional subjects. So this is the best way to refine your preparation as these officers will give you some important tips and techniques through test system.
UET Lahore CSS Admissions 2014 networking & Professional Courses
There are two types of Courses that are being offered that are
Networking courses
Professional Courses
The list of the subjects and program under these two main category is enlisted in the given below ad so have a completely look on the ad before taking admission in the UET CSS 2014.
Application Form:
There are two ways by which you can collect your admission form first one is that you have to go the University of Engineering and Technology Main campus that is in Lahore and then from the admission cell you can collect your admission form but the second way is more convenient and adorable that you just have to sit in front of your computer visit this page and download the application form from here
CLICK HERE TO DOWNLOAD APPLICATION FORM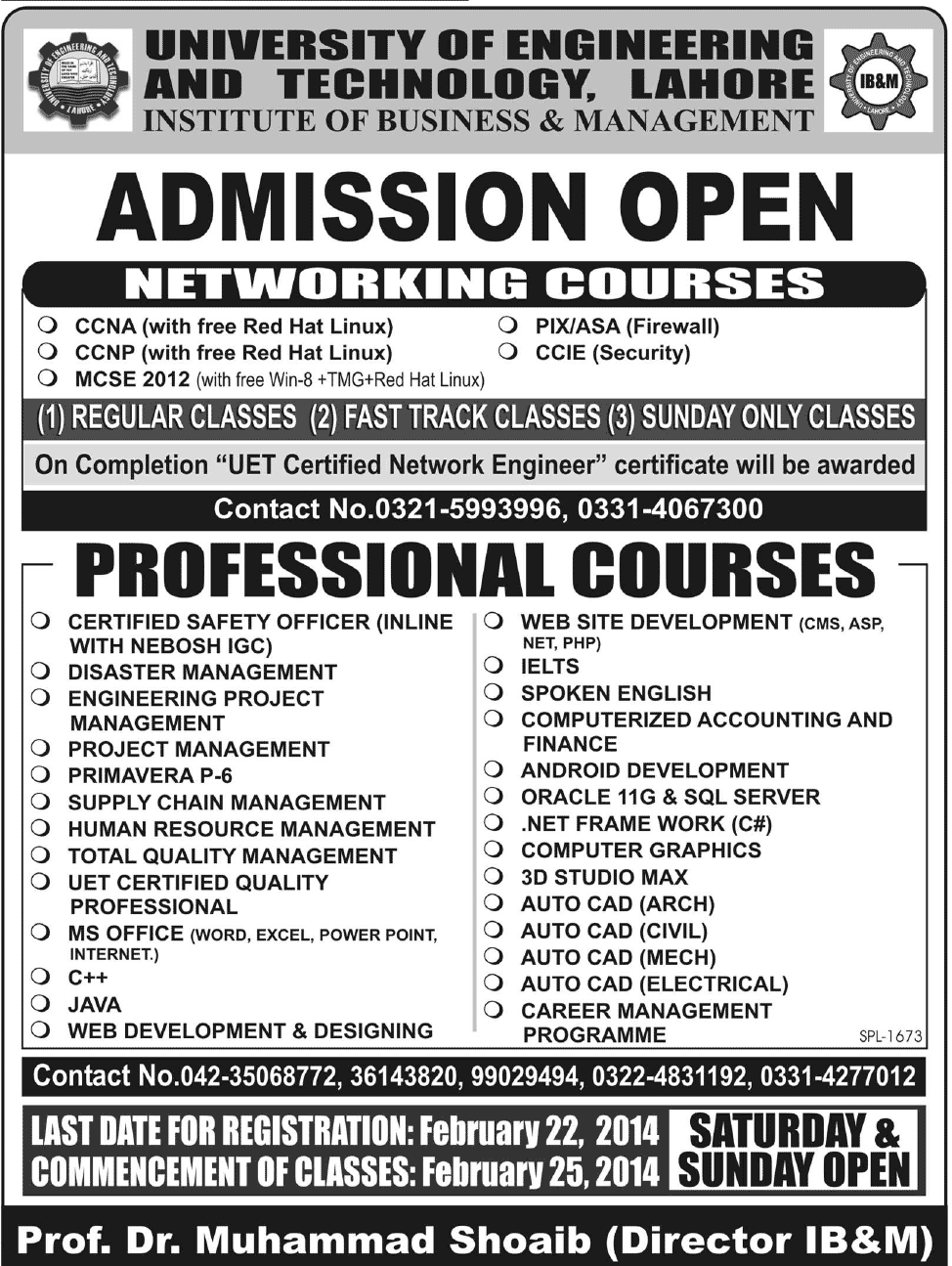 After completing the application form with all the required documents and information mentioned on the application form you have to submit this application form to the University official but remember that before 5th Decemeber if you want to take admission as after 5th December there will be no admission allowed to you by any official of the University so do it fast as soon as possible so that you not have to face any kind of problem for your admission in CSS 2014 at UET Lahore.
For further more information Contact:
Prof. Dr. Muhammad Shoaib
Director: IB&M & professional Development Centre