University of Engineering and Technology UET Lahore PhD Admissions 2018 is announced in different engineering courses for the year 2018. As most of us know that the UET is the oldest engineering institution of Pakistan which were build in year 1921 before the independence as it is build over the Muslim populated area so after partition it is the property of Pakistan. Till now this institution has produced the largest number of Engineering graduates in Pakistan and their number are more than 35000. It is the No 1 public sector Engineering university and among at 281 in world Engineering Universities. UET has a huge faculty of 893 staff members including 24 part time faculty members too and there are total 33 departments right now working in the University of Engineering & technology.
UET Lahore PhD Admissions 2018
The university invites applications for the admission in full time PH.D programs as per admission criteria given by the higher education commission (HEC) on its official website. Disciplines opening UET Lahore PhD Admissions 2018 are listd below
Electrical Engineering
Mechanical Engineering
Civil Engineering
Chemical Engineering
mechatronics Engineering
Metallurgical & Materials Engineering
transportation Engineering
Environmental Engineering
Manufacturing Engineering
Engineering Management
Architectural Engineering
Mining Engineering
Water resource management
Water resource Engineering
Engineering Hydrology
Architecture
City & Regional Planning
Chemistry
Mathematics
Physics
Islamic Studies
Eligibility for UET Lahore PhD Admissions 2018

1(a) Eligibility requirement for admission into PhD program is that the candidate must earned a M.Sc./ M.Phil (17+ years degree) or equivalent degree in the relevant discipline in first division or with a CGPA of 3.0 out of a maximum of 4.0 (in case, applicant's transcript shows percentage as well as CGPA, CGPA would be considered for eligibility. CGPAs on a scale other than 4.00 would be translated accordingly).
1(b) Candidates should meet HEC's admission test criterion.
UET Lahore PhD Admissions 2018 Application Form and Procedure:
The application for admission shall be filled online, Available from 23rd July, 2018 so just click here to fill your application form
CLICK HERE
Application form is available on 23rd July, 2018 not before that. The printout of the filled application form with the paid challan and required documents shall be submitted to the respective department on or before 06th August, 2018 during working days (Friday 8:00 am to 12:00 noon, Monday to Thursday and Saturday 8:00 am to 2:00 pm). Incomplete applications will not e entertained.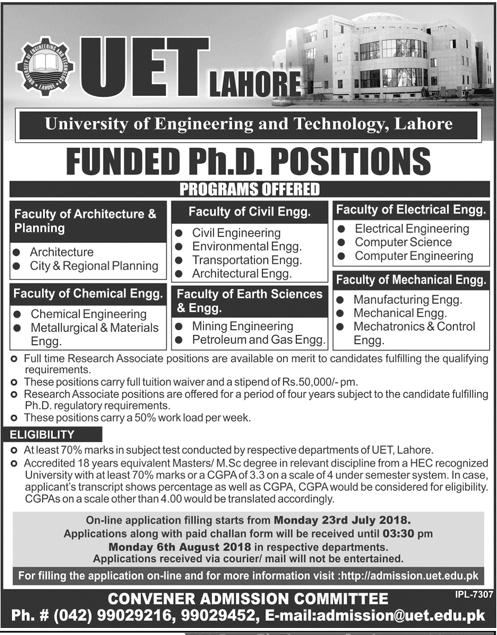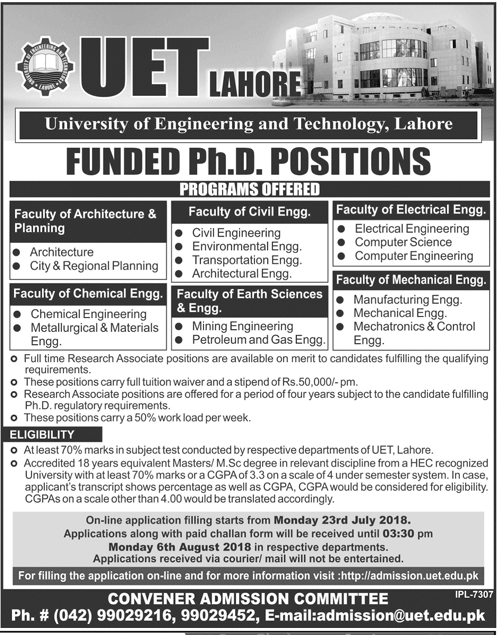 Some other important Information:
The GAT type test for UET Lahore PhD Admissions 2018, for the disciplines not included in NTS list, Shall be Held on May, 2018 in the Seminar Hall of Department of Chemical Engineering, at 10:00 am. The admit card for test in said disciplines will be issued by the respective department on receiving admission application.