University of Engineering and Technology Peshawar is a government institute which was established in 1952 as engineering college and associated with University of Peshawar. After in 1980, it was chartered by the government of Khyber Pakhtunkhwa and renamed to University of Engineering and Technology. This university has five major campuses across the country and its main campus is located in Peshawar Khyber Pakhtunkhwa. Other four campuses are located in Kohat, Mardan, Bannu and Abbottabad. It is ranked fifth best university for IT and engineering studies in Pakistan by the Higher Education Commission. It offers different courses related to engineering and technology and has good fee structure for each and every program. UET Peshawar Masters, PhD admission 2017 are open now. It conducts an entry test or ETEA test for selection of the students on merit. You are allowed to check entry test date from this page. It is also affiliated with many universities. Before you apply for the UET Peshawar Master, PhD admission 2017, please make sure that you are eligible from this page.
UET Peshawar Masters, PhD Admission 2017 Form, Entry Test Date
UET Peshawar Offered Courses:
Master Degree Programs:
Agricultural Engineering
Civil Engineering
Chemical Engineering
Computer System Engineering
Computer Software Engineering
Computer Science
Telecommunication Engineering
Electrical Engineering
Industrial Engineering
Mining Engineering
Mechanical Engineering
PHD Programs:
Agricultural Engineering
Mechanical Engineering
Civil Engineering
Chemical Engineering
Mining Engineering
Computer System Engineering
UET Peshawar Admission Schedule:
Last date for entry test application receiving is 17th August, 2017
ETEA Test will be on 27th August, 2017
ETEA test result will be announced on 28th August 2017
Last date to apply for admission is 11th September 2017
Subject wise test will be on 16th September 2017
Merit list will displayed on 21st September 2017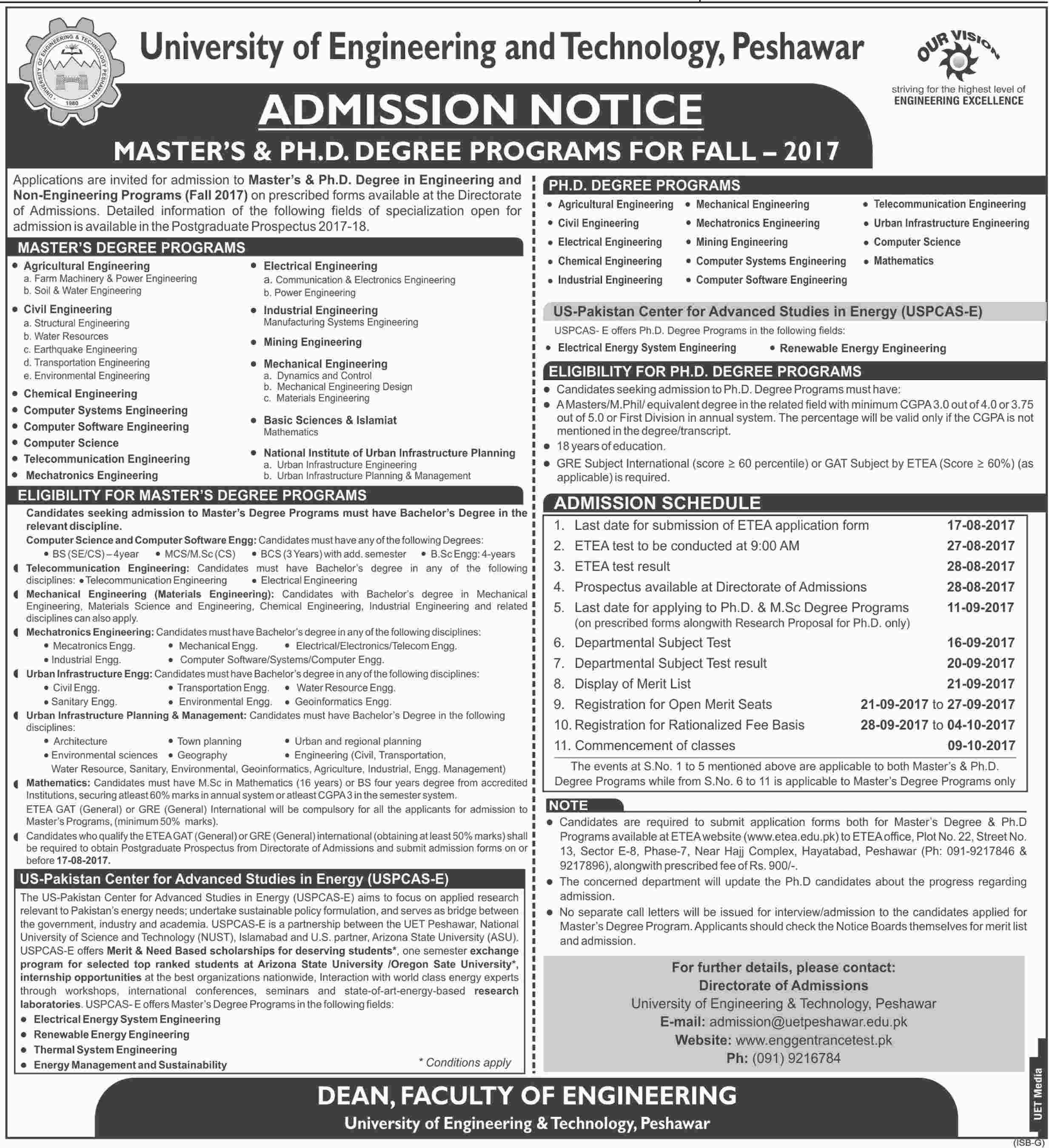 UET Peshawar Eligibility Criteria:
A student must score 60% marks in annual system and 3 CGPA in semester system
ETEA entry test is compulsory to pass for admission
A candidate must hold 50% marks in ETEA or GRE test
For PhD admission, student must score more than 60% marks in ETEA or GRE test
UET Peshawar Admission Procedure:
A candidate can download application form available at www.etea.edu.pk. Application forms are also available at ETEA office which can be avail at 900. It is required to submit application before date along documents.