Quaid E Azam University Islamabad is to hold its 6th General convocation in the last week of April, 2013. Eligible graduates of the University are advised to contact the convocation secretariat for the registration to be made on prescribed proforma up to 22nd March 2013 between 09:00 a.m to 03:00 p.m; registration can also be done by downloading the proforma from the University website and sending to the convocation secretariat along with the pay order of the treasure. QAU to cover the registration fee and charges for the Guests (If Applicable).
CLICK HERE to download the Registration / Proforma Form
Following are eligible for the convocation:
Ph.D Scholars who have complated thier degrees within period from 1sy January, 2012 to 31st December, 2012.
M.Sc and M.Phil passed out graduates of sessions spring 2010- Fall, 2011 and Fall, 2010, Spring, 2012 ( Degree completed within four semesters).
M.Sc, M.Phil., Ph.D., MS, MD, MDS graduates of the affiliated institutes
Graduate holding 1st position and fulfilling the conditions will be awarded Chancellor's Medal/president's Gold Medal (as the case may be). The position holders are advised to check/verify their names by 22nd March, 2013.
The Proforma must be accompanied with the following documents required for registration:
One attested Photocopy of the transcript (DMC)
Two attested photocopies of Applicant's Computerized National Identity Card (CNIC) and a photograph.
Two attested photocopies of CNIC and a photograph of each accompanying guest.
Registration Fee Rs. 1500/- per graduate for the accompanying guests Rs. 500/- each.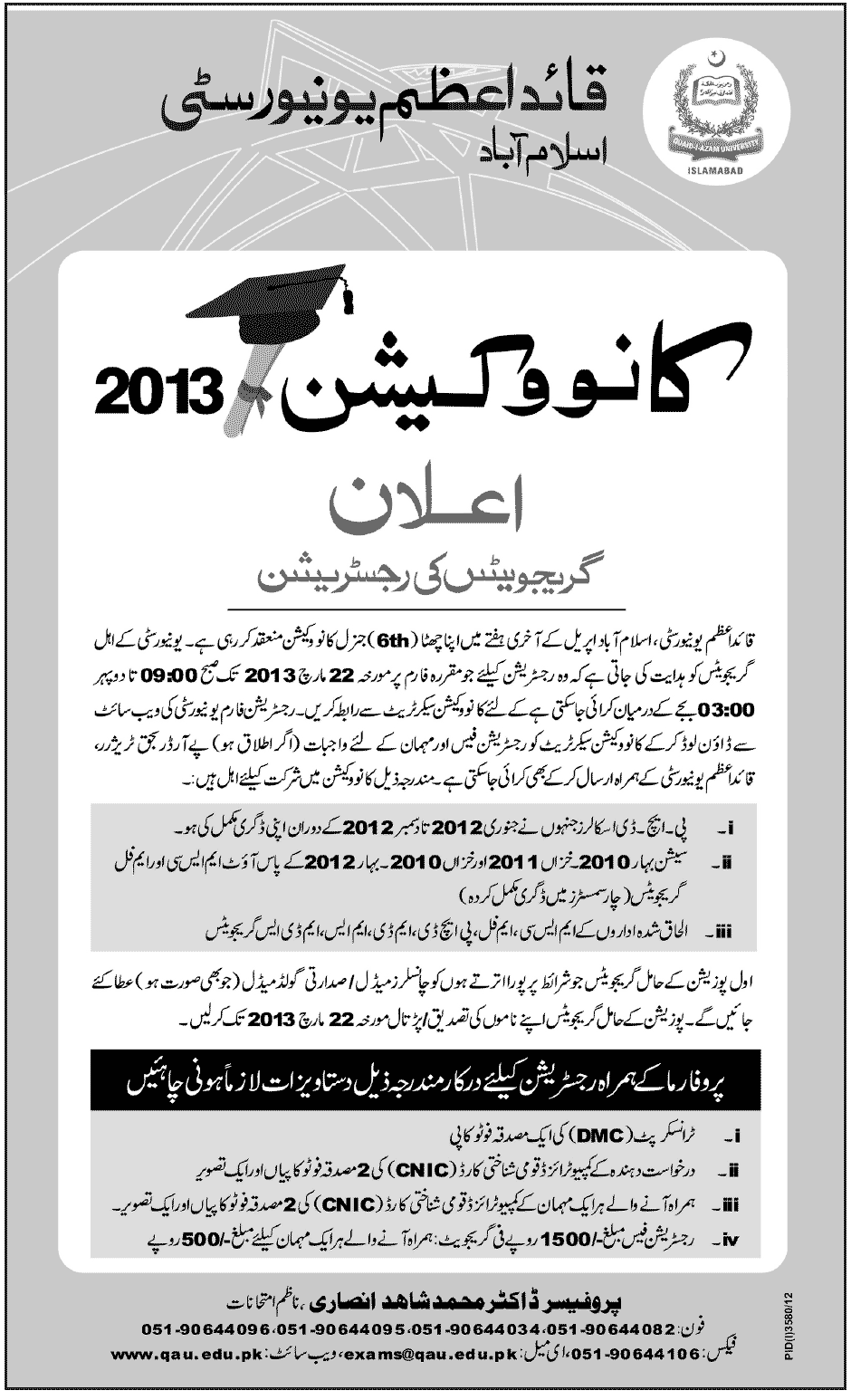 For More Information Contact Person:
Prof. Dr. M. Shahid Ansari
Controller of Examinations
Tel: 051-9064 4082, 051-9064 4034, 051-9064 4095, 051-9064 4096.
Fax: 051-9064 4106,