We all know that Pakistan Muslim League-N has always taken tangible steps to endow with a provision of contented, quality-oriented and inexpensive travelling facilities to the general public, and its credit goes to the Punjab Chief Minister, Muhammad Shahbaz Sharif.
He said! In 1998, we introduce public transport in the form of Daewoo Service, it was introduced for the first time in the history of country and this is all just for the convenience of the citizens.
The Chief Minister once again has initiated modern public transport system in the provincial metropolis, other than Lahore, air-conditioned buses are operating in Rawalpindi and Faisalabad as well, which will be expanded to all others big cities of the province.
Now, first time in the history of Pakistan the Punjab Government has announced another great service for all students of Lahore which is "Student Green Card Scheme Lahore" from LTC Lahore Transport Company. According to this scheme all green card holders can travel in only 10 Rs to any route of Lahore.
As we know that Students Transportation is always a big issue, especially for girls. Transporter always creates issue for innocents students like higher Fares, due to this they don't pick them from Bus Stops. But now Punjab Government has solved it by providing "Students Green Card Scheme Lahore LTC". These cards will prove more ease and better in Traveling to their institutes and Homes as well.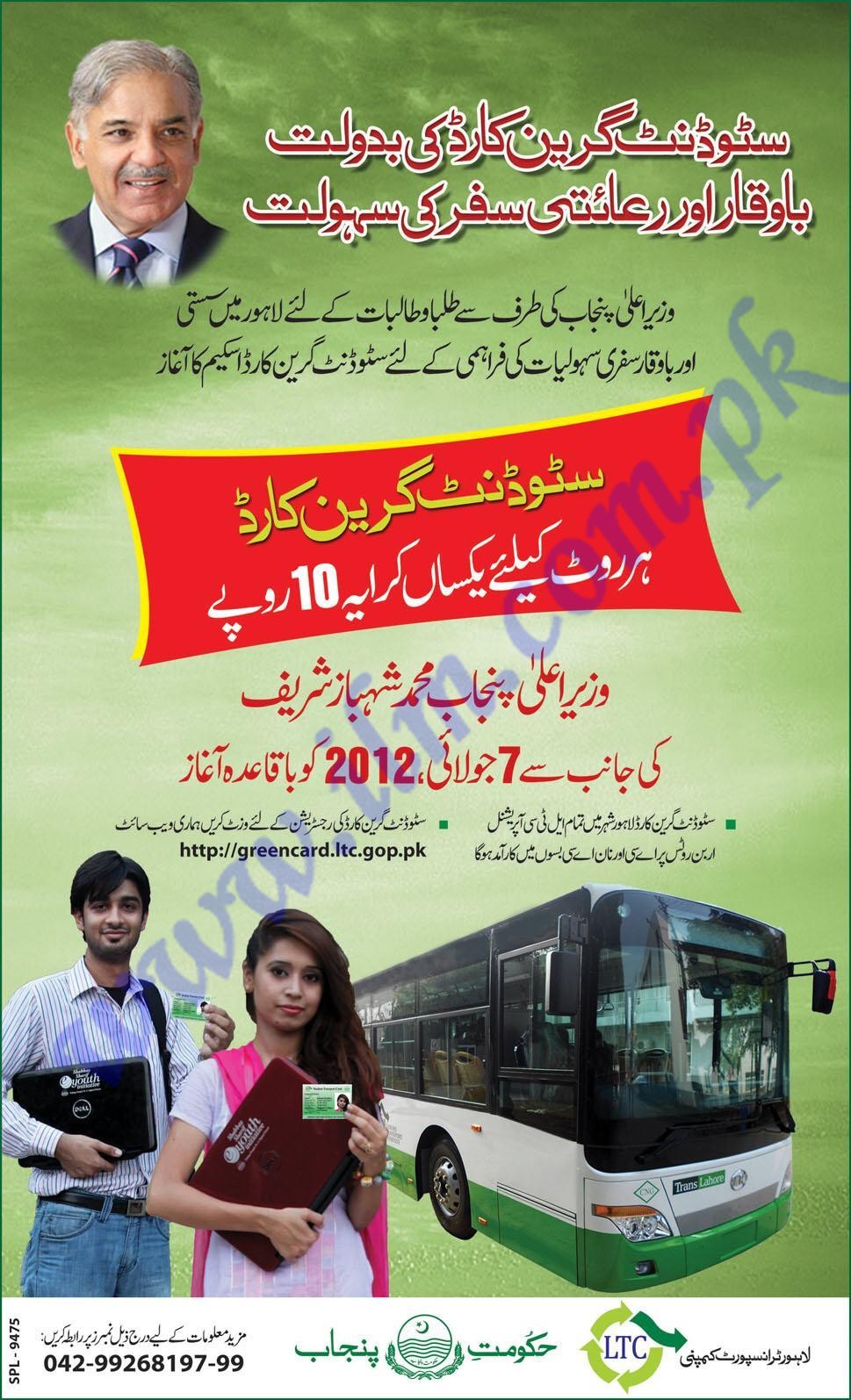 Students Green card online registration is continue from 7th July 2012. If you wanna avail this facility then you have to register. You can also register online here. First of all you have to read all the instructions carefully given below:
Students Green Card Scheme – Terms & Conditions
Flat Fare will be Rs. 10- per with LTC Student Transport Card, wherever students want to go in Lahore.
Discount will be given when student shows LTC Student Transport Card.
If any card is identified as fake then serious disciplinary action will be taken.
Cards are non-transferable and should only be used by the card owner.
If your card is stolen or lost, instantly report to the institution.
If the company will found guilty/involved in any misconduct with the Bus Staff; card will be cancelled and students will not be allowed to entertain for student discount card.
I certify that the information provided by me on this form is accurate.
If you want to avail this facility then get register now with "Student Green Card Scheme Lahore LTC" and entertain facility provided by the government of Punjab.
Students Green Card Scheme Lahore LTC Online Registration

Institute Registration: Students can register via their institute; this is also another big advantage for the students, to avail this facility just click "Institute Registration Form" below and get registered.
Institute Registration Form
ilm.com.pk is always here to give you all latest updates regarding Student Green card scheme. Stay with us to get instant information. If you are facing any problem while registering for "Students Green Card Scheme Lahore" then write down below in the comment section, our team will help you very kindly.
Contact Information
Postal Address:
Lahore Transport Company 4th Floor, IEP Building, Liberty Roundabout
Gulberg III, Lahore. Gulberg III, Lahore.
Email: [email protected]
Phone: +92-42-99268197-99
Fax: +92-42-99268200