10th Study in Malaysia Expo Pakistan 2013 is going to start from the 29th June till 5th July, 2013 in three big cities op Pakistan that are Islamabad, Karachi and Lahore so if you want to see your child to get education from a Malaysia University then this expo will help you a lot. As the 10th Study Malaysia expo is a great opportunity and a chance to the candidates and for their parents to study in British and Australian University. In this expo that will will be in the Lahore, Islamabad and Karachi will decide on the spot admission and visa guidance for all the brilliant and interested candidates. Candidates can also get more advantages of this expo in the form of low cost and get transfer to UK, USA, Canada, Australia and Europe at any time while you studying so what are you waiting for.
In Karachi the Expo will start on 29th June, 2013 at PC Hotel and the timings will be from 1pm to 8pm.
In Islamabad Expo will start on 2nd July, 2013 at Islamabad Hotel and the timing will be from 11am to 6pm.
In Lahore expo will start on 4th and 5th July, 2013 at Avari Hotel and the timing will be from 1pm to 8pm.
Study in Malaysia Expo Pakistan 2013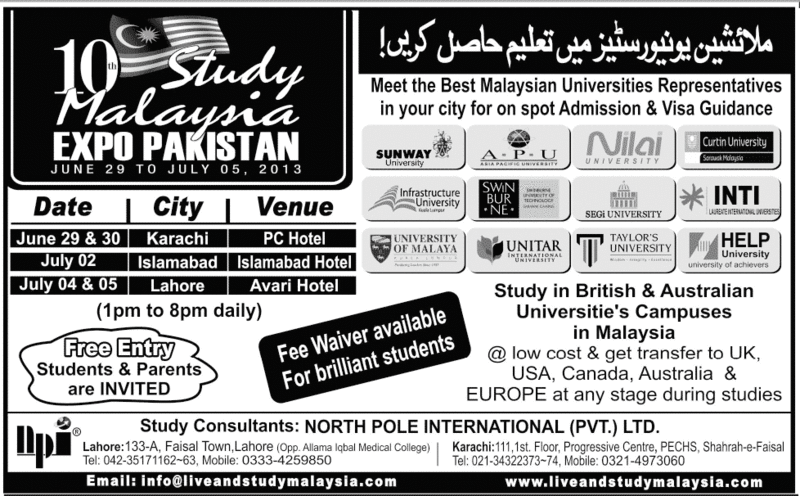 Meet the best Malaysian Universities representatives in your city for on spot admission and visa guidance
Sunway University
A.P.U University
Nilai University
Curtin University
Infrastructure University
SEGI University
INFI University
University of Malaysia
Unitar University
Taylor's University
Help University
A large number of Students and parents are expected to come to the Study Malaysia Expo Pakistan 2013 in all the three cities where these expo is going to be held. The top Malaysian Universities representatives will guide you the complete process that how can you get admission in the top Universities of the world in low cost and how can you reduce the strictness of the VISA process to get it fast.