Global Education Fairs & Conferences Britain GEFC UK Study Fair 2013 to be held on Karachi, Lahore and Registration Process for the whole Educational fair will also be discussed in here as on Monday 30th September, 2013 UK Study fair will be held in Karachi and then on Wednesday 2nd October, 2013 it will be in Lahore. Before going to more detail of this UK Study fair 2013 let me explain a little introduction of the organization and the fair. Global Education fair & Conferences GEFC were founded by a graduate from Yale University USA named as Fiza Ahmed the idea behind this organization is to provide a single platform for the foreign students to hire international students from all over the world. GEFC with the help of British High Commission and UK Trade and Investment were arranged a UK Focused educational fair in the month of February 2013 that Fair were also held in Karachi and Lahore the two biggest cities of Pakistan.
GEFC UK Study Fair 2013 in Karachi, Lahore
Event Venue:

Karachi
Sherton Hotel, Karachi

Duration: 1 Day

Date: Monday 30th September, 2013

Time: 11 am to 6 pm
Karachi is the biggest city of Pakistan that only has a sea port as well as it is also the capital of the province Sindh. Karachi is also said to be financial center of Pakistan.

Lahore:
Pearl Continental Hotel, Lahore

Duration: 1 Day

Date: Wednesday 2nd October, 2013

Time: 11am to 6 pm
The second largest city of Pakistan after Karachi is Lahore which is the center of the Punjab and has a long historical background.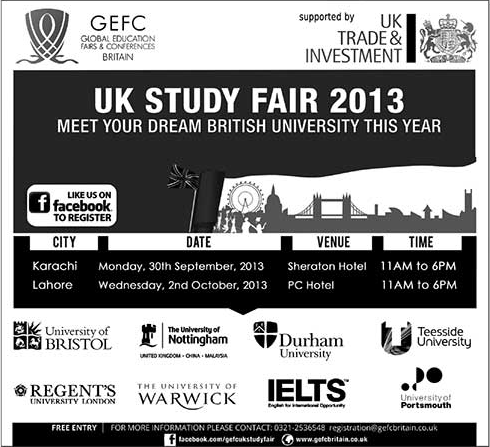 GEFC UK Study Fair 2013 is a great opportunity for both the Universities and the students too as many students of Pakistan are seeking to get admission in the United Kingdom University but they do not know how to and where to get the right information. United Kingdom UK is the most favorite place for students of Pakistan to study in so in this UK Study Fair more then 20 top Universities of the UK is going to take part in this fair.
If you are also among those who want to take admission in the UK University then this will be your best platform from where you can get the right and enough information. Well students the entry is absolutely free without a single cost or charge so come and meet the top 20 Universities of the United Kingdom and know how you can get the study Visa.