14th Convocation 2013 date is announced by the University of Central Punjab UCP Lahore as according to the official announcement the 14th Convocation is going to be held on 26th November, 2013 at UCP Khayaban-e-Jinnah Road, Johar Town, Lahore, Pakistan. All those students who have completed thier graduation degree from the Univeristy can attend this convocation to get their degree of graduation. Students those wo are willing must have to submit thier graduation plan to the Registrar office of the UCP before or till 26th October, 2013 because all those students who will not be able to submit thier graduation plan till that date cannot be able to get thier degree even they are not allowed to attend this certificate ceremony.
UCP 14th Convocation 2013
"No matter how bitter the book of education may be, fruit are always sweet. Best of Luck" The beautiful line mentioned on the 14th Convocation ad from the management and yes the lines are absolutely true that the fruit will never be sour it always be sweet.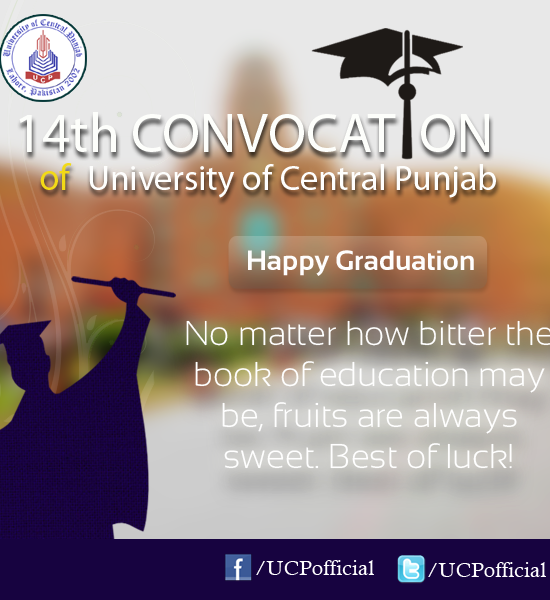 Registration Procedure
All students are requested to get a challan form which is available in the Registrar office and submit the challan in the bank as the fee of the challan form is Rs. 1800/-. After submitting the fee attach this copy of challan form with your graduation plan and submit it to the registrar office till 26th October, 2013
For More Information Contact:
University of Central Punjab
1 – Khayaban-e-Jinnah Road,
Johar Town, Lahore
Phone: +92-42-35880007