The Superior Group of colleges now starts Sunday Classes For Entry Test Preparation of MCAT , ECAT, NUST, GIKI, PIEAS and last date to apply for these classes are 7th February 2014. So all those students who want to continue their further studies after the Intermediate level should get themselves registered  for the preparation of these test. MCAT (Medical College Admission Test), ECAT (engineering College Admission Test), NUST (National University of Science and technology)m GIKI (Ghulam Ishaq Khan Institute of Engineering Sciences and Technology) and PIEAS (Pakistan Institute of Engineering & Applied Sciences) These all are the test which a student has to face if he want to become an engineer so for that the big problem is to clear this test with good marks. If you are unable to get good marks in these test then your admission in the known universities of Pakistan is impossible. These tests are not so easy that a person simply attend and get passing marks.
Superior College Entry Test Preparation
To appear in these test student have to fully prepare before the ending of his/her intermediate level education. The superior group of Colleges is a known quality education provider institute on the Lahore its familiarity does not bounded to Lahore only but now in whole Punjab there are more than 12 cities where you can study under the Superior College in that city campus. In a very short time of spam Superior college has make its name in the top educational institutes of the Punjab.
There are so many Superior students you can find in the Medical and engineering colleges of different cities so by seeing the huge number of their students Superior College take an initiative step that why should not start a preparatory classes for the admission test of MCAT , ECAT, NUST, GIKI, PIEAS. This is that this ideas took a physical shape and classes starts in the main campus of many cities and the response of the students were so good that these classes are regularly starts and now the admission of the new session is on the door.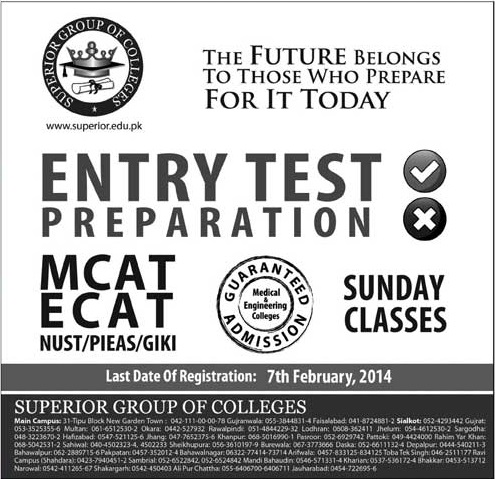 Students of all Pakistan can apply for these classes as these classes are schedule on Sunday so that is a holiday and every student can attend these classes without facing any hurdle of their own classes or timing issues. The Superior Group of Colleges has the well educated and highly experienced faculty which can make you what er you want to. So if you want to take admission in the number one institutes of Pakistan to become a Doctor or an Engineer than you have to clear your admission test of MCAT , ECAT, NUST, GIKI, PIEAS and for that  take admission in the Superior Preparatory classes and remove all the hurdles to clear your admission test.