On advice from Senior Teachers education department Send Summary to the Chief Minister Punjab for the final approval in which it is stated that in Second time examination the performance of the education will not be effected. Lahore Education Department decided to conduct all the examination that were held under the supervision of the Board of Intermediate and secondary Education in the afternoon timings so for this purpose the final summary is already send to the Chief Minister of Punjab Mian Shahbaz Sharif for the final approval. The purpose behind the second time examination were to make sure the 100% attendance of all teachers, To make educational System more strengthen, To complete the syllabus of the class on time and during annual year examination leaves of teacher due to duty in the examination hall. So for all this senior teacher of the education department decided that the examination of matric (part 2 Composite), 9th Class part 1, Intermediate Part 2, Intermediate Part 1 Annual Examination and Supplementary Examination should be conducted in second timings.
Senior teacher says about this summary by conducting the examination in the second timings we can utilize our manpower at its full extend and other benefit of this is that we can use as the government schools as an examination centers so that the 100% education attendance can also be made by this procedure. More added senior teacher said that we also have conducted Punjab Examination Commission so that the 5tha and 8th examination that are held under the Punjab Examination Commission can also react according to this summary and use man power when the exams will be start in the month of February. The annual examination were started in the month of February and it goes till the end of May so these 4 to 5 months teachers just perform their duties in the examination hall and in these 4 months they are not able to teach students of their class and that cause a huge loss of education at every level and then students have to face this huge burden on their own shoulders.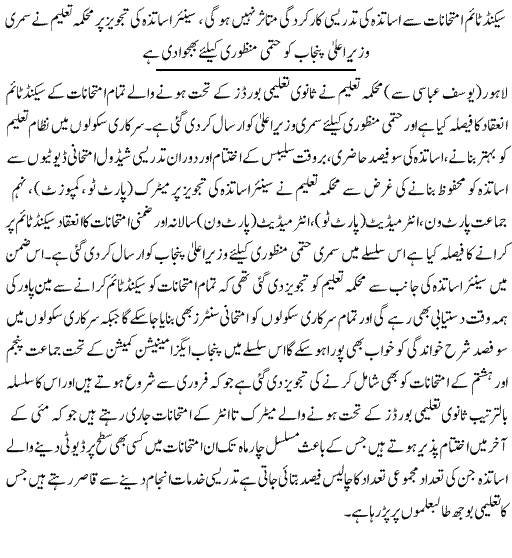 So the Final Summary with the suggestion from the Senior Teacher is send to the CM Punjab and now the wait is that either CM Punjab approve this summary or reject but as senior teacher suggest that this will be very beneficial for our educational system so it must be approved.