CM Punjab Mian Shahbaz Sharif Laptop Distribution Ceremony For PBTE (Punjab Board of technical Education) Students is going to be held today on Wednesday 24th October 2012 at Al-Hamra Arts Council Hall No# 2 Shahra Quid E Azam Lahore at 11:00 AM. This is really a very good step for the Students of Punjab from the chief Minister Punjab Mian Shahbaz Shariff. Free laptop will help a lot students in exploring the all new horizons of education and this will cause progress of the country Pakistan. In starting of year 2012 Shahbaz Sharif has distributed more than 10,000 laptops to all the government educational institute of Punjab and at the end of this year and for next year 2013 this scheme is also going to repeat.
Laptop Distribution Ceremony For PBTE Students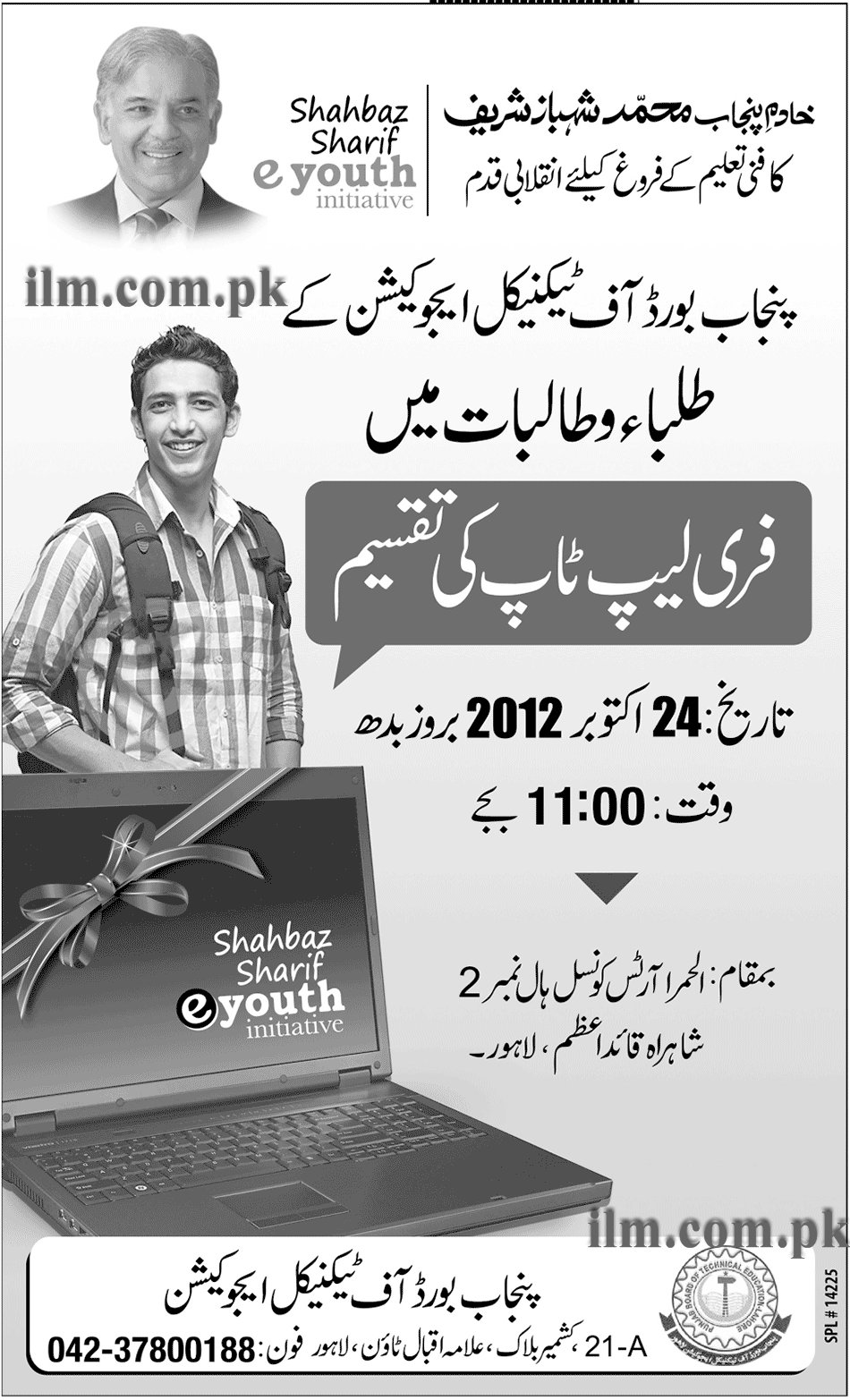 Like all other initiative that were taken by the Shahbaz Sharif this scheme also misused as these laptop are available in the market for sale than  it was strictly banned to sale or purchase these laptops whatever it was but the reality is that this step is really beneficial for Universities students as this will help a lot in completing their projects and assignment while sitting anywhere in the University right on time. Through this initiative maximum students will have all the knowledge about the world that what is going on these days in the world.
One thing which is changed this year is the distributions of laptop is that this Year the contract of laptop is with the HP manufacturer. As last year the distributed Laptops are of Dell computers but this year it is of HP and model that is going to distribute is HP L1000 and today students of Punjab Board of Technical Education will get these Laptops from Al-Hamra Arts Council Hall No # 2. So if you are among those student who get their name in the winning list than go and collect your laptop today.