Punjab Examination Commission PEC 5th And 8th Class Position Holders 2018 List is going to be uploading here. Students can find position holders name, marks and categories. PEC will announced the positions holders list in three categories. The first category for position holders is through province vise, second category is through district vise and the third category will be fetched in schools vise. More over there are three positions for students like 1st position, 2nd position and the 3rd position. Position holder students will be awarded by a price amount, laptops and tables PCs. Last year in 2017 PEC position holders on province level were awarded by laptops and free secondary educations. While district level PEC 5th And 8th Class Position Holders 2018 were appreciated by the laptops and a price amount. Similarly those who got positions at school level were appreciated by the tablets. So if you are also hoping to get position in 5th or 8th class examination then we just say you best of luck and best wishes to holding the position. Alongside this I would also like to inform you that this is also like previous years the PEC has declared all the students will be promoted to the next class even they are failure.
PEC 5th And 8th Class Position Holders 2018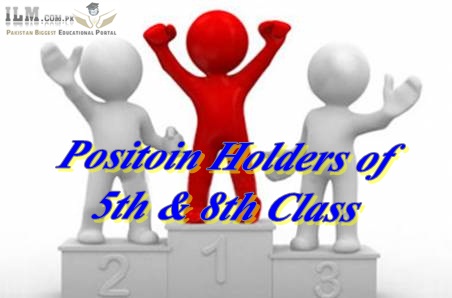 Time of PEC 5th and 8th Class Position Holders 2018 List Announced
5th and 8th class result will be announced on 31st March, 2018 and the PEC list of position holders for 5th and 8th class will be announced one day before the announcement of the result. So on 30th March, 2018 by 5th PM the list will be announced and will be uploaded here simultaneously. After that you will be able to download position holders of 5th and 8th class list in PDF. So just keep tuned with this page get online PEC 5th and 8th class position holders 2018.
Punjab Examination Commission PEC will arrange an award distribution ceremony and position holders will be invited there to get hold their award on stage. This will such an arrogant moment for a student who did his good and bring obtain good marks that lead them to the position. So you all are also advised that in next classes keep your studies spirit up and try your best to achieve a position so that you and your parents could proud on you to be their child. So for this time we say congratulations to all PEC 5th And 8th Class Position Holders 2018.