Shahbaz Sharif Laptops Scheme For Evening Students 2017 all procedure will be completed by the end of January. This is again a revolutionary step of the Chief Minister (CM) Punjab  Mian Shahbaz Sharif for the brilliant students of the country so on his official page of  Facebook CM Punjab said that the next phase of 100,000 laptops are planned to given to the student of the evening sessions for the year 2017. More added he said that the first shipment of this distribution will be arrive by the 2017. These all Laptops will given to the evening classes and than after that the day scholars and more details of this news will not announced yet but will be announced soon in this month.
Shahbaz Sharif Laptops Scheme For Evening Students 2017
Last time the laptop which were distributed among the students were of DELL company and now in this scheme Government of Punjab collaborates with the HP manufacturer and laptop model which will likely to distributed is HP L1000 and the specifications of that model are as follow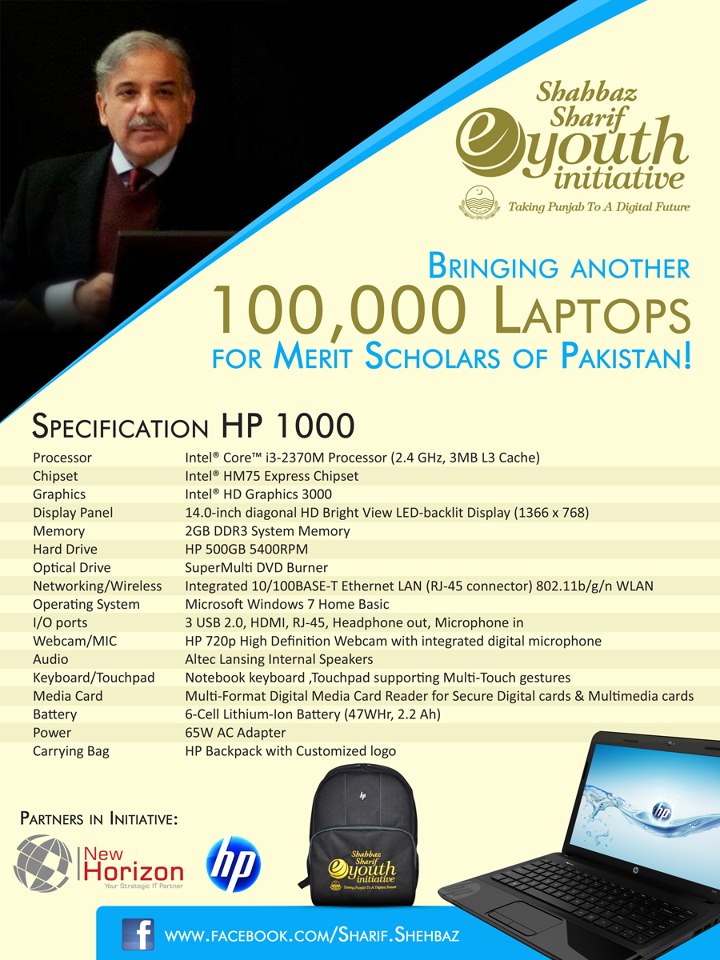 This year CM Punjab Also distributes 100,000 laptops of Dell to the graduation student under in Punjab Youth laptop Scheme. CM Punjab Mian Shahbaz Sharif done a lot of things for the youngsters of Pakistan just to promote education in Pakistan like Punjab Youth Festival, Punjab Scholarship Program and this Punjab Youth Laptop Scheme. But this is our bad luck or whatever every step of Shahbaz Sharif that were taken to improve Pakistan meet criticism from media and other sources. Like last distributor laptop after the distribution were available for sale on OLX which is than monitor by the government and this is than strictly prohibited to sale and purchase of that Dell Shahbaz Sharif laptop.
This was the Message which is updated today on the official page of Shahbaz Sharif on Facebook that ""Distribution of another 100,000 laptops to merit scholars will start from next month. Laptops will be distributed to outstanding evening students first and then to brilliant day scholars. The distribution process will hopefully be completed by end on January. Criteria & mechanism to register for this phase will be published soon."